Steamboat Springs – What to See & Do: Spring, Summer and Fall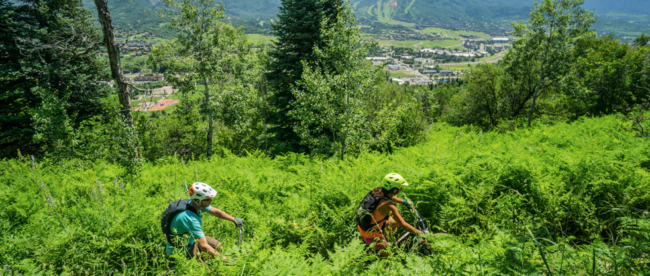 Steamboat Springs is a town for every season especially Summer & Fall…Hike, Bike, Ski, Raft, Tube, Stand Up Paddleboard, Kayak, Downhill Bike, Horseback Ride, Ride The Alpine Slide, Zipline, Golf, Water Ski & Wakeboard, Shop, Eat, Drink and Relax.. could there be any place better than Steamboat Springs for a summer or fall retreat?
Steamboat Springs is known as Bike Town USA, however, the town's offerings extend way beyond the bike path and their amazing single-track trails. Steamboat Spring's shopping, art and music scene are top-notch. You can even discover opera. And you certainly cannot forget the Rodeo and Equestrian scene, where cattlemen and ranching were the original way of life. The list is long and is a boatload of fun with intriguing things to do while visiting and living here in Steamboat Springs, Colorado. Take a hike, and lush ferns will greet you at the base of the forest floor. Waterfalls abound, and the cool waters of the Yampa River are very inviting on a warm day. Speaking of water, Gold Medal fishing welcomes you at almost every turn. Several nearby lakes will tempt you with boating opportunities, water skiing, and wakeboarding. Seeking to continue your education? Colorado Mountain College has a boatload of courses and degrees. Here's how you can do the 'Boat's best offerings with a sample weekend itinerary.
Pack Your Bags
Be sure to bring a bathing suit, hiking boots and comfortable shoes. Weather in Colorado can be unpredictable so be prepared and pack a rain jacket, warm jacket, pants and shorts. Layering up is always advisable. If you're heading into the backcountry a first aid kit is a must. Be sure to have a day pack and plenty of sunscreen. The rest is up to you!
STEAMBOAT SHOPPING
Bring your wallet because the stores, shops, and boutiques here offer some unique finds. From sporting goods, bike shops, antiques, gourmet shops, pretty women's boutiques, country western and more the town's merchants have something you will want to bring home. You will be surprised at the wonderful things you will find throughout town. You will rethink small town shopping after a day exploring here.
BIKE TOWN USA
This town is filled with athletes who came for the winter and stayed for the biking. No matter your favorite way to play on two wheels, they have it. Mountain biking, trail biking, road biking, bike tours or anything in between, Steamboat Springs has bike trails and rides for every ability level.
SOAK
Water play is one of the reasons why Steamboat is a fantastic Summer/Fall retreat. The famous healing waters of Strawberry Park and Old Town Hot Springs each give you a very different, wonderful experience. Old Town Hot Springs is conveniently located in town and is a great location for families. Strawberry Park is a natural wonder set in a forested environment away from town. Try them both.
FESTIVALS
Festivals bring unique flavors, tastes, and experiences to the town. Hot Air Balloon Fest, Steamboat Wine Festival, All Arts Festival, Movement Festival, Labor Day Wild West Air Fest & Steamboat OktoberWest are part of the town's signature events. A long listing of additional events pack the calendar all summer long and into the Fall months.
DINING
You can find fabulous dining options from the top of the mountain at Steamboat Resort all the way to Downtown Steamboat, the heart of the community. Incredible ambiance and noteworthy, al fresco dining abound's on Yampa Street with riverside seating complemented with a variety of fine dining and casual restaurant establishments. Farther west on Lincoln Ave (Main Street), you will continue to find a vibrant culinary scene, too.
………
Here are some ideas on how to enjoy a long spring, summer or fall weekend in the 'Boat!
Day 1
7:30 am Take a morning stroll along the Yampa River Core Trail. The fresh air and cool breeze off of the river is such a nice way to start your day.

8:30 am Breakfast at Creekside Cafe, be sure to get an al Fresco table.
10 am Bike the Emerald Mountain Trail System or Steamboat Bike Park at the mountain.
12:30 pm Lunch – along the Yampa River at Aurum Food & Wine
2 pm Tube, Kayak, SUP or Fish the Yampa. Try BackDoor Sports for Tube Rental, Mountain Sports Kayak School for Kayak Lessons and Rentals and for SUP try HalaGear Space for demos and lessons.
4 pm Happy Hour Brewery Cruiser Bike Tour Head up to Storm Peak Brewing Company and then back into town to the new Mountain Tap Brewery.
7 pm Dine Downtown- We love

Sake2You Sushi

, Besame,

Mambo Italiano's

, Laundry, Aurum Food & Wine,

Carl's Tavern

and Table 78.
8:30 pm Live Music-

Schmiggity's

, Old Town Pub & Restaurant
Day 2
7:30 am Yoga- at Yoga Center of Steamboat
9 am Breakfast at Winona's– Try their big as your face world famous Cinnamon Roll

10:30 am Take a Stroll through town for a great shopping excursion.

Lunch – Grab a Picnic Lunch at

Back Country Delicatessen

. You can order Online for pickup to go. 12 pm Relax and Soak- at Old Town Hot Springs or Strawberry Park Hot Springs
4 pm Happy Hour Distillery Tour at the Steamboat Whiskey Company
5 pm Dinner on the Mountain at Cafe Diva, The Truffle Pig or Sheraton Sevens Grill

Steamboat Evening- Pro Rodeo, Music or Movies on the Mountain. There is always something going on.
Day 3
Sunday Breakfast- Grab a coffee & a treat to go at

Smell That Bread

as you prepare to head home. Stretch your legs as you head out of town, Take a hike on Rabbit Ears Pass for that last photo-op.
There is a lot to See & Do, we are sure you will find a whole lot more than what we listed here. That is the fun of travel, discovering something that speaks to your soul as you are out on the path of your treks and travels. See more Steamboat articles here https://mtntownmagazine.com/?s=steamboat.
by Holly Battista-Resignolo, Editor In Chief
Featured Photo by Corey Kopischke
MTN Town Magazine | We are Colorado's Mountain Town Magazine
Copyright © 2022 MTN Town Magazine all rights reserved.