Aurum Food & Wine – Steamboat Springs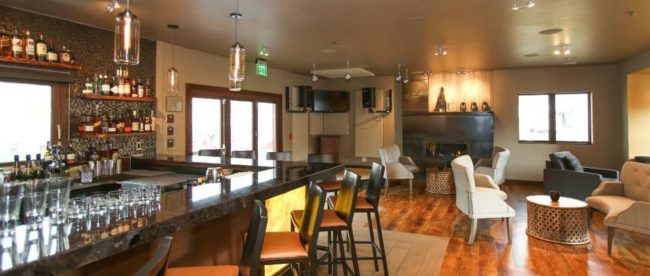 There is a lovely spot in Steamboat Springs where you may want to linger for awhile and enjoy the view as well as this restaurant's relaxing ambiance, Aurum Food & Wine – Steamboat Springs. Located along the banks of the Yampa River on Yampa Street in Steamboat Springs is a class act with exceptional service and delicious menu selections.
There is a feeling of elegance mixed into the contemporary design of the restaurant that is enhanced by the friendly, experienced service staff. If you start with Happy Hour the bar area has a great seating area with a fireplace as the focal point. Outside there's inviting alfresco seating with a large fire ring that you may want to enjoy no matter what time of year it is. The dining room is a treat with views of the Yampa River flowing by as well as views of Howelsen Hill Ski area that is lit up each night.
The menu is just as inviting as the establishment's atmosphere. All of their appetizers are familiar with items like Nachos, Pork Ribs, Beef Burgers but are prepared with flair. I love their Latin Street Tacos with slow-cooked pork carnitas, scallions, cilantro and crema. Their Crispy Curried Cauliflower is another treat. The Dining Room Dinner Menu is an exploration of Buffalo, Duck, Salmon, Striped Bass and Lamb along with Salads and Small Plate selections each prepared to perfection.
I had the honor of meeting Aurum's owner Phillips Armstrong where we shared our delight of great dining experiences. Phillips is a lifetime restaurant professional who's secured his first restaurant position as a dishwasher when he was 13. Although he headed off to college and studied Special Education the restaurant scene called him back. He has worked in every corner of the resort market from ST. John to Telluride, Vail and here in Steamboat. He loved his role in the dining room and is relentlessly committed to hospitality and obsessed with service. He believes that serving experience is the key to success in the restaurant industry. He and I agreed that well-prepared food is key but how a place makes you feel is king. In addition to Aurum, he also owns Table 79 in Steamboat and will be opening a second Aurum in Breckenridge late spring 2018. These are very exciting times for Phillips and his staff.
We highly recommend a visit when you are in Steamboat Springs winter, spring, summer and fall.
In Steamboat Springs:                                                          
811 Yampa Street
(970) 879-9500
In Breckenridge: Summer 2018
209 S. Ridge Street
Featured Photo at Top: ADAM LARKEY PHOTOGRAPHY
~MTN Town Magazine
MTN Town Magazine | We are Colorado's Mountain Town Magazine
Copyright © 2018 MTN Town Magazine all rights reserved.