Summer 2019 Music Events in Colorado Mountain Towns
Summer means outdoor fun in Colorado's mountain towns including the launch of great Colorado Summer Music Festivals and Events that you will want to Save the Date and plan for in our mountain towns. We have a round up on some of the best around.

Campout for the Cause
Get ready for a celebration of music and tribe in the heart of Buena Vista, come celebrate eleven years of Campout for the Cause set in the stunning Meadows in Buena Vista May 31st – 2nd, 2019. Only minutes from downtown Buena Vista, The Meadows is a picturesque site of cottonwood trees, hay meadows and babbling brooks, with the breathtaking, snow-capped, Collegiate Peaks set as the backdrop.
At Campout, the mind and soul are as important as the music. There will be a secondary area devoted to classes, workshops, and a kids zone. There is also a small pond, a short walk down the road, dedicated to improving paddleboard skills and SUP yoga.
Included in admission is a variety of workshops that encourage patrons to connect in an inspired setting: yoga, movement, sustainability, songwriting workshops, dance, social activism and workshops for children. Campout also offers as many yoga stars to learn from as musical stars including Campout veteran yogis like Gina Caputo, Julia Clarke, Kim Fuller, Bobby L'Hereaux and Heath Perry. These classes and workshops invigorate the body and soul leaving the spirit wide open for the evening music.
---
FESTIVAL TIP: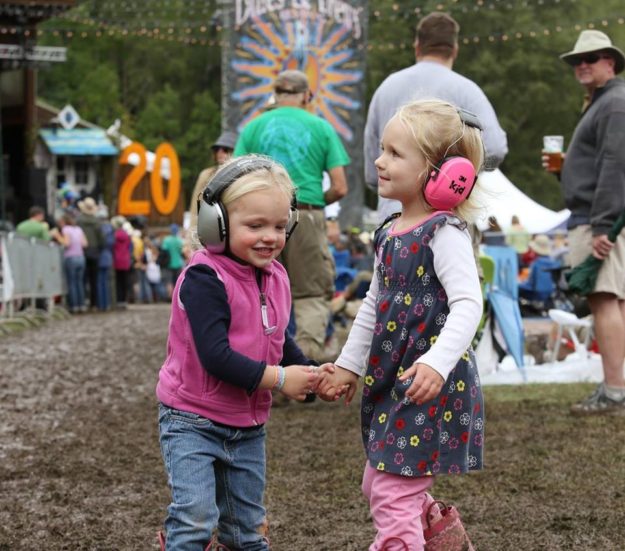 Heading to see your favorite band with the Kids? Don't Forget:
Kids are a big part of the
Festival Scene these days. If
you are preparing to bring your kiddos, then be sure to purchase protective Ear Muffs or Ear Plugs to help protect them. Check online to find the best pair for your child. You might like having some too!
---
Vail Summer Bluegrass Series
VAIL BLUEGRASS IS SET IN THE SCENIC SOLARIS PLAZA, NESTLED AMONG WORLD-CLASS SHOPPING, DINING AND LODGING, ALONGSIDE THE MAGNIFICENT GORE CREEK IN VAIL, COLORADO WITH IMPECCABLE VIEWS OF VAIL MOUNTAIN.
Jeremy Garrett (of the Infamous Stringdusters) – July 3
ALL SHOWS ARE FROM 6-9 PM AND ARE FREE TO ATTEND. FOR FURTHER INFORMATION:
---
iBar Ranch – Gunnison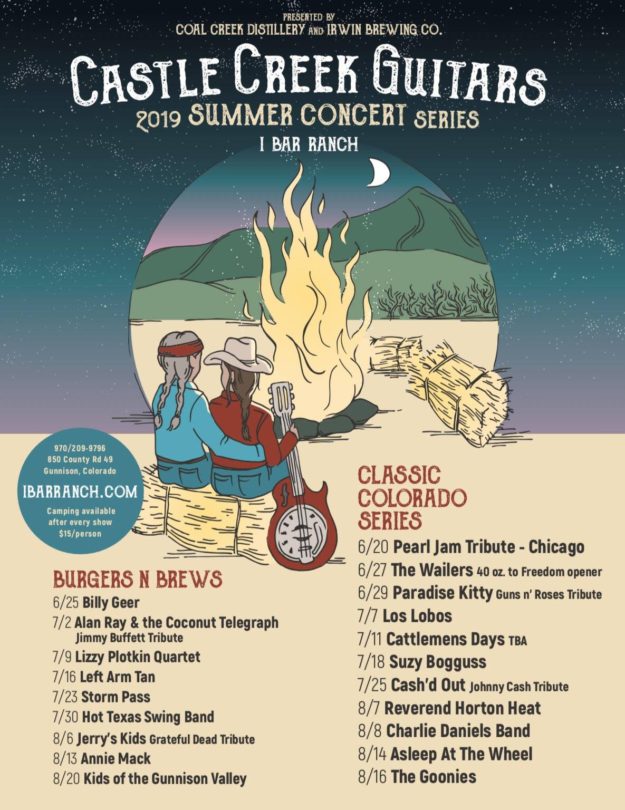 The I Bar is an authentic western heritage event center that seats up to 515. It is situated on a 10 acre converted hay meadow, 250 ft off of the Tomichi Creek at the base of 'W' Mountain in beautiful Gunnison, CO. The Colorado DOW operates the buffer of land between our venue and Tomichi Creek and offers access to amazing fly fishing and equestrian/hiking opportunities.
The I Bar is situated 1.5 miles southeast of downtown Gunnison behind Jorgenson Park and the Pioneer Museum. Its unique setting is what makes it very special; just on the edge of town, but deep into the quiet spaces of agriculture and recreation.
The venue is a converted hay barn with stage, lighting & sound. While the sides are open to provide fresh air and scenery, there are curtains that can be closed for inclement weather. The venue is in operation from May-October for community orientated events and music you won't want to miss.
---
Frisco Concert in the Park Series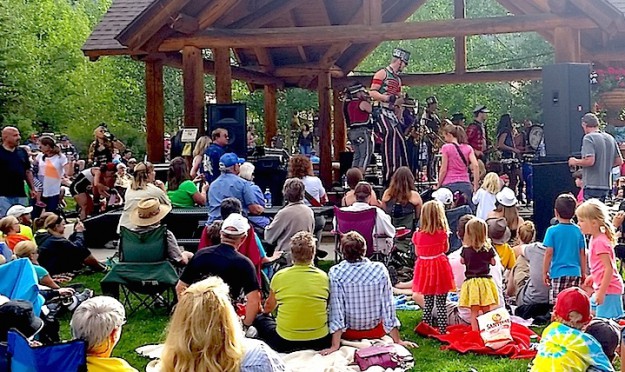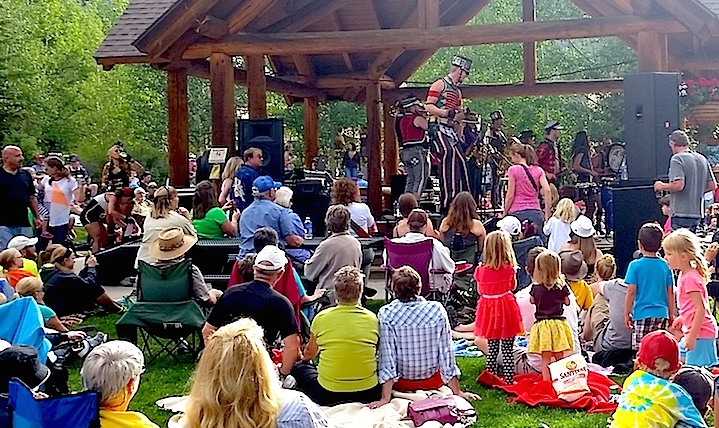 We love the awesome little town of Frisco, Colorado. Great restaurants, an amazing marina, trails to hike and bike all contribute to what makes this town so wonderful!  Special Events and Music are another amazing reason why we adore Frisco. The Frisco Concert in the Park Series has some bands that will have you grabbing your lawn chairs and picnic blanket for an evening out. Enjoy a fun, free concert in Frisco's Historic Park on Thursdays in summer. Stay tuned for the Lineup.
Thursday, June 20, 5:30 p.m. – 7:30 p.m.
The Copper Children
To benefit Blue River Horse Center
Thursday, June 27, 5:30 p.m. – 7:30 p.m.
Jackie and the Racket
To benefit Summit Musicians Relief Fund
Thursday, July 11, 5:30 p.m. – 7:30 p.m.
Pandas & People
To benefit Rotary Club of Summit County
Thursday, July 18, 5:30 p.m. – 7:30 p.m.
Amoramora
To benefit Mountain Mentors
Thursday, July 25, 5:30 p.m. – 7:30 p.m.
Gasoline Lollipops
To benefit High Country Conservation Center
Thursday, August 1, 5:30 p.m. – 7:30 p.m.
Pixie and the Partygrass Boys
To benefit Family & Intercultural Resource Center
Thursday, August 8, 5:30 p.m. – 7:30 p.m.
Opal Agafia & The Sweet Nothings
To benefit Synagogue of the Summit
Thursday, August 15, 5:30 p.m. – 7:30 p.m.
Jack Cloonan Band
To benefit Summit Community Care Clinic
Thursday, August 22, 5:30 p.m. – 7:30 p.m.
Cris Jacobs Band
To benefit Timberline Adult Day Services
For more information visit the TownOfFriscoEvents.com
---
Silverthorne First Fridays Music and More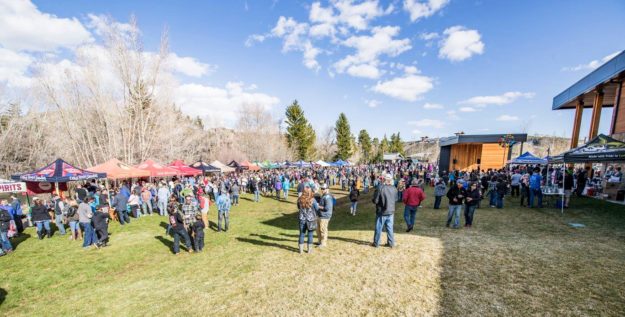 The Town of Silverthorne is making the first Friday of every month a reason for residents and visitors alike to get together and celebrate what's special about this vibrant community. From arts and food to music and fun, First Fridays showcase the community's talented makers, artisans and performers, and include hosted evenings with artists, chefs, brewers, musicians and more in various locales that welcome the whole community to participate.
---
FESTIVAL TIP: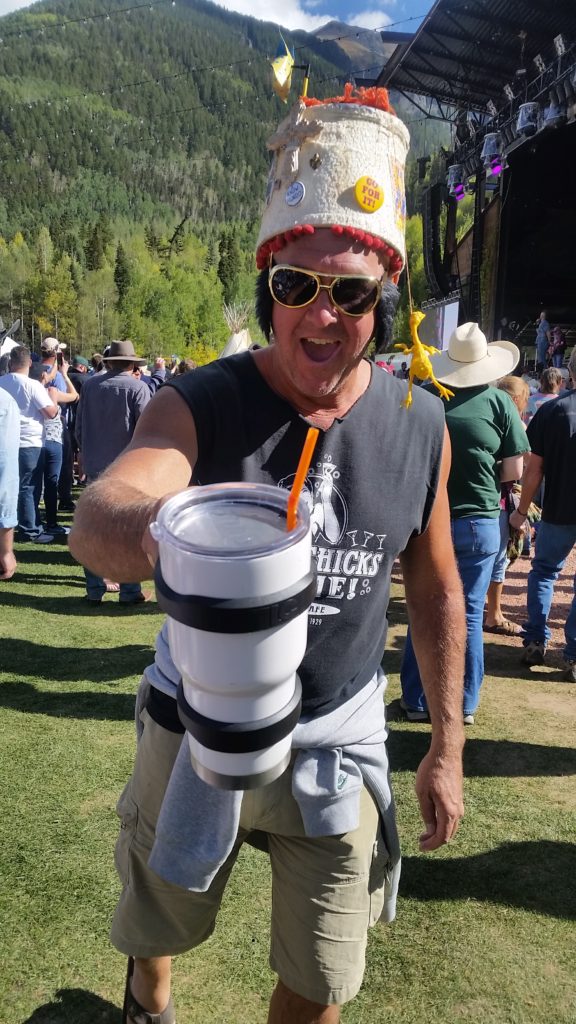 We say bring it all, because Colorado mountain town weather will get the unprepared!
CHECK FESTIVAL RULES
Valid photo ID
Sunscreen/ hat
Sunglasses
Lip Protection
Ear Protection
Lawn chairs –check Festival rules
Tarps/blankets
Sunshade tents –check Festival rules
Coolers with non-breakable water/soda containers to stay hydrated!
Camera –check Festival rules
Warm clothes
Light Clothing
Gloves
Rain Coat or Poncho
Waterproof Boots
Sandals
Small Back Pack or Hip Belt
Your Festivals #hashtag
---
Sunset Concert Series in Mountain Village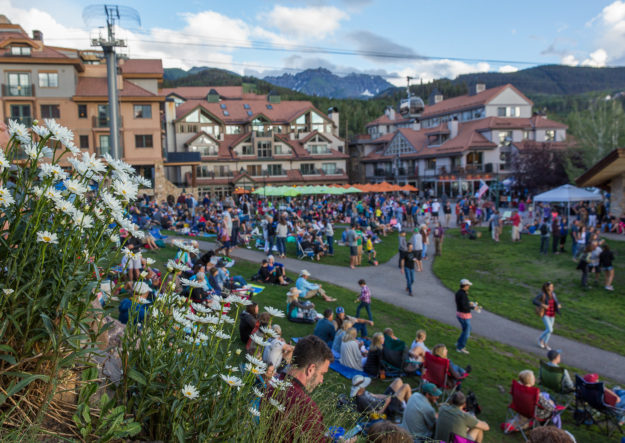 The Telluride Mountain Village Owners Association is excited to announce the lineup for the 21st annual Sunset Concert Series held in Mountain Village, Colorado. The 2019 Sunset Concert Series brings nine spectacular shows to Mountain Village's Sunset Plaza (on the lawn near Lift 1) located steps away from the gondola to Telluride. The family-friendly concerts start at 6 p.m., and as in prior years, the concerts are free and pet-friendly. 
Adding to the vibrancy a new Market at Sunset (Vendor Village) will be added with at least eight Vendors providing different goods and services. Also new to the series will be select Breweries featured on site. Already signed up are Crooked Stave and Palisade Brewing Company.
The 2019 Sunset Concert Series lineup is as follows:
● June 26 — Orquesta Akokán (Cuban Big Band)
● July 3 — Red White & Blues Celebration Lawrence (Funk, R&B & Rock 'n' Roll)
● July 4 — Red White & Blues Celebration Local Bands and DJ Kat V (DJ)
● July 10 — Nikki Lane (Country)
● July 17 — Shawn James (Folk, Americana, and Blues)
● July 24 — Jon Cleary & the Absolute Monster Gentlemen (New Orleans Funk & R&B)
● July 31 — Flor de Toloache (Mariachi)
● Aug 7 — Pierce Edens w/ The Dirty Grass Players (Rock & Bluegrass)
● Aug 14 — Mo Lowda and The Humble w/ special guests the Mammoths (Alternative, Indie & Rock)
WOULD YOU LIKE TO HAVE YOUR FESTIVAL OR CONCERT INFORMATION APPEAR HERE? MountainTownMagazine@gmail.com