Summer 2019 Music Events in Colorado Mountain Towns
Summer means outdoor fun in Colorado's mountain towns including the launch of great Colorado Summer Music Festivals and Events that you will want to Save the Date and plan for in our mountain towns. We have a round up on some of the best around.

Vail Summer Bluegrass Series
VAIL BLUEGRASS IS SET IN THE SCENIC SOLARIS PLAZA, NESTLED AMONG WORLD-CLASS SHOPPING, DINING AND LODGING, ALONGSIDE THE MAGNIFICENT GORE CREEK IN VAIL, COLORADO WITH IMPECCABLE VIEWS OF VAIL MOUNTAIN.
ALL SHOWS ARE FROM 6-9 PM AND ARE FREE TO ATTEND. FOR FURTHER INFORMATION:
---
FESTIVAL TIP: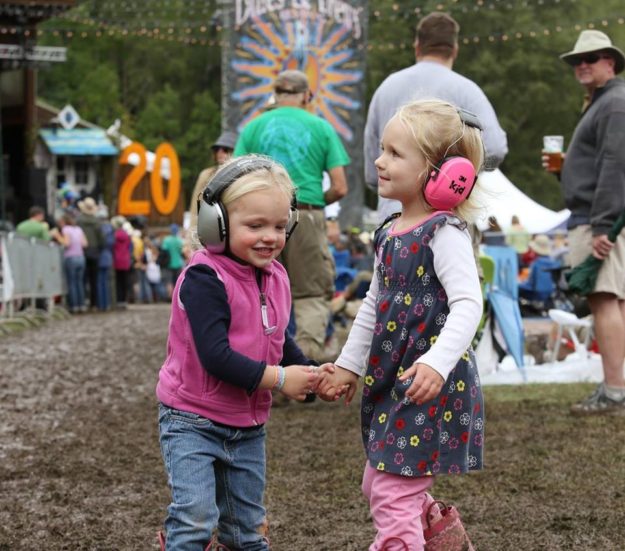 Heading to see your favorite band with the Kids? Don't Forget:
Kids are a big part of the
Festival Scene these days. If
you are preparing to bring your kiddos, then be sure to purchase protective Ear Muffs or Ear Plugs to help protect them. Check online to find the best pair for your child. You might like having some too!
---
iBar Ranch – Gunnison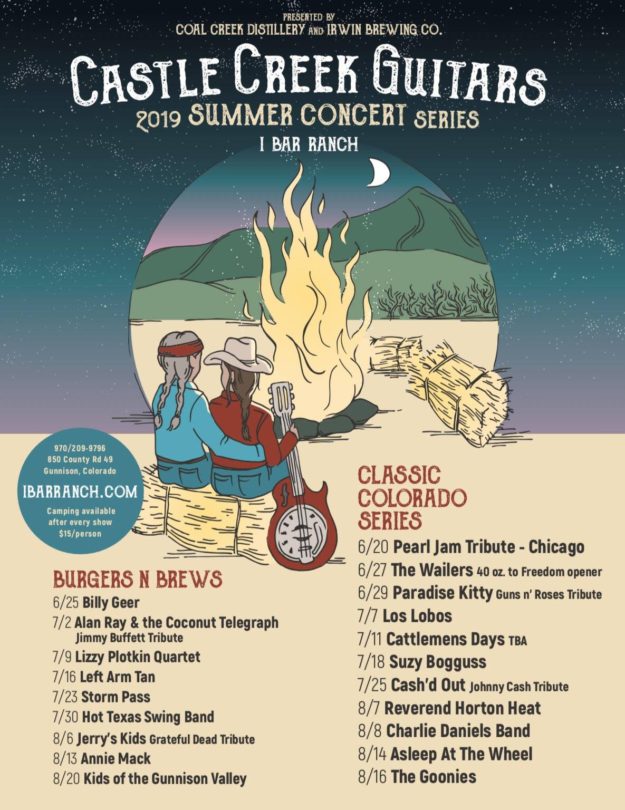 The I Bar is an authentic western heritage event center that seats up to 515. It is situated on a 10 acre converted hay meadow, 250 ft off of the Tomichi Creek at the base of 'W' Mountain in beautiful Gunnison, CO. The Colorado DOW operates the buffer of land between our venue and Tomichi Creek and offers access to amazing fly fishing and equestrian/hiking opportunities.
The I Bar is situated 1.5 miles southeast of downtown Gunnison behind Jorgenson Park and the Pioneer Museum. Its unique setting is what makes it very special; just on the edge of town, but deep into the quiet spaces of agriculture and recreation.
The venue is a converted hay barn with stage, lighting & sound. While the sides are open to provide fresh air and scenery, there are curtains that can be closed for inclement weather. The venue is in operation from May-October for community orientated events and music you won't want to miss.
---
Frisco Concert in the Park Series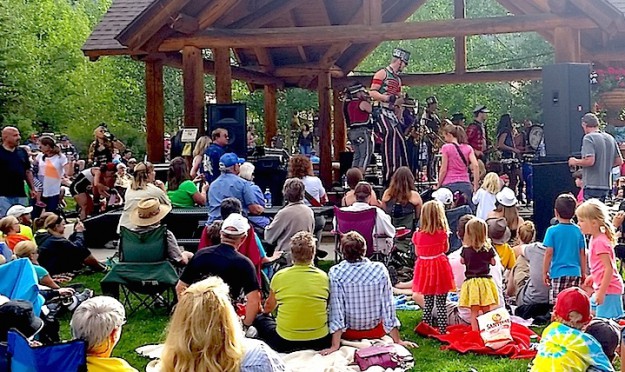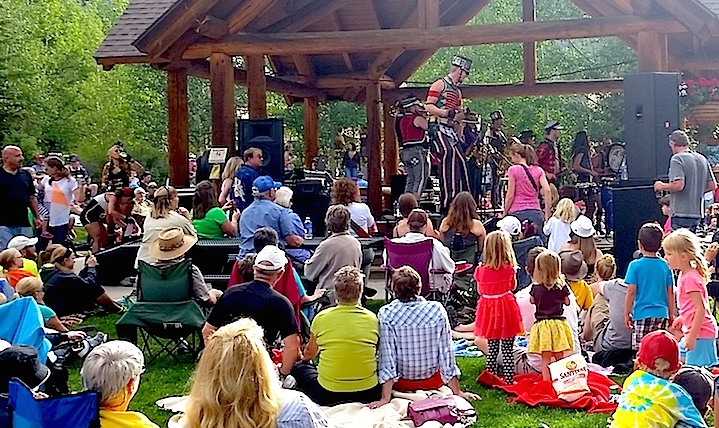 We love the awesome little town of Frisco, Colorado. Great restaurants, an amazing marina, trails to hike and bike all contribute to what makes this town so wonderful! Special Events and Music are another amazing reason why we adore Frisco. The Frisco Concert in the Park Series has some bands that will have you grabbing your lawn chairs and picnic blanket for an evening out. Enjoy a fun, free concert in Frisco's Historic Park on Thursdays in summer. Stay tuned for the Lineup.
Thursday, July 25, 5:30 p.m. – 7:30 p.m.
Gasoline Lollipops
To benefit High Country Conservation Center
Thursday, August 1, 5:30 p.m. – 7:30 p.m.
Pixie and the Partygrass Boys
To benefit Family & Intercultural Resource Center
Thursday, August 8, 5:30 p.m. – 7:30 p.m.
Opal Agafia & The Sweet Nothings
To benefit Synagogue of the Summit
Thursday, August 15, 5:30 p.m. – 7:30 p.m.
Jack Cloonan Band
To benefit Summit Community Care Clinic
Thursday, August 22, 5:30 p.m. – 7:30 p.m.
Cris Jacobs Band
To benefit Timberline Adult Day Services
For more information visit the TownOfFriscoEvents.com
---
Silverthorne First Fridays Music and More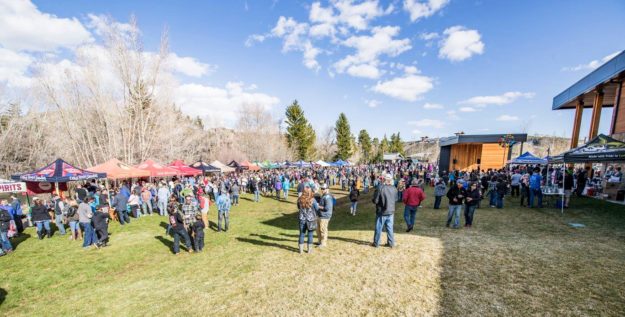 The Town of Silverthorne is making the first Friday of every month a reason for residents and visitors alike to get together and celebrate what's special about this vibrant community. From arts and food to music and fun, First Fridays showcase the community's talented makers, artisans and performers, and include hosted evenings with artists, chefs, brewers, musicians and more in various locales that welcome the whole community to participate.
---
FESTIVAL TIP: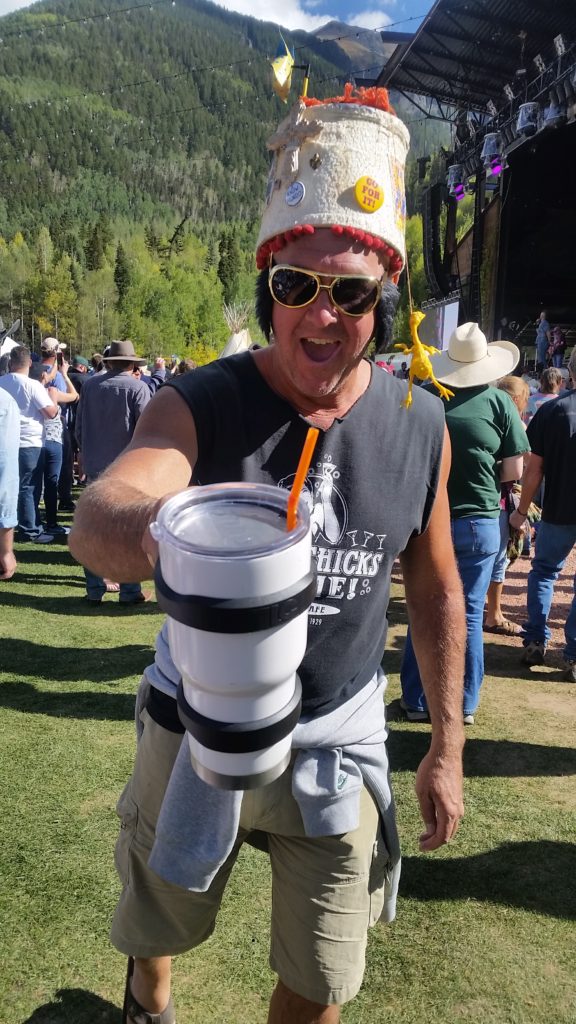 We say bring it all, because Colorado mountain town weather will get the unprepared!
CHECK FESTIVAL RULES
Valid photo ID
Sunscreen/ hat
Sunglasses
Lip Protection
Ear Protection
Lawn chairs –check Festival rules
Tarps/blankets
Sunshade tents –check Festival rules
Coolers with non-breakable water/soda containers to stay hydrated!
Camera –check Festival rules
Warm clothes
Light Clothing
Gloves
Rain Coat or Poncho
Waterproof Boots
Sandals
Small Back Pack or Hip Belt
Your Festivals #hashtag
---
Sunset Concert Series in Mountain Village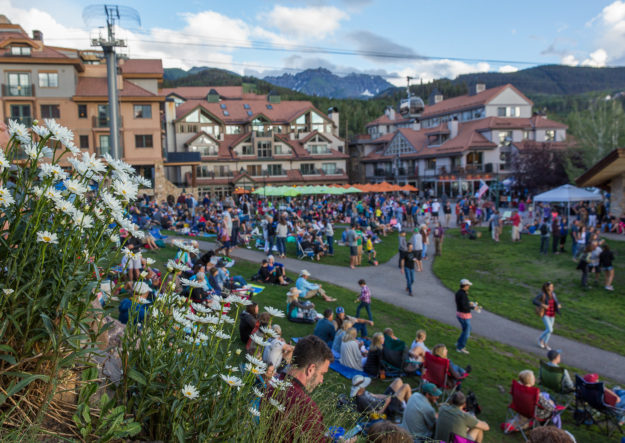 The Telluride Mountain Village Owners Association is excited to announce the lineup for the 21st annual Sunset Concert Series held in Mountain Village, Colorado. The 2019 Sunset Concert Series brings nine spectacular shows to Mountain Village's Sunset Plaza (on the lawn near Lift 1) located steps away from the gondola to Telluride. The family-friendly concerts start at 6 p.m., and as in prior years, the concerts are free and pet-friendly.
Adding to the vibrancy a new Market at Sunset (Vendor Village) will be added with at least eight Vendors providing different goods and services. Also new to the series will be select Breweries featured on site. Already signed up are Crooked Stave and Palisade Brewing Company.
The 2019 Sunset Concert Series lineup is as follows:
● July 24 — Jon Cleary & the Absolute Monster Gentlemen (New Orleans Funk & R&B)
● July 31 — Flor de Toloache (Mariachi)
● Aug 7 — Pierce Edens w/ The Dirty Grass Players (Rock & Bluegrass)
● Aug 14 — Mo Lowda and The Humble w/ special guests the Mammoths (Alternative, Indie & Rock)
Music on the Green in Mountain Village
The Telluride Mountain Village Owners Association and Beyond the Groove Productions are pleased to announce the 3rd annual Music on the Green concert series in Mountain Village, Colorado. Music on the Green, a free summer concert series taking place most Fridays, starting June 7 through September 6 from 5:00 – 7:00 p.m. at Mountain Village Reflection Plaza, adjacent to the Madeline Hotel & Residences.
"Music on the Green is a great way to start to your summer weekends," said Anton Benitez, president of TMVOA. "Meet with friends, grab a drink, a bite to eat, and enjoy live music in Reflection Plaza."
The concert series line-up features a wide variety of bands and musicians who will start the weekend with a celebration of music and art amid the backdrop of the San Juan Mountains surrounding Mountain Village.
The 2019 Music on the Green line-up features:
· June 28 – Sammy Brue (Singer-songwriter)
· July 12 – Robert Ellis – The Texas Piano Man (Singer-songwriter)
· July 19 – The Carolyn Sills Combo (Swing Band)
· July 26 – Andrew Duhon (Folk)
· Aug 2 – I Draw Slow (Irish Folk)
· Aug 9 – Freddy & Francine (Pop, Folk)
· Aug 16 – McCarthy Jazz Trio (Jazz)
· Aug 23 – Pat Byrne (Irish Folk-Rock Singer)
· Aug 30 – Jim Parker (Country/Americana)
· Sept 6 – Ruby (Indie Rock)
"These free Friday shows at Reflection Plaza offer an intimate experience with top-class local and national acts, it is quite an eclectic line-up," said Denise Mongan of Beyond the Groove Productions. "It is a chance to relax, and socialize while enjoying live music performances in a small intimate outdoor venue."
---
Dillon Amphitheater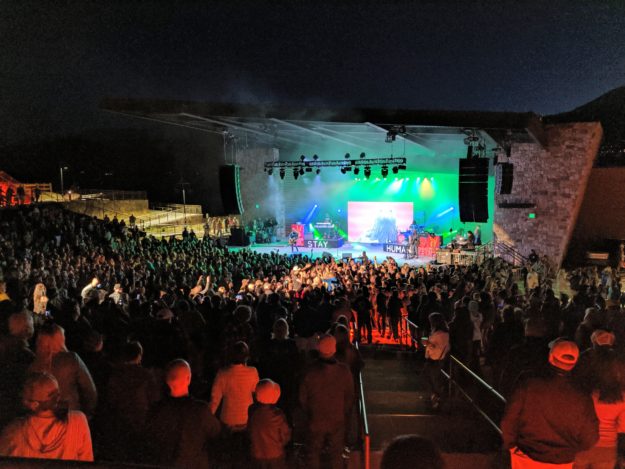 SUMMER 2019 EVENT SCHEDULE
Ticketed Events: Tickets for purchase here – https://dillonamphitheater.com/
AUG 3 | 7pm Lake Street Dive (Opener: YOLO) | $45 GA
AUG 17 | 7pm B52's | $40 GA
FREE EVENTS
JUL 26 | 7pm Ghost of Paul Revere (Opener: Paul Whitacre)
JUL 27 | 7pm Toots and the Maytals (Opener: The Gladiators feat. Droop Lion
AUG 2 | 7pm The Subdudes
AUG 9 | 7pm Delvon Lamarr Organ Trio
AUG 10 | 7pm Ruthie Foster
AUG 16 | 7pm Bruce Hornsby and The Noisemakers*
AUG 23 | 7pm Satellite 13 & Special Guest Beau Thomas
AUG 24 | 7pm Vaud & The Villians
AUG 30 | 7pm John Popper and Brothers Keeper*
AUG 31 | 7pm Larkin Poe
SEP 1 | TBD SMRF (Summit Musicians Relief Fund)
SEP 6 | 7pm Carolyn Wonderland
SEP 7 | 7pm Al DiMeola Accoustic Trio*
SEP 13 | 7pm Kizumba Band 12 Piece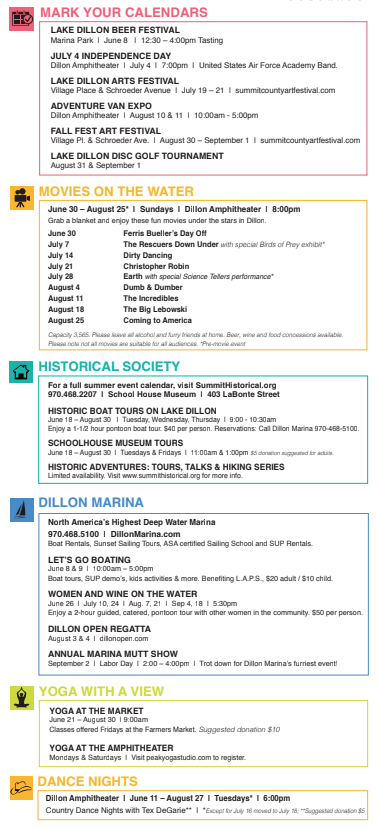 ---
Strings, Ciders and Sours, Breckenridge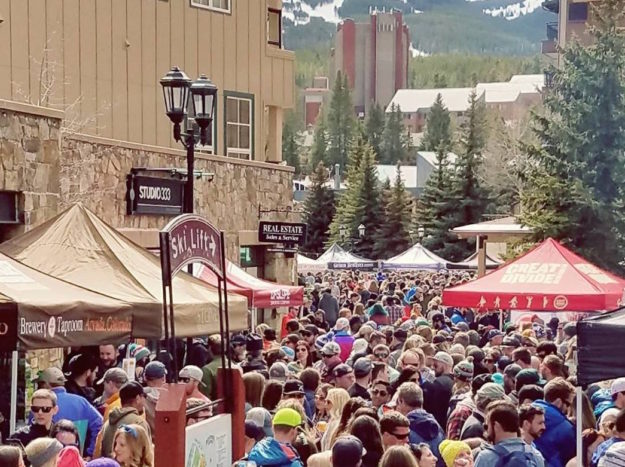 Ciders and Sours are some of the most loved beverages in the universe and the route to all things magnificent. Add in some live Bluegrass by Buffalo Commons and The McDevients, delicious food, gorgeous Breckenridge mountain views and great friends…….you have an irresistible recipe for making magic! These indulgences all come together for the 3rd Annual Breckenridge Strings, Ciders & Sours on Saturday, September 28th, 2019. Hosted by Rocky Mountain Events, LLC. Be sure and check out all of our festivals and events @ Rocky Mountain Events.
Ciders and Sours lovers come together to taste their way through a wide array of samples from local and national Craft Breweries while boogying to some great bluegrass music from our beloved Buffalo Commons (Steamboat Springs, CO) all under the majestic mountains of Breckenridge! Guests will receive a commemorative tasting glass, access to the live music, entertainment and festival activities, and a chance to taste and explore their way through an assortment of ciders and sours while learning from the Brewery Ambassadors. Festival food from local vendors will be available for purchase "a la carte" throughout both Plazas. We know you will be hooked and will keep coming back for more!
---
The Lariat, Buena Vista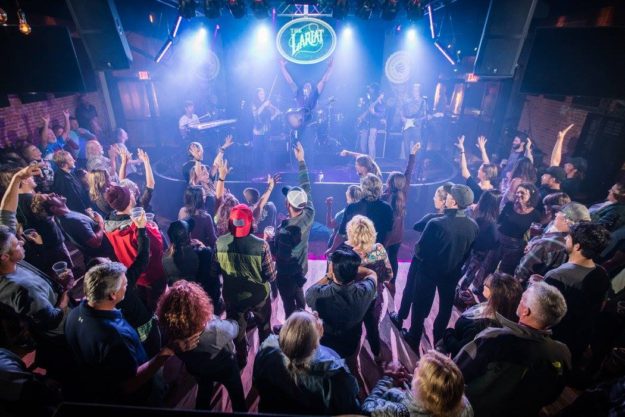 The Lariat in Buena Vista: Striking gold in the mountain music scene
Music fans live for the opportunity to experience world-class talent in an intimate venue, and Lariat owners Court and Robbie Johnson provide that opportunity year-round in Buena Vista. Since taking over The Lariat in 2016, Court and Robbie have consistently booked top national and regional talent – Grammy-winning blues legends like John Primer and Otis Taylor as well as internationally renowned artists like John Popper of Blues Traveler and Davy Knowles from the Isle of Man.
Increasingly, bands headed to or from Colorado's music mecca – Red Rocks Amphitheater – are stopping by Buena Vista to perform at The Lariat as word spreads about this amazing musician-friendly venue. That list includes upcoming performances by Nicole Atkins and Town Mountain, btw.
The Lariat's dedication to live music separates it from other music venues, but the Lariat experience actually begins outside, with stunning vistas of the Collegiate Peaks and the historic character of small-town Buena Vista. Long known as home to the state's best whitewater. BV sits alongside the Arkansas River surrounded by the highest concentration of 14ers in the state, natural hot springs and endless outdoor recreation opportunities.
After taking in the outdoor fun, incredible scenery and small-town charm of BV, the experience continues inside. Court and Robbie transformed The Lariat from a nondescript dive bar into a state-of-the-art live music venue, craft beer and cocktail bar, and gastropub restaurant featuring a locally sourced menu. Renovations accentuate the railroad-era history of the brick building, creating a western steampunk vibe.
After playing his first gig at The Lariat, Gasoline Lollipops frontman Clay Rose, exclaimed, "We love it there. … It's really one of the best venues in Colorado, especially the sound!"
Since then, The Lariat has raised the bar by installing the only Meyer Linas sound system to be found in an intimate (300-capacity) venue in Colorado. Controlled by a Midas Pro 3 soundboard, the system produces impeccable sound and gives The Lariat bragging rights for the best sound system in Colorado's mountain scene. Along with Court and Robbie, legendary soundman Brother Rob provides the human touch – a key ingredient in creating The Lariat's magical sets of sonic delight.
But don't take our word for it. "As far as a good ol' rock 'n' roll venue, The Lariat is the place," according to National Flat-picking Champion Tyler Grant of Grant Farm and Pickin' on the Dead.
Current Line Up:
July 26 Bonnie Blue
July 27 ATOMGA
July 28-30 The Powell Brothers
August 2 Aaron Kamm and The One Drops
August 3 Ally Venable Band
August 4 – 6 AJ Fullerton
August8 Israel Nash
August 9 Mo Lowda and the Humble with The Mammoths
August 10 The Fritz
August 15 40oz To Freedom
August 16 The Brothers Comatose
August 17 SteelyDead
August 23 The Aquaducks
August 24 My Blue Sky
August 29 Lindsay Lou
August 30 Cordovas
August 20 Trout Steak Revival
September 6 Moonpuddle
September 7 Worlds Finest
September 13 Jerry Joseph and the Jack Mormons
September 20 Jeff Crosby and The Refuges
September 21 Eminence Ensemble
September 27 Dragondeer
September 28 Voodoo Visionary
October 4 Town Mountain w/ the Mallet Brothers band
October 5 Haldon Wollford and The Hi*Beams
October 18 AJ Fullerton
October 25 The Magic Beans
Check their event calendar for the full line up: www.thelariatbv.com

WOULD YOU LIKE TO HAVE YOUR FESTIVAL OR CONCERT INFORMATION APPEAR HERE? MountainTownMagazine@gmail.com