The Dogwood – Adults Only Cocktails in Crested Butte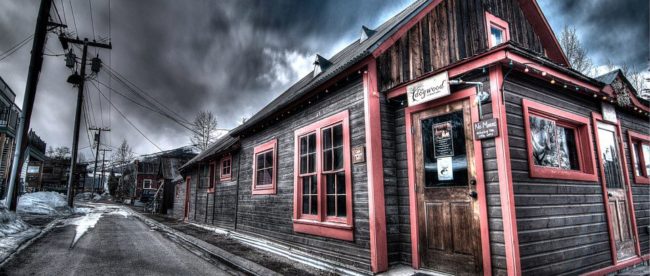 In a town known for delicious food, drink and awesome adventure, the Dogwood in Crested Butte has been keeping locals and visitors coming back for almost 10 years. The Dogwood is a cocktail cabin found in the heart of downtown CB in an alley just off Elk Avenue and Third Street.  Known for their satiating-infused concoctions and nuanced, handcrafted bar food, you're guaranteed to want to keep trying things on the menu.
When you step into a miner's cabin that was built in 1891, you can feel the history of Crested Butte as the floorboards creak. It's the kind of space that's only natural to have classy cocktails that serve as a great reason to see friends, catch a drink after work, spice up an evening or a part of date night.  Dogwood classics, like the Poco Loco (pineapple + habanero + lemon + honey), a vodka martini, and the Hibiscus (hibiscus + lime – up), arguably the lightest margarita you could ever have, are popular go-to drinks for a reason.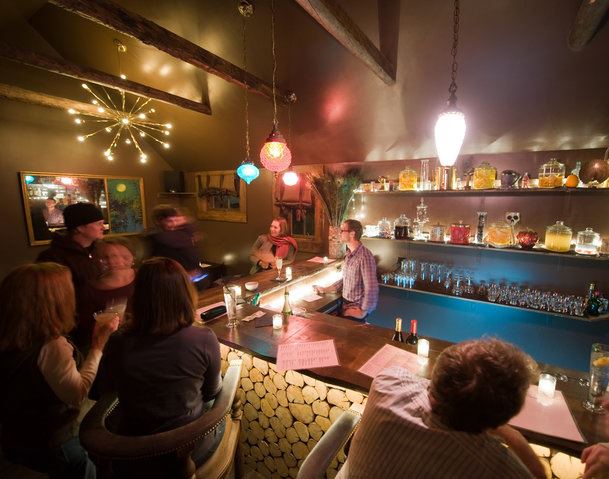 "It's a place where wedding parties and ski bums coexist," says co-owner, Drew Henry. "We have an egalitarian approach to fine food and craft cocktails."
"It's really fun to impress people with drinks and a great experience," adds Sarah Jane Lubeley, Drew's partner in business and in marriage.  
The couple bought the Dogwood from original owners, Doug and Phoebe Pedersen, in July 2015 after working there for a couple years.
"They taught us the ins and outs of this place," explains Henry. "Infusing the alcohols and showing us how to run this bar is all their credit."
The décor hasn't really changed, nor has the fact that you might be listening to Patsy Cline, Wu-Tang Clan or Willie Nelson and not notice the music changing.  The back bar, beer and wine options have expanded since the ownership change.
"It's good to have stuff so we can accommodate more than the specialty cocktail crowd, ranging from a $4 Avery IPA to a $45 pour of Macallan," justifies Henry.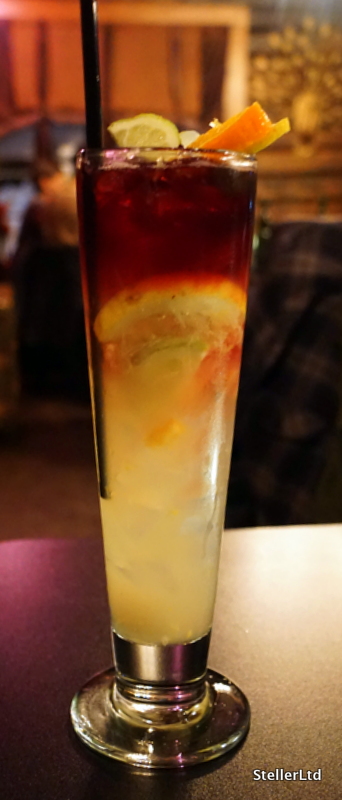 The variety of cocktails at the Dogwood will likely make you a repeat offender.  Drew's recent favorite is called the Porch Song (Leopold's Navy Strength Gin + Grapefruit + Mint + Honey + IPA float – Rocks). It's a cocktail that has a sweet side set off with a hoppy aroma that is absolutely refreshing.  The thought of an IPA splashed in your cocktail might not appeal at first, but after a taste you'll start to understand the kind of genius that goes on at the Dogwood.
The martini options are almost endless. The Beetnik (beet + ginger + lemon) is a top seller in the vodka department and the Mojo Jojo is basically a mint julep with gin.  Thor's Hammer (Bulleit Rye + ginger + Peach Street amaro – cube) is a spirit-forward drink named after Sarah Jane's father that features an amaro from Palisade Distillery and raises funds for the Rocky Mountain ALS Chapter. Sarah Jane's personal favorite is the Mr. Pink, a pink peppercorn-infused vodka with peach and bubbles on the rocks.
If these aren't mouth-watering enough, there is a small food menu to snack on. The food, like the smoked edamame, is kept casual to encourage conversation and enjoy the beverage.  The mac and cheese ball and the pretzel are worth trying just to help pace the alcohol – never mind they're made from scratch and delicious.  
Just like any time spent in Crested Butte, it's natural to want to come back to the Dogwood.
"We connect people to what they drink," explains Lilah Hubbard, a waitress for two years there.
Make time to visit the Dogwood next time you can; it'll be hard not telling your friends about it, but why would you deny them that?
CABIN FEVER: $4 off select Martinis (Summer 4PM-6PM : Winter 5PM-7PM)
By William Dujardin of WestElkProject.com for MTN Town Magazine
MTN Town Magazine | We are Colorado's Mountain Town Magazine
Copyright © 2018 MTN Town Magazine all rights reserved.