ULLR FEST – Seriously, It is Time!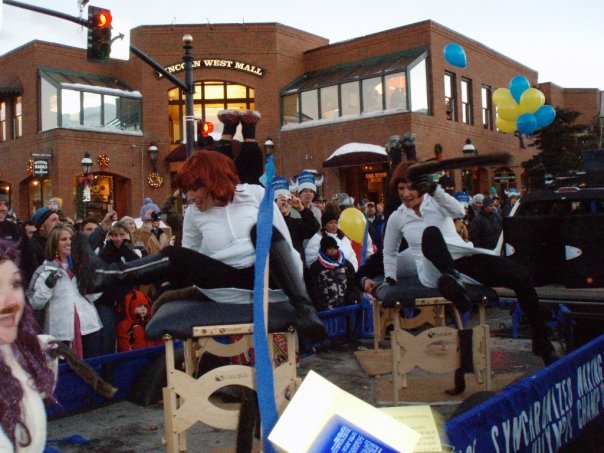 Ullr Fest, it's here and we could not be any more proud and excited to pay tribute to the Norse god of snow. It looks like Ullr will be blowing in to celebrate with us, as long anticipated snow is forecasted to fall and decorate the week-long festival with his bounty. For me, the owner of MTN Town Magazine, this will be my 28th year of paying homage to this big blustery guy. We're going big and partying it up like those girls from Blue Sage Spa pictured above. Grab your horns friends.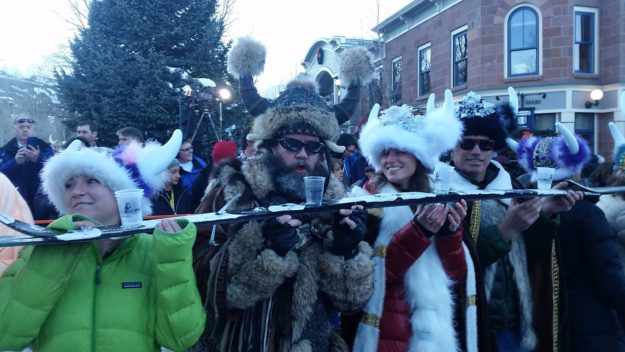 One of the highlights of this celebration is the iconic Main Street parade. More than 12,000 powder hounds will unite for one of the craziest parades you have ever experienced. Everyone will be lubed up and ready to go as the Breckenridge Distillery's will be attempting a record-breaking shot ski session. We will be filling folks cups and couldn't be prouder to help. Later that evening warm up by the MASSIVE Ullr Fest Bonfire!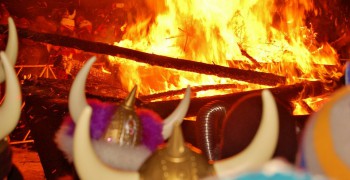 This year they have also added the Ullr Ice Plunge. We are even daring ourselves to jump in.  There is Family Snow Day, Ice Skating, Hockey, Fat Tire bike racing and a film fest evening.
Don't miss the chance to be honored with the presence of local royalty with Ullr Fest King and Queen, Joe Howdyshell and Erin Gigliello. We LOVE those two.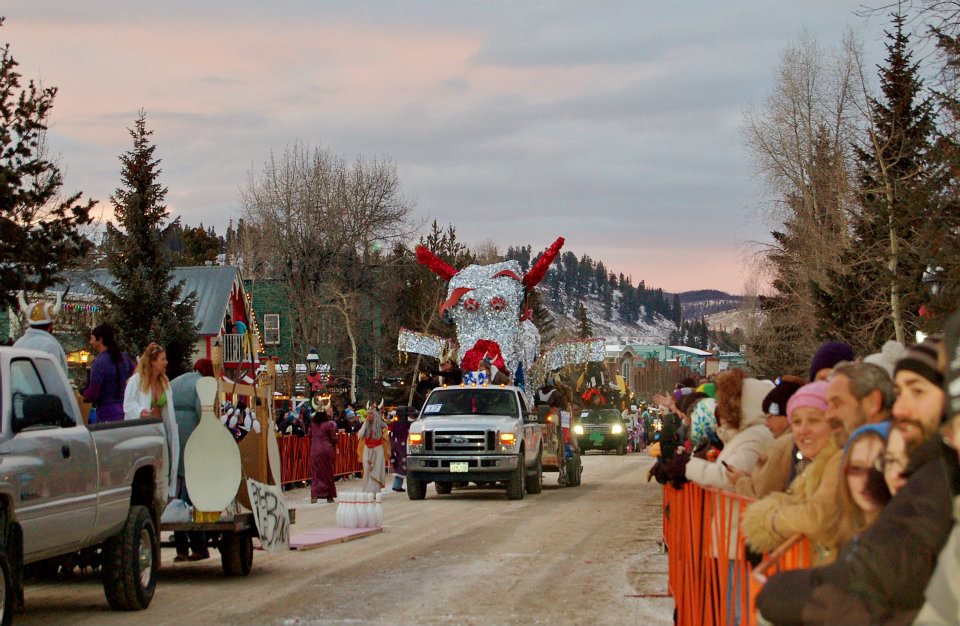 If you have not ever experienced Ullr Fest then your in for one frozen hell of a treat! Come join us, the schedule is thick with Fun:
Wednesday, January 10
6:30pm – Crowning of the Ullr King and Queen
Continuing 56 years of tradition, two local residents are chosen as the Ullr King and Queen for their contributions in the community. This will take place at the Riverwalk Center before Breck's Got Talent.  Doors open at 6:00pm
6:30pm – Breck's Got Talent 
Join local radio station, Always Mountain Time, for a town-wide talent show at the Riverwalk Center, located at 150 W Adams Avenue. Arrive early, the first 200 attendees will receive a free beer!  For more information or to register, contact 
miranda@alwaysmountaintime.com
. JDoors open at 6:00pm, Show at 6:30pm
7:00pm – Rocky Mountain Junior Hockey League All-Star Game 
Watch the pinnacle of Rocky Mountain hockey talent compete at the Stephen C. West Ice Arena! Not only is it is a spectacular display of hockey, but period intermissions with Ullr prizes and fun for the whole family. Help us cheer on the Bolt players participating in the Rocky Mountain Junior Hockey League All-Star game!
Thursday, January 11
4:00pm – Ullr Shot Ski – SOLD OUT
The Breckenridge Distillerypresents the World's Longest Shot Ski. Last year the shotski had 1,234 participants, spanning 1,250 feet down Breckenridge's Main Street. Park City took over the world record in October 2017, so come out and help Breckenridge regain the World Record title!
4:30pm – Fat Tire Ullr Bike Race We're kicking off the Ullr Fest parade with the Fat Tire Ullr Bike Race! Last year, 70 competitors lined up at Ullr Bike! The race route will start from From Main St. the race will head east into the French Gulch trail network for a great mix of terrain! Register for the Ullr Bike Race!
4:30pm – Ullr Parade
The centerpiece of the week, the Ullr Fest Parade, showcases Breckenridge's wild winter fun while taking over Main Street. There will be cash prizes for the most creative float! 1st gets $500, 2nd gets $300 and 3rd gets $200. Register your float!
5:00pm – 7:00pm – Ullr Bonfire
Join us for the town bonfire and retire your Christmas tree in style! Taking place in the South Gondola Parking Lot with FREE entertainment by Red Bull.
Friday, January 12
2:00pm – 4:00pm – iFurnish Ullr Ice Plunge
Come prove your endurance and dedication to the cold at the Ullr Ice Plunge. Plunge into the frozen depths of the Maggie Pond and fully immerse yourself in winter's chill. There will be music, food, drinks and laughter. We will also hold a competition for the 
Best Plunge Costume
 so come dressed to impress. The winner will receive their own decorated Ullr Helmet. Too afraid of being cold? Don't worry there will be a heated changing room and even a hot tub, provided by 
Affordable Mountain Hot Tubs
, open to anyone willing to accept the challenge! Located at Main Street Station Plaza, 501 S Main Street.
8:00pm – Comedy Night
Come laugh out loud with professional stand-up comedian, Jimmy Dunn, at Ullr Fest's Comedy Night. Dunn is an actor and stand-up comedian from Boston, who recently co-starred on the CBS comedy "The McCarthys" as Sean McCarthy. He got his start in the comedy world telling jokes at a bar in Gloucester, Massachusetts, where he was paid in beer and fried clams.  Since then, Jimmy has gone on to perform at some of the comedy industry's most prestigious events, including Denis Leary's Comics Come Home, Montreal's International Just For Laughs Comedy Festival, and the Late Show with David Letterman. A fundraiser benefiting Breckenridge's Carriage House Early Learning Center. Door open at 7 pm.  Tickets are $25 and are available online. Doors open at 7:00pm.  
Purchase Tickets
Saturday, January 13
11:30pm – 1:00pm – Family Snow Day
Join us at Carter Park to play in the snow and share with the little ones how to channel their inner Ullr. Come dressed to play in the snow and bring a sled for some Ullr-ific sledding, snowman building, and other fun family activities. If you need to warm up, come into the Carter Park Pavilion where there will be fun Ullr Fest art projects and snacks. Everything is FREE at the Family Snow Day, so bring your mittens along with an enthusiasm for snow and let the fun begin!  300 South High Street, Breckenridge, CO 80424
1:15pm – 3:00pm – Ice Skating Party
Bring the kids for an afternoon of ice skating and free kids Ullr helmet decorating. Steven C. West Ice Arena, located at 189 Boreas Pass Rd.  Hosted by the Breckenridge Ambassadors.
6:00pm – Wild and Scenic Film Festival
Continental Divide Land Trust and HC3 have partnered once again to bring you the Wild & Scenic Film Festival that informs, inspires solutions and creates positive perspectives to restore the earth and human communities. You'll experience the adrenaline of climbing the highest peaks and trekking across the globe with adventure films from around the world. You'll explore the issues and movements with leading environmental activists and professionals, filmmakers and celebrities. And you'll celebrate the natural and human world in all its diversity.
Time: Doors at 6:00pm, show at 7:00pm
Location: Riverwalk Center, Breckenridge
Ticket Prices: $20 in advance, $25 at the door
Can't wait to don the horns! See you there.
~Holly Resignolo, Publisher
MTN Town Magazine | We are Colorado's Mountain Town Magazine
Copyright © 2018 MTN Town Magazine all rights reserved.