T is for Telluride Thanksgiving – Telluride.com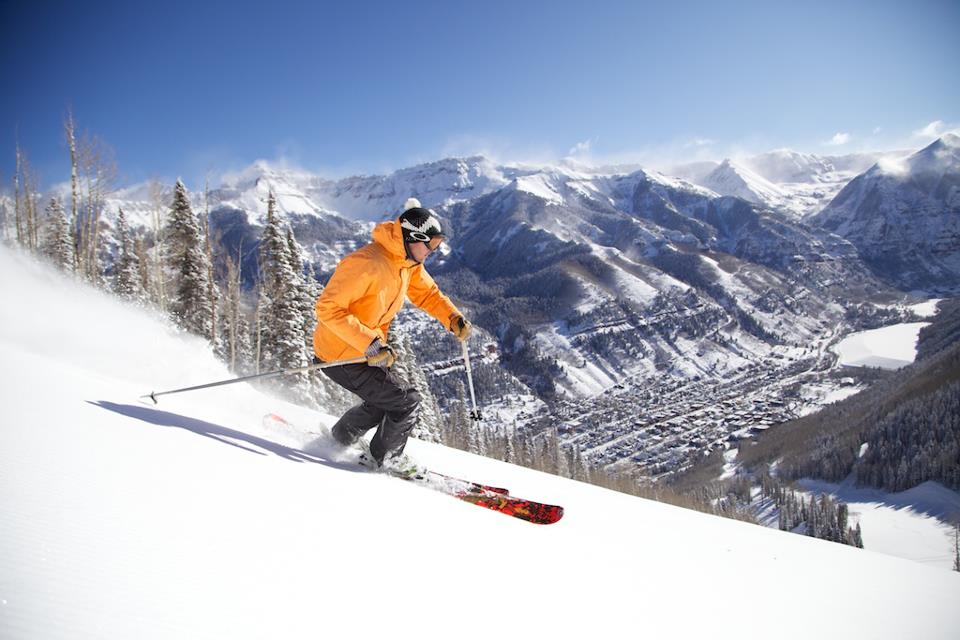 Lets hear it for the T's! Time for Thanksgiving, Turkey, Tryptophan and Turns in Telluride! We're excited to reflect on a wonderful summer with friends and family, kick off the 40th season at the Telluride Ski Resort, eat way too much and prepare ourselves for another wonderful winter here in Telluride. We've done our wall sits, off-season cleanses and ridiculous snow rituals… now it's time to take it to the slopes for the next 130+ days. We hope you join us for some turns this winter and have a Happy Thanksgiving!
Here's your Top 5 Best Things to do in town this week THANKS to Telluride.com's insight:
---
Tuesday, November 20th – Telluride Gallery Locals Show – The Telluride Gallery will kick off its winter season with a show featuring radical altered album covers. Come celebrate the art behind the music with some of the best vinyl album covers from your favorite bands. Wear your favorite rock band t-shirt and come check out the exhibition from 5-8pm. For more info, visit their website.
---
Wednesday, November 21st – Donation Day – Strap on your skis and hop on the slopes one day early… and give back to a good cause! Telluride Ski and Snowboard Club's season-opening tradition, Donation Day, will kick off the 2012/2013 winter ski season this Wednesday at 9am. Lift tickets are $25 for everyone participating and 100% of the proceeds go to help fund tuition for a number of Telluride Ski and Snowboard Club (TSSC) members. "Everyone who buys a ticket, that money goes directly into the financial assistance fund. So essentially, everyone who goes skiing will help a child", said TSSC executive director Justin Chandler. For more information about TSSC, visit their website. Thank YOU for giving to a great cause and see you on the slopes!
---
Thursday, November 22nd – Thanksgiving & Opening Day – First and foremost, we give thanks on Thursday for everything we've been blessed with – loving families, great friends, a wonderful summer, and an exciting winter ahead of us. After we prep our turkey dinner fixin's… we're heading to the slopes to celebrate Telluride Ski Resort's Opening Day! Welcome back ski legs and cheers to a wonderful [and deep] winter! Looking for the best Turkey dinner in town? Baked in Telluride is offering a HUGE feast from Noon – 10pm with: roasted turkey, stuffing, mashed potatoes, green beans almandine, honey cranberry sauce, a roll, slice of fresh baked pumpkin/pecan/cherry or apple pie for $16.99. To-go orders available, call  
970-728-4775. Happy Thanksgiving!
---
Friday, November 23rd – Joint Point in concert – local jam band Joint Point will take over the historic Sheridan Opera House to celebrate the kick-off of the 2012/2013 ski season and lead guitarist Stu's 30th birthday. Show will start at 8pm and tickets are $15. Come party down with us at the Opera House!
---
Sunday, November 25th – The Storytellers Show – The Telluride Film Festival presents its 'Sunday at The Palm' series with "The Storytellers" – a collection of delightful short films for kids, curated by the San Francisco Film Society. This is a great event for the entire family and is FREE for all! Films begin at 4pm with a total running time of 66 minutes at the Palm Theater at the Telluride High School.
---
*BLACK FRIDAY SPECIAL* – Don't forget to book your Telluride lodging on Black Friday, November 23rd! We're offering up to 30% off lodging in Telluride for the winter season. For more information, click here.
---
Take a look at last year's Opening Day in Telluride. Look forward to seeing you on the slopes!
[vimeo http://www.vimeo.com/17229163 w=425&h=350]
~Telluride.com
Photo Credits: Telluride.com
Featured Image: Telluride Ski Resort
MtnTownViews.com is MTN Town Magazine's daily journal blogging about Colorado's mountain towns. Like them on Facebook and Follow on Twitter.
© 2012, MTN Town Magazine. All rights reserved. Republication, in part or entirety, requires permission.