Summit Hope Street Art Project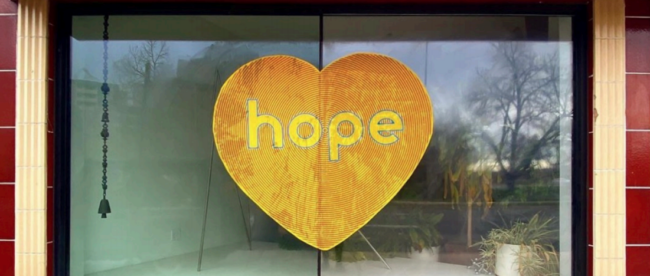 Local social justice activist and artist, Shannon Galpin, was asked by the Summit High School Senior Class to be their commencement speaker for 2020. When COVID-19 turned their rite of passage into a virtual graduation, Shannon began looking at ways to give the senior class something 'more' that was related to her speech and to the senior class's spirit of protest and activism that had led them to choose her as their speaker.

The week she began to write her speech to record, two students at the high school took their lives.

Shannon, herself had dealt with depression following a decade of work in Afghanistan and two back-to-back brain injuries. Her daughter, a freshman at the high school, also has been the recipient of support from Building Hope scholarships.

Shannon's deep work in art as activism in multiple countries with public art and her belief that when we have art, we have hope, led her to connect her speech with art.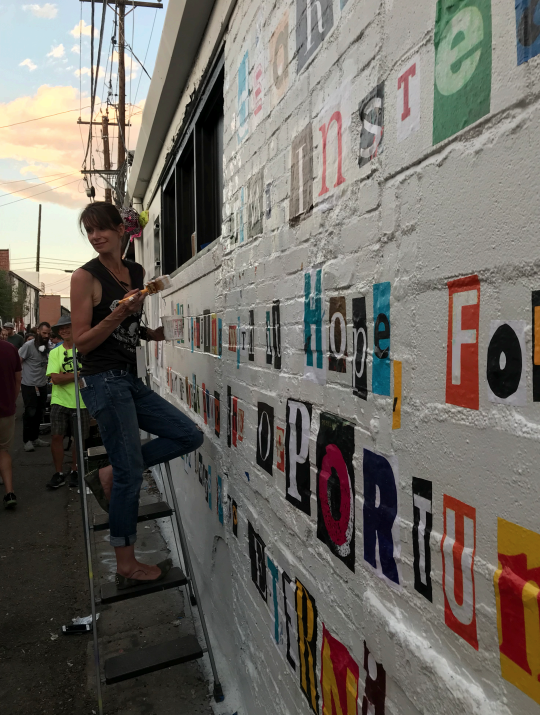 Shannon reached out to Denver based artist, Koko Bayer, well known for her iconic work throughout the city of Denver for her prolific wheat-pasting and street art murals. Koko had started a heart-shaped hope symbol wheat-pasted in the storefront windows around Denver during quarantine. Koko generously agreed to collaborate with Shannon in honor of the Summit High Senior Class of 2020 and in support of mental awareness in the time of COVID-19 to bring her Hope Heart to the Towns of Summit County.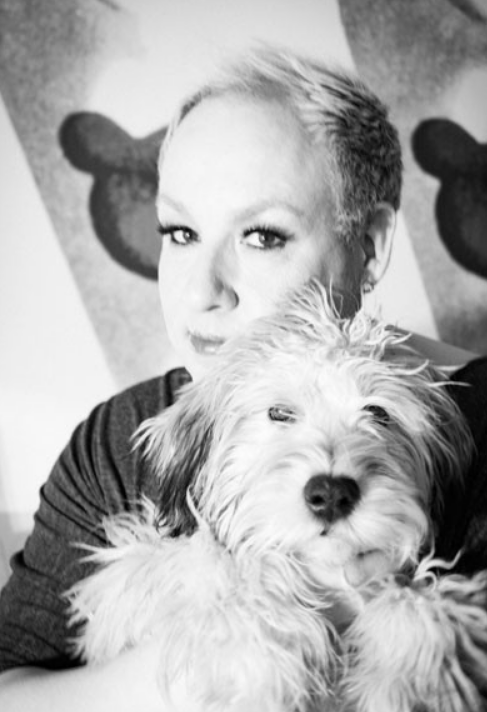 The plan? A collaboration of Shannon's Love Letters murals and Koko's Hope Heart to inspire Summit County's community to hope again.
The goal? To give the senior class a tangible public project that empowers them to inspire Summit County's residents and their fellow students with hope during their graduation and Mental Health Awareness Month.

This project visually impacts the entire county at a time where everyone is feeling enormous grief and loss. The entire student body is feeling the loss of their rites of passage as they prepare for a virtual graduation.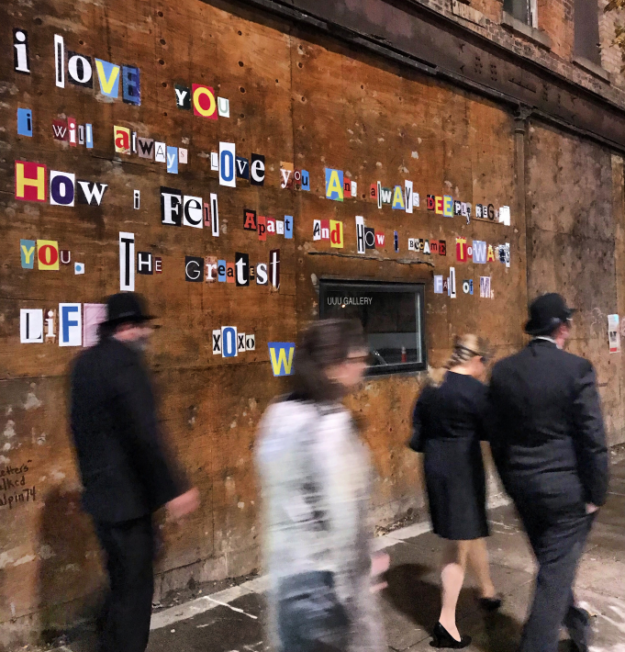 As their towns are slowly moving towards opening up in the month ahead, giving the senior class ownership over a county-wide project, based in spreading hope, is a gift for the entire county.

Hope is the theme for both Shannon's commencement speech to the 2020 graduation class and for a county-wide street art installation takeover.
Hope without action is just a word. But, research indicates that hope can help us manage stress and anxiety. Exactly what we are trying to instill with our students and inspire throughout the community during Mental Health Awareness Month.
Hope contributes to our well-being and happiness and motivates positive action so that other positive emotions such as courage and confidence and Hope contributes to our well-being and happiness and motivates positive action so that other positive emotions such as courage and confidence and happiness can emerge. Hope is the foundation that courage and resiliency is built upon. Hope is what allows us to imagine, and then to start creating, a better world together.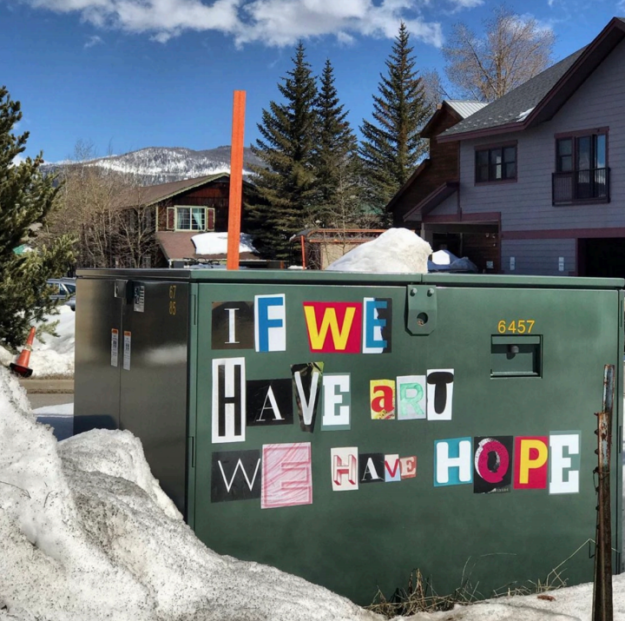 Summit County Towns, as well as Alma and Kremmling, will be allowing window spaces and storefronts to temporarily display Koko's Hope Heart.
Thanks are extended to 1st Bank for providing $10,000 in Sponsorship as well as the Town of Dillon, Town of Breckenridge and Town of Frisco for their monetary commitment. Building Hope Summit County is also involved in helping this project move forward.
The project aims to install over 100 of Koko's Hope Hearts in storefront windows and on prominent walls locations across Summit County towns, and reaching over to Summit County's neighbors in Alma and Kremmling.
Summit County residents will start seeing these going up next week in prominent spots around the county with the goal of having the entire county showing its support of the 2020 class by graduation. In addition, Koko has a little surprise for the high school students of all three High schools in the county and several of the seniors of Summit High will be helping.
Daily dose of Xanax must be divided into 2 – 3 intakes. Moreover, the highest dosage of the drug must be taken before bedtime, as this will help you fall asleep and prevent daytime drowsiness. For example, the daily dose of Xanax is 1 mg. In this case, it can be divided into three doses per day. The last dose must be the highest. For example, you can take 0.25 mg in the morning, 0.25 mg in the afternoon and 0.5 mg in the evening. Read more on https://holisticdental.org/xanax-treat-anxiety/.
Shannon is looking for participation from business owners to have Hope Hearts on display on their Storefronts, she is seeking 100 storefronts: windows or walls across the county -Breckenridge, Frisco, Silverthorne, Dillon, Blue River, Summit Cove, Copper, Keystone as well as Alma and Kremmling.
These are environmentally friendly paper hearts that are wheat-pasted on and will last a couple of weeks and will wash off easily once they start to disintegrate in a week or two, depending on the weather after installation. They can be pasted onto Main Street storefront windows and walls constructed of almost any surface; painted, brick, wood in prominent locations. Businesses can decide to maintain the hearts at their own cost and the artists will coordinate removal and re-installation of new hearts throughout the summer.
Murals based upon the Love Letter murals Shannon has installed in multiple cities across the country and as part of Denver's CRUSH Walls will be installed in several Summit County towns in collaboration with Koko.
These Love Letters are re-imagined from their original intention as a celebration of love and hope to the class of 2020 and each town will have influences of both English and Spanish versions. The first mural to install will go up in Dillon and a permanent mural will be installed in the Summit High School with the hope that members of the graduating class will be able to assist if social distancing allows.
Additional messages focus on Love Hope and Strength – Amor Esperanza Valor and will be painted on ground level walkways in several locations matching the Love Letters murals in style to help continue the cohesive theme of all three elements of the county-wide installation.
Shannon is still seeking sponsorship to help support the costs of this endeavor. If you would like to contribute please contact her at [email protected].
~Mountain Town Magazine
Stay in Touch and Subscribe to our Newsletters: https://mtntownmagazine.com/subscribe/
Mountain Town Magazine | We are Colorado's Mountain Town Magazine
Copyright © 2020 MTN Town Magazine all rights reserved.
Post Sponsored by Rendezvous Colorado