5 Myths about SUP YOGA by Leslie don Ross Mountain SUP Yogi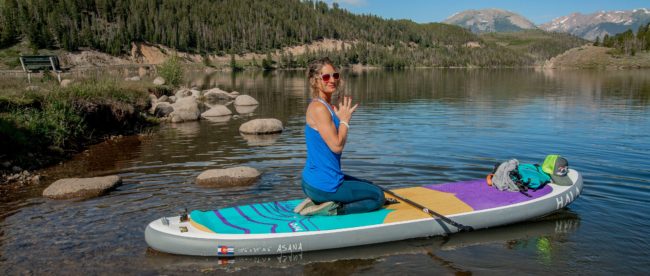 SUP YOGA, short for Stand UP Paddle Board Yoga can appear intimidating, uninviting and too advanced. But similar to diving into any new activity, SUP YOGA requires that you start where you are and find a class that is designed for first-timers. Just because you are a beginner doesn't mean you have to deny yourself the fun of a floating yoga mat, learning new skills, or up-leveling your existing yoga practice through trying something on the fringe of your comfort zone. SUP YOGA is more accessible than you may think and is an incredibly rewarding experience.

Let's look at 5 myths that may have kept you from participating.

Myth #1: Prior experience with Stand UP Paddleboarding is required
Yes, having paddling experience is a plus but not required for many lake or pool classes. All SUP Yoga classes start out with an equipment overview and skills introduction to provide you the tools to safely paddle to and from the spot where the yoga class starts. Standing up on a paddleboard is not mandatory, and sometimes kneeling is the best option when there is high winds, strong current or you lack the upper body strength needed to propel yourself forward when standing. Many teachers encourage students to start on their knees (kneeling with your shins on the board) and choke up on the paddle as you paddle out and back into shore.

Myth #2: You need to be a Yogi to participate
Although it's helpful to have an awareness of the basics of yoga, anyone can participate in SUP YOGA. Often times those with prior yoga experience have a tougher time than rookies since they may have performance expectations relative to their indoor practice. My best advice is to come with an open mind and leave expectations of yourself and the experience on shore. A good teacher will offer options and alternatives so all levels can feel challenged within their comfort zone. Flexibility is an asset, but not always a reality for everyone. A seasoned instructor will assess the students' ability levels and offer alternatives for those people unable to touch their toes or bend in a "traditional" yoga pose.

Myth #3: It's all about core
Core strength is helpful for SUP YOGA, but it is not required. Similar to indoor studio yoga classes, there are different styles of SUP YOGA as well as a wide variety of teachers with diverse training and experience. Check the class description before signing up; Some classes are designed for the general public catering to all levels while some have a specific theme or ability level. Classes can focus on the core while others are more focused on relaxation incorporating restorative and yin style poses. Strong currents, wind or inclement weather can contribute to an added challenge where core strength is helpful. In the end what is paramount is a steady breath, a calm mindset and finesse when paddling and moving in and out of poses.

Myth #4: I am going to fall in
The percentage of people who fall in is very low. Getting wet is also relative to the location and style of class. While challenging yourself to the point of taking a dip is often encouraged and sought after in warmer climates, here in the mountains of Colorado I strive to keep my students warm, dry and smiling. Often times getting wet happens after class or during play time when yogis aren't paying attention or challenging themselves into a new pose. Boards are easy to remount and teachers are trained to help assist you in the event you need help.

Myth #5: I will float away
Many SUP YOGA classes utilize marine anchors during the yoga portion of the class to keep the group in close proximity. Anchors with long cords are attached with a carabiner to a d-ring on the board. Other classes set up fixed lines with carabiners that you can easily hook your board to so everyone is attached to the group anchor with ample space between boards. River SUP YOGA classes often forgo the anchors and do a float and flow style where the class starts in calm water or an eddy and then the class floats downstream and paddles back to the calm area.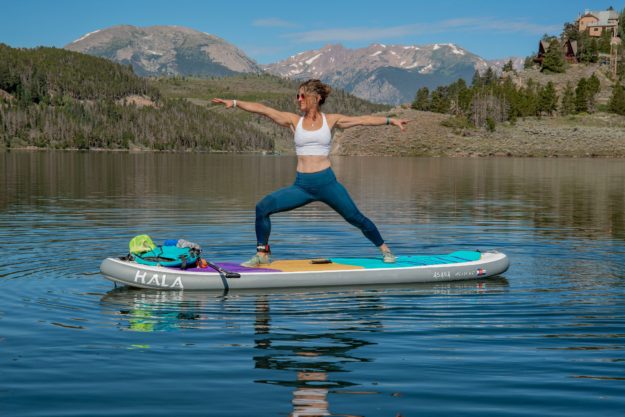 So now that I've shed a little light on some possible obstacles to entry, consider exploring a SUP YOGA Class at your local watering hole or at your vacation spot. SUP YOGA Season is far from over and lasts year-round in many locations.

Feedback: Let us know what has held you back from trying SUP YOGA or what your friends have used as an excuse to not come to your class.

Happy Paddling SUP YOGIS.
Mountain SUP YOGI ~ Breckenridge, CO
Photo Credits: Katie Girtman, Studio Kiva Photography
Subscribe to Mountain Town Magazine's Newsletters: https://mtntownmagazine.us5.list-manage.com/subscribe?u=b201d3f6011dc788c4ef83bf9&id=a3d08af7b1
Mountain Town Magazine | We are Colorado's Mountain Town Magazine
Copyright © 2019 MTN Town Magazine all rights reserved.