Steamboat to Breckenridge – USA Pro Cycling Challenge Stage 5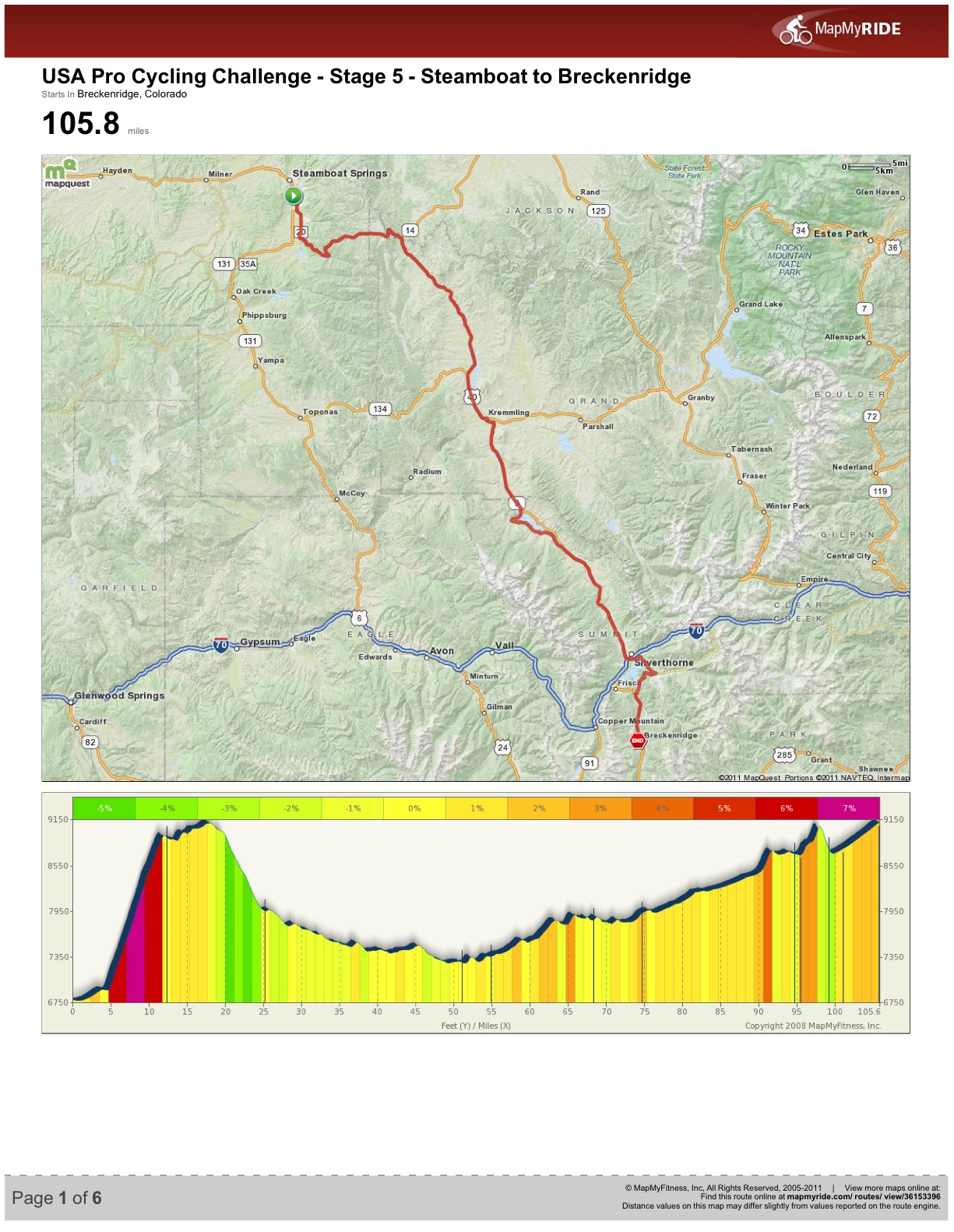 Our Colorado mountain towns are buzzing with excitement as their residents prepare for the USA Pro Cycling Challenge. Each stage will be  pure amazement for our spectators and riders! Stage 5 is another epic day. Steamboat Springs, the only town to have a start and finish brings the USA Pro Challenge racers to Werner Mountain, where the cyclists will take off with a view of Steamboat's beautiful valley.  This will be another great stage  filled with ample breakaway and aggressive racing. 
The double-summit Rabbit Ears Pass will host a King of the Mountain line.  A sprint line in Kremmling will then lead to more breakways alongside the scenic Green Mountain Reservoir and fights for the finish line in Breckenridge, ending 109 miles of racing in what may prove to be the fastest road race finish during the seven day tour. Racers will wind through Dillon, Keystone and Gold Hill with the cyclists entering Breckenridge and ride to the finish line downtown.
Steamboat Schedule of Events: Sunday August 28, 2011
8AM: Steamboat Triathlon (Olympic distance) Lake Catamount
9:30AM-4PM: Gondola open, Steamboat Ski Area
Teams will arrive at 9:45am. Rider sign-in begins at 10:20am
The race starts at 11:20pm in Steamboat Springs and finishes in Breckenridge at 3:45pm
For everything Steamboat check the Steamboat Pro Cycling website http://www.steamboatprocycling.com/
[vimeo http://vimeo.com/27507556]
BRECKENRIDGE is rolling out the red carpet for you and the racers! Events, activities and music will fill the town with one heck of a vibe.
Breckenridge's cycling culture and the support system surrounding it have initiated awards, such as the recent League of American Bicyclists designation as a silver level Bicycle Friendly Community and implemented advocacy programs and events, such as the Breck 100, Breck Bike Week, the Breck Epic, and the Firecracker 50 (a USA Cycling National Marathon Championships). Their police officers patrol on bikes; Their transit system is bicycle friendly; and the Breckenridge Ski Area offers lift-served mountain biking. Breckenridge is a bike town
Breck Heritage VIP Party on the Barney Ford Lawn
When: August 27 at 12:00 noon
Where: Watch the Stage 5 finish of the USA Pro Cycling Challenge from the comfort of the Barney Ford Lawn. Party on the lawn, watch the racers rush by and see the finish on the big screen at the Blue River Plaza. Tickets include seating, snacks and beer or wine.
Cost:$40: Aug. 7-13, $50 Aug. 14-27, $75 On-site race day (but we doubt tickets will last that long!) Purchase at the Breckenridge Welcome Center (203 S. Main St.) or by calling 970-453-9767, ext. 2.
Family Fun Zone on the South Side of Town, in the Plaza at Main Street Station  
This Family Zone will cater to the youngest of bicycle enthusiasts, ages 0 – 12.  Plans are underway for a children's concert, face painting, arts and crafts, balloons, bouncy castles and bicycle decorating just to name a few, from 9am  – 2pm until the race winds its way up to Breckenridge. 
Big Head Todd and The Monsters
A free concert in the Breckenridge Riverwalk Center after the USA Pro Cycling Challenge Stage Five Finish. Doors open at 5:00 p.m.; show starts at 5:30 p.m.
[youtube=http://www.youtube.com/watch?v=NpVWoF57sZg&feature=player_detailpage]
BRECKENRIDGE – Saturday schedule of events
11:00 a.m. – 4:00 p.m. – USA Pro Cycling Challenge Expo and Beer Garden in the Sawmill Lot, adjacent to the race finish at Wellington Road and North Main Street.
11:00 a.m. – 1:30 p.m. – Citizen Bike Sprints at French and North Main streets (day-of registration only).
11:30 a.m. – 2:00 p.m. – The Pine Beatles perform on the Expo Stage.
11:30 a.m. – and 1:00 p.m. – RipStoke Mountain Bike Show performs 30-minute shows in Blue River Plaza, located at the intersection of Washington Avenue and South Main Street.
1:30 p.m. – Breckenridge Cruisers ride down Main Street.
2:00 p.m. – Live broadcast and race commentary begins on four jumbo televisions located around town 3:30 p.m. – 4:00 p.m. – Athletes expected to finish, with awards immediately following (estimate).
5:00 p.m. – Doors open at the Riverwalk Center (150 W. Adams Ave. in Breckenridge, Colo.)
5:30 p.m. – Big Head Todd and The Monsters free show begins.
Want more information? GOBRECK.com is the place for anything and everything you need to know. Grab a great deal on lodging there while you are at it and stay for awhile. Connect with the Breckenridge online for the latest news and updates on the stage five finish: BreckProCycling.com, Twitter.com/BreckProCycling or Facebook.com/BreckenridgeQPC.
~Summit Sojourner
© 2011, Summit Sojourner. All rights reserved. Republication, in part or entirety, requires a link back to this original post.