Family Summer Fun in Aspen and the Roaring Fork Valley on a Budget?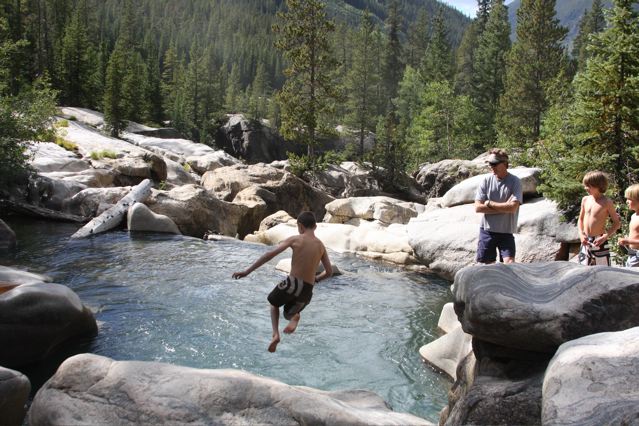 What? Back to school announcements already? I'm just getting into the swing of things and still have so many plans for summer activities. It's like seeing that first yellow Aspen leaf and knowing that Fall is just around the corner. I don't know about you but I'M NOT READY!
With still a few weeks left of summer break, I'm going to pack it in. Only, I'm digging deep into my wallets and only coming up with lint. Thankfully, there are many things to do that don't involve money. All you need are bathing suits, a creative mind and the  energy to have at it.
Quite often, planning takes more energy than the actual activity so I thought I'd share with you a list of things to do.  If your family remotely resembles mine, with children who "think" that they prefer to hang out over exploring and who accuse you of  being selfish  for  planning activities that only you think are fun, than this list is for you.
My trick is to secretly mask our daily adventures by packing a picnic lunch and telling them what our  hanging spot of the day is going to be and  slip in the adventure part before they realize that they've been duped.
Please note that there are dangers involved in all of these "hanging" spots so please do your research before each excursion and pack appropriately for the mountains. Gather maps, bring water and snacks and remember that the weather can change from sunny to freezing rain in a heartbeat.
Here are my top picks:
POOL HOPPING:
Instead of buying into expensive pool memberships and being confined to one pool all summer, we prefer to hop from one pool to another. Our favorites have diving boards, lazy rivers and slides: ARC (Aspen Recreation Center), Basalt Pool and Snowmass Rec.
TUBING and FAVORITE SWIMMING HOLES:
Independence Pass Devil's Punch Bowl: Watch this You Tube video of professional stuntman, Brad Dingess, performing crazy tricks into this punch bowl. There have been many a thrill seeker jumping or diving off of a cliff into this hypothermic swimming hole, carved out from where the Roaring Fork River runs through a five-foot opening below The Grottos on Independence Pass.  I personally do not recommend  it for there have been many accidents, but there are a few places for the kids to jump in higher up the river that are much safer and perhaps just as thrilling. Click here for my story on camping at Lincoln Creek.
John Denver Sanctuary: A great swimming hole for both dogs and kids alike near the Rio Grande Park in Aspen. While there the kids like to run around the boulder garden and amongst the stones carved with beautiful lyrics from some of John Denver's most popular songs.
Northstar Nature Preserve Tubing: Get a tube and put in around the Wildwood School. Make sure that the water is not moving too fast. Head out a couple of miles back toward town by the bridge.
Basalt River: Also a great swimming hole for both dogs and kids alike in Basalt. Path can be found across the street from 711.
Glenwood Whitewater Park: Surf, kayak or boogie board on the first man-made whitewater feature built on the entire length of the Colorado River. Be aware that with the river levels getting lower, the wave decreases in size. You can check real-time action to see how high the wave is on the Colorado webcam.
Photo Credit: Michele Cardamone
Ruedi Reservoir: This beautiful reservoir that sits in the Fryingpan River Valley is a great place to go camping with the family or just hang out for the day. There are four campgrounds accommodating 81 campsites and plenty of mild hikes in the area to explore. Bring your fishing rods and your road bike and make friends with boat people to go exploring around the lake. Visit http://www.fs.fed.us/r2/whiteriver/recreation/campgrounds/index.shtml for more information.
Stand Up Paddle: Our favorite spot is at Beaver Lake in Marble. The water is still warm enough to swim in and if you're lucky Brandon Maxwell will be there with his paddle boards for you to rent out. You can find him at Stand Strong.
And of course there is always the Dancing Water Fountain in the Aspen Mall: Designed by the late computer wizard Nick DeWolf this fountain is a fun summer playground for everyone.
Mountain Biking and Hikes on Snowmass:
Ride the Elk Camp Gondola (nearly 10,000 feet) and Elk Camp chairlift up to 11,300-foot summit daily 10 a.m. to 4 p.m. daily (last ride down 4:15 p.m.). The Elk Camp Gondola will take you and your bike to the midway point on the mountain where you can access more a trail system covering 40 miles of terrain including gentle roads to challenging single track. Check out the new Vapor and Gravity Logic Trails. All Gondolas and chairs are running until around September 5th, but please call first to confirm. For hours, coupons and dates click here or call 877-282-7736 or 970-923-1227.
**NOTE: Saturday, August 13 is Aspen/Snowmass Passholder Appreciation Day at Snowmass. All 2010-2011 season passholders and 2011 full summer passholders will receive a free bike haul pass* and Snowmass lift access for that day. In addition, each passholder can bring a friend or family member along for free.
There will be free downhill mountain bike tours and tips** with Snowmass bike pros at 10:30 a.m. and 1:30 p.m.  Bike pros will lead 60 to 90-minute tours highlighting the new trails and giving tips on the best downhill riding techniques. Tour groups will be divided by ability level. Space will be available on a first-come, first-served basis and numbers will be limited.
Photo on Aspen Chamber Website. Photo Credit: Jeremy Swanson
Mountain Biking and Hikes in Aspen:
Aspen Mountain: For parents with hard core children nine and older, hike up the Ute Trail and continue on up Aspen Mountain for Bluegrass Sundays. Start early so you don't miss the Silver Queen Gondola down.
Gondola runs daily: June 17 – September 5
Hours: 10 a.m. to 4 p.m. (last ride down at 4:30 p.m.) The Sundeck Restaurant is open for food 11 a.m. to 3 p.m. daily. For discounts on tickets Click here
NOTE: It is a difficult two hour + hike straight up the mountain.  When you reach the summit find the FREE ACES Guided Nature Tours,  Kids' Activities,  Music Concerts,  Disc Golf and more.
Conundrum Creek Trail: You don't have to hike the 8.5 miles to the hot springs to enjoy this hike with your family, although it is an incredible hike. The trailhead to Conundrum Creek Trail is off of Castle Creek Road, five miles from Rt. 82 West of Aspen. Roundtrip to the pools is 17 miles.
Hunter Creek Trail: One of our favorites. This trail is perfect for families. The trail parallels Hunter Creek and has several bridges that cross scenic short hikes in the area. The grade is steep as the first mile of the trail ascends more than 700 feet in elevation. There is also a public parking area and trailhead farther up Red Mountain off Hunter Creek Drive.
Independence Pass Summit: Feeling hot? Want to go play in some snow? Drive up windy Route 82 up to 12,095 feet above sea level to the summit of Independence Pass that marks the Continental Divide. There are many hikes that you will pass along the way that range from moderate to difficult so check your hiking trail map before driving. If you're wanting to continue the adventure drop down the other side of the pass to Twin Lakes. For more hikes in this area, visit http://www.fs.fed.us/r2/whiteriver/rangerdistricts/aspen_sopris/trails/index.shtml.
Photo from Familytravel.com
Ice Caves: Located near The Aspen Grottos you will find ice caves that were formed when the Roaring Fork River was swollen with meltwater from receding Ice Age glaciers about 15,000 year ago. There are great directions to the trail head here.
Ashcroft Ghost Town: Ten miles south of Aspen on Castle Creek Road is the historic ghost town built in 1880 for silver mining. The children love walking along the trail past the old buildings. Call 970-925-5756 if you are interested in a tour. No dogs allowed.
Photo: Heritageaspen.com
Rio Grande Trail: This friendly bike path runs 42 miles from Aspen to Glenwood Springs, with mileage markers  found at half-mile intervals. Stop for lunch at a local's favorite, The Woody Creek Tavern.
*NOTE: Dogs are not allowed on the trail between the Catherine Bridge trailhead and Rock Bottom Ranch on Hooks Spur Road.
For more biking and hiking trails click on the Aspen Chamber website for a comprehensive list.
FARMERS MARKETS:
Aspen: Saturdays 8am-3pm. Located at Hunter and Hopkins. The market is still going on in Aspen every day until October 18th with Colorado grown produce and crafts. Cooking demonstrations as well as live music. Kid favorites include the raw local honey that they say helps their allergies, the Kettle Corn and the Italian Ice.
Basalt: Sundays. Located in Downtown Basalt. 10am-2pm. Through September 26th.
Carbondale: Wednesdays 10am-3pm. Located at Fourth and Main. Through October 1st.
Glenwood Springs: Tuesdays 4pm-Dusk. Located at Centennial Park (Ninth & Grand Ave.). Through September 23rd. Cooking demos at 6:30pm. Saturdays 8am – 3pm. Located in 1400 Block of Grand Ave. Through early November.
Free Summer Music:
Snowmass Free Concert Thursdays:   This does not end until August 18th so go on up to Fanny Hill tonight and enjoy a beautiful summer evening of free music. Click here for schedule.
For Lions Park in Basalt and Willits Town Center Schedule visit here.
Basalt River Days: 11th ANNUAL RIVER DAYS FESTIVAL STREET FAIR AND CAR SHOW August 15th & 16th
For full Music Series & River Days schedules visit www.basaltriverdays.com
Carbondale's Wild West Rodeo: Tonight is Hawaiian night so don't miss it!! Gates open at 5:30. Admission is $10 per adult or $30 per carload of 6 people or less. For each additional person a $5 charge is applied. Last rodeo is August 18th.
ENJOY and if you have anything you would like to add, please do so either here or on my facebook page.
© 2011, Summit Sojourner. All rights reserved. Republication, in part or entirety, requires a link back to this original post and Aspen Real Life.