Steamboat Springs OktoberWEST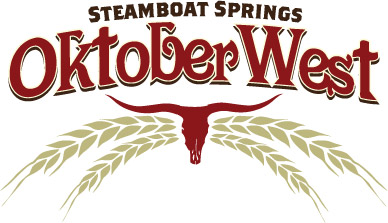 There is nothing German here! Steamboat is as Western Colorado as it gets and that is how they celebrate everything including  Oktoberfest. Celebrate the season at a Steamboat-style Oktoberfest with music, food, beer, games and activities for kids and adults, chef competition and much more. Good Rocky Mountain Colorado beer, Colorado food and Steamboat style festivities, now thats Steamboat Springs Oktoberwest!
Events kickoff Friday night with the Pedaling Posse Parade in Steamboat's historic downtown leading patrons to their favorite restaurants for the Suds & Grub event with beer tastings and food specials. Saturday is packed with entertainment for everyone in the family. Admission to the event is FREE. Embrace the true OktoberWest spirit with events such as the lamb cook-off, Cow PIE Challenge and Bucking Bull Battle while rockin' out during the free concert with a refreshing beer in your hand and you have the perfect fall day in Steamboat Springs. While you are enjoying OktoberWest festivities, cheer on the Run Rabbit Run Ultra Marathon racers at the finish line after completing a challenging 50-mile run along the Continental Divide trail.
SCHEDULE OF EVENTS
Friday, September 16 – Downtown Steamboat Springs
 
5:30pm  Pedaling Posse Parade – Cruiser bikes lead the way from Little Toots Park (12th and Yampa St.) through historic downtown for the Suds & Grub event. The Pedaling Posse theme is "Movies". Come dressed as your favorite movie character and join the fun!             
6pm Suds & Grub – Beer Tastings and Food Specials
Beginning at 6pm, get your beer tasting tokens at Little Toots Park (12th and Yampa St.), 6 tokens for $5.  Tokens can be redeemed for beer tastings at the participating restaurants listed below:
Restaurant: Cottonwood Grill
Beer Tasting:  Blue Paddle Pilsner and New Castle Brown Ale
Food Special: Happy Hour items/prices available during event ($4-$6)

Restaurant: Old Town Pub & Restaurant
Beer Tasting: Deschutes IPA and New Belgium Hoptoberfest
Food Special: Rocky Mountain Oysters ($6.95)
 
Restaurant: Sweetwater Grill
Beer Tasting: Trippel (Belgian style ale) and Levity (Amber)  
Food Special: PB&J- Tender, slow-braised pork belly slider
with a shot of Jameson Irish Whiskey, $8

Restaurant: Harwigs/L'Apogee
Beer Tasting: TBD
Food Special: TBD
Restaurant: Steamboat Smokehouse
Beer Tasting: Stella and Colorado Native  
Food Special: TBD

Restaurant: The Tap House Sports Grill
Beer Tasting:  Pyramid Apricot Ale and Great Divide Hoss Rye Lager
Food Special: Chicken, Pesto, and Fresh Mozzorella Cheese Fries, $5
 
Restaurant: Rio Grande Mexican Restaurant
Beer Tasting:  Dos Equis Amber
Food Special: Tacos $3, Guacamole Salad $5,
Chili Con Queso and Chili Con Queso Deluxe

Restaurant: The Boathouse
Beer Tasting: 5 Barrel and Easy Street
Food Special: Purchase any 2 entrees/sandwiches, and an appetizer,
and receive $10 off of your bill.

Restaurant: Ghost Ranch Saloon
Beer Tasting:   Durango Steamworks Colorado Kolsch and Turner Pilsner
Food Special: House made Pretzel and Cheese Sauce $2, Sliders $2

Restaurant: Double Z BBQ
Beer Tasting:  Fat Tire and Sunshine Wheat
Food Special: Whiskey Glazed Pork Ribs & Smoked Chicken, $16.95 (Paired with Fat Tire)
Whiskey Glazed Spicy Hotlink, $4.75 (Paired with Sunshine Wheat)
 
Saturday, September 17 – Steamboat Ski Area                          
 
6am  Run Rabbit Run – Ultra Marathon race start
10am- 4pm  Gondola open – Buy a Saturday Gondola pass and it is good for the entire weekend
10am- 4pm 50% Off Coca-Cola Adventure Zone Activities
2- 6pm  OktoberWest Festival – Gondola Transit Center, Mt. Werner Circle
2- 3pm Cruiser Bike Competition
2- 5pm Lamb Cook-off & Tasting- Featuring Local Chefs and Routt County Lamb
2- 6pm Beer Garden Open- Free Beer Samples (some of the best brews in the Rockies)
2:30- 3:30 pm FREE concert     
3- 4pm Cow PIE Challenge – Pie Eating Contest 
4- 5pm Bucking Bull Battle – Mechanical Bull Riding Competition
4- 5:30pm FREE concert- Great American Taxi (with Vince Herman of Leftover Salmon)
[youtube=http://www.youtube.com/watch?v=g_vQ-wvDDik&feature=player_profilepage]
5:30pm Announcement of Lamb Cook Off Winners                        
Sunday, September 18 – Steamboat Ski Area
9:30 am- 4pm Gondola open – final day
10am- 4pm Coca-Cola Adventure Zone Activities
10:45am- 4pm $5 Bloody Mary Bar – Oasis Sundeck, top of the Gondola
11am- 2:30pm OktoberWest Luncheon Buffet – Top of the Gondola 
                                   ($10 adults, $5 for children 12 & under)
Go have some true classic Western Steamboat fun!
Event Pricing: Buy tickets Online
Oktoberwest Festival Admission- FREE
Lamb Cook Off Tickets- Available for $15 the day of the event.
Beer Garden Tickets: $25 in advance, $30 at the door.  Includes beer stein and tastings.
Beer Garden & Lamb Combo Tickets: $35 in advance, $40 at the door.  Includes beer stein and beer/ lamb tastings.
~Summit Sojourner
PHOTO CREDITS: Steamboat ChamberResort Association, Steamboat Resort