State Bridge – This Is It! The Last Hurrah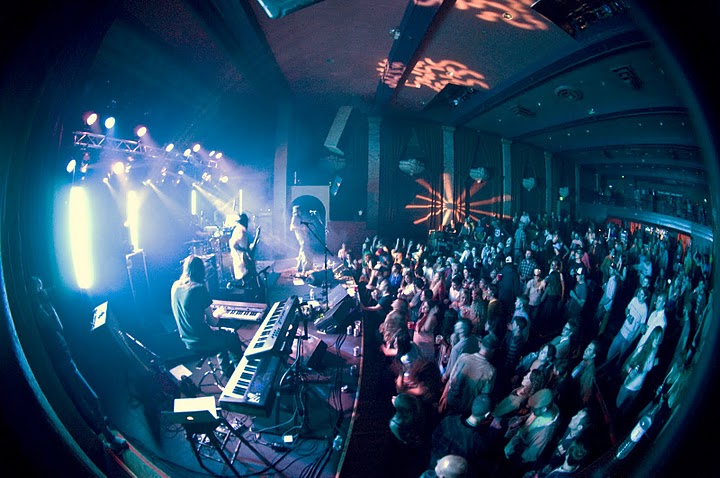 The return of live music to State Bridge and the construction of the McRae Amphitheater set the stage for good times and unforgettable memories this summer. As the venue prepares for its annual hibernation next week, patrons, staff and performers are coming together to celebrate an amazing season with one last hurrah featuring Bill Kreutzmann's 7 Walkers, Vince Herman's Great American Taxi, Shakedown Street, Yamn and others this weekend. Individual-day tickets start at $10. There is also a three-day weekend pass available for $40. As always, camping is encouraged on the adjacent BLM land.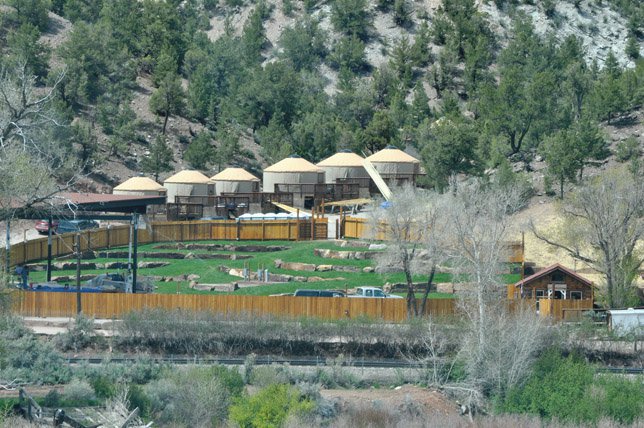 Friday: Yamn supported by String Board Theory

Coming off its successful summer tour with over 30 dates throughout the West Coast, Rocky Mountains and Midwest, trance-fusion rockers Yamn are wasting no time getting back on the road for an extended fall tour that will begin and end in Colorado. After a memorable performance with Dirty Dozen Brass Band in July, Yamn is returning to State Bridge to help out close out the summer season. 
Born in snowy and cold Breckenridge in 2007, and currently residing in Denver, Yamn has let its live performances evolve to fit the good-natured Colorado spirit since day one. Dubbed by one writer as "progressive-electro-trance-fusion with Colorado jam rock enthusiasm," it's quite difficult to fit this band into a box that is labeled. They are explorers of not just sound, but sight and creativity, leading fans through a chase of sonic themes and into a night of both head banging and dancing.
Brian Hamilton leads the charge on guitars and vocals, executing timely riffs with enthusiastic vocals. All of the guys pitch in on vocals, creating a chorus that layers well with the rhythm section made up of bassist David Duart and drummer Adam Ebensberger.
The Yamn experience does not begin and end with the guys who play the instruments. Revered fifth band member and lighting designer Paul Whitehouse plays an irreplaceable role in the group's live show. Knowing every note and bringing his LED light rig along to every gig, Whitehouse's talents add another dimension to the Yamn experience — a feast for the eyes to enhance the full-bodied, crisp melodies and free-flowing power rock jams.
Opening the show Friday night, Steamboat Springs' String Board Theory has been touring across Colorado and the western part of the U.S. for more than three years. With their unique high-energy blend of super jammy, funky, psychedelic rock and blues, the group continues to attract new fans around the region.
With influences such as Gov't Mule, Pink Floyd, STS9, Peter Tosh and Lotus, a String Board Theory show is like walking into a face-melting experience with deep-driving bass and solid-funky beats, where everyone is dancing and feeling good.Saturday: Shakedown Street w/ Rob Eaton supported by Peter Kartsounes Band

Joined by special guest Rob Eaton (guitarist from Dark Star Orchestra) Shakedown Street, which was the first group to perform at the revamped State Bridge venue in May, will help close out the summer with its renewed tribute to the Grateful Dead.
"State Bridge is one of those really important places for the mountains," said Eaton. "There's really no other place like it in the area. To have it back at the level it is now, which is improved from what it was, is positive and helpful for the community."
For over 20 years, the Colorado-based Shakedown Street has provided a musical public service for Deadheads, performing numerous times with former members of the Grateful Dead. The group has also played with many national acts including shows with Hot Tuna, Jerry Garcia Band, Merl Suanders and Arlo Guthrie.
Shakedown Street plays the best of the Dead, as well as original compositions and other great tunes by legendary performers. The group boasts a vast repertoire of hundreds of songs that harness different styles of music including rock, bluegrass, jazz and swing. To keep things interesting, Shakedown Street never repeats a song in a five-night run and never plays a song the same way twice.Shakedown Street is more than a musical production; it's a mobile road carnival and party unit. It's a celebration of the life of Jerry Garcia and Dead and a celebration of the lives of those who attend their shows.
As a cutting-edge musician, Pete Kartsounes, opening the show Saturday night, is fulfilling a vision of writing music with meaning. The performer and songwriter has spent most of his life creating original music that entertains and enlightens. Through the years, his music has evolved to inspire on deeper levels and provide a helping hand to others.
Sunday: Bill Kreutzmann's 7 Walkers supported by Great American Taxi

Former Grateful Dead drummer Bill Kreutzmann can barely contain his enthusiasm for
7 Walkers — 
his new band with voodoo guitarist Papa Mali, legendary New Orleans bassist George Porter Jr. of The Meters and multi-instrumentalist Matt Hubbard."I can't believe how much fun I'm having playing with these guys," says Kreutzmann, who never missed a gig in the Dead's 30 years together. "We're making art together and having the best time."
The band's latest album features a batch of brand-new originals co-written with Robert Hunter, lyricist for Grateful Dead and Bob Dylan, a guest performance by Willie Nelson and a some smokin' instrumentals. A self-proclaimed "open love letter" to the city of New Orleans, the end result is a fiery and funky collection of tunes that quite brilliantly capture a unique collaboration between two very different musical shamans.
7 Walkers formed in 2008 after Kreutzmann's girlfriend tipped him off about Papa Mali. "She said, 'You've got to check this guy out,' and she put one of his records on," Kreutzmann remembers. "I listened and I said, 'This cat's for real. I love this music.'"
A short while later, Kreutzmann and Mali met at an Oregon festival, hitting it off immediately and jamming for hours. They quickly hatched plans to make more music together.
The original 7 Walkers lineup included bassist Reed Mathis, who performs on most of the alums tracks. When Mathis returned to his regular duties with the Bay Area jamband Tea Leaf Green, the band recruited George Porter, a founding member of New Orleans' iconic Meters, to take over responsibilities on bass.
For both Kreutzmann and Papa Mali, 7 Walkers — whose name is borrowed from one of the band's songs — is something of a dream come true. Kreutzmann has New Orleans in his DNA, literally. His mother was born there, and he's always been partial to the city's music throughout his career.
"I have a real feeling for that music, and I get along with the folks down there really well," he said. "This music comes from the Tchoupitoulas, the Mardi Gras Indian tribes. They're playing tribal rhythms, and somehow it connects with my spirit. Plus, I get to play with the No. 1 New Orleans bass player."
The first band Papa Mali ever saw performing live was the Meters, and witnessing Dr. John work his voodoo magic back when Mac Rebennack had just become the Night Tripper also had a huge effect on him.
"I am thankful that I spent a great deal of my life in New Orleans," Papa Mali said. "My music certainly reflects it. Much, if not most, of my musical development occurred there. I often played with some of the best talent that the city had to offer, starting in the early '70s and continuing even now."
With nearly all of the band's songs co-penned by Papa Mali and longtime Grateful Dead lyrist Hunter, 7 Walkers is an electrifying hybrid of classic Bay Area rock and New Orleans funk. Kreutzmann calls it "swampadelic."
Fronted by legendary Colorado entertainer Vince Herman of Leftover Salmon, Great American Taxi's uninhibited sound is a swinging concoction of swampy blues, progressive bluegrass, funky New Orleans strut, Southern boogie, honky-tonk country and good ol' fashioned rock 'n' roll. Put it all together, and you have what the band calls "Americana without borders."
"We have some outrageous memories of playing out at State Bridge," said Herman. "People like to go to a place in the country where they can have the opportunity to do what they want. It's all about living in the land of the free, and 'The Bridge' is a fine example of that."