Spontaneous Combustion Community Bonfire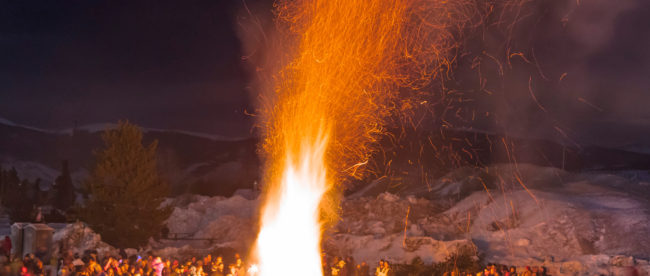 Nothing beats a good Bonfire on a cold winters night, especially when there is beer and chili involved. Even better, it is for a GREAT cause! On Saturday, January 20, 2018, the Town of Frisco will host Spontaneous Combustion, a community bonfire and fireworks. This community celebration will also feature beverage and chili sales benefiting the Summit Nordic Ski Club. Frisco's own Outer Range Brewing Co. will also be on hand to sell their much-praised beers. The Spontaneous Combustion bonfire will begin at 6:00 p.m. with fireworks at 8:00 p.m. at the lot which sits at the corner of Summit Boulevard/Highway 9 and Marina Road.
If you live locally and you have your Christmas tree then bring it down. The Town of Frisco will be accepting Christmas trees to fuel the Spontaneous Combustion bonfire through Saturday, January 20, 2018 at noon. Trees must be stripped of all lights, tinsel, garland, tree stands and decorations prior to drop-off at the Frisco Bay Marina dirt lot at the corner of Summit Boulevard/Highway 9 and Marina Road. Only real trees will be accepted. No other materials will be accepted including but not limited to building supplies and packaging. The tree drop-off is open 24 hours a day.
Stay warm and enjoy an evening out in the Town of Frisco while helping out some incredible Nordic athletes in Summit County.
Photos Courtesy of Todd Powell and The Town of Frisco
MTN Town Magazine | We are Colorado's Mountain Town Magazine
Copyright © 2018 MTN Town Magazine all rights reserved.
Please follow and like us: