Looping' It Up – Crested Butte Alley Loop Nordic Ski Race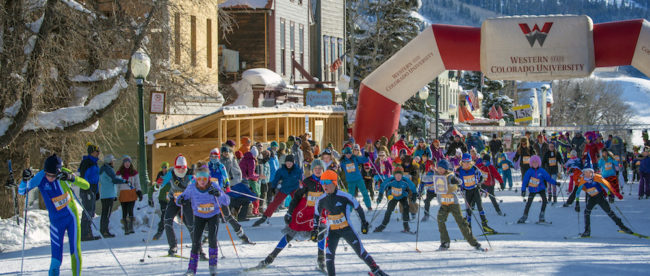 Having fun is part of the mountain town lifestyle and few do it better than Crested Butte, Colorado. What other town would haul in snow and close off main streets and back alleys for a Nordic ski race, all while inconveniencing locals and visitors alike?
"No other town would be willing to do that," says Rick Murray, President of Crested Butte Nordic Council (CBNC), host of the Crested Butte Alley Loop Nordic Ski Race.  "We've been doing it for over 30 years, it's a tradition here in Crested Butte."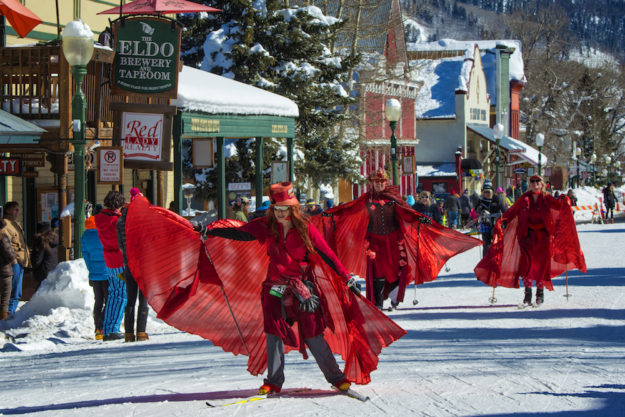 It's worth it to close streets because the event is such a spectacle – costumed skiers make their way on cross-country skis along a truly unique race course. Starting on the main drag, Elk Avenue, the course winds through town, down alleys, and across narrow bridges with cheering fans lining the route. Neighbors pop-up trailside beer stands for thirsty racers. Little kids, casual skiers, and even serious athletes vie for best costume.
In fact, costumery is almost required, and even the fastest skiers going for a qualifying berth in the renowned American Birkebeiner ski race in Wisconsin will find a "fast costume," according to Drew Holbrook of CBNC. "Superman has won before."
"How often have you raced in a costume?" asks CBNC President Murray. You'll find perfectly sane adults dressed as minions, the Tooth Fairy, or Vikings, often tethered together as a team. Always in attendance is the Red Lady and her court. If you don't know her significance, ask a local.  Kids sport some of the most creative looks like Imperial Storm Troopers, dragons and wizards.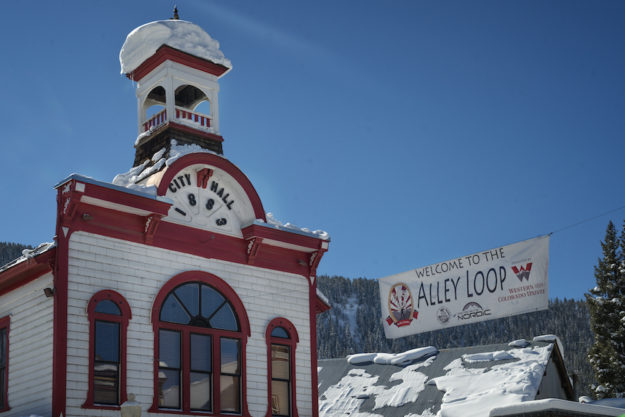 "It's a kooky event in a sport that's often overly serious," reflects Holbrook. "The costume is usually more important than the race itself because," he paused to ponder, "the Alley Loop is really about having fun and not taking ourselves, or our sport, too seriously. That's what's really great about it."
Community support also makes the event great. Businesses donate umpteen prizes; the Town closes streets, hauls in snow, then hauls it out again; eighty volunteers donate their time. As a participant, you can feel the affection of the community for the event, its spirit, and for the people who make the event a success.
It pays back to the community too, generating over a half-million dollars to the Crested Butte economy through lodging, dining, shopping, and more, according to Andrew Arrell, CBNC's Director of Events.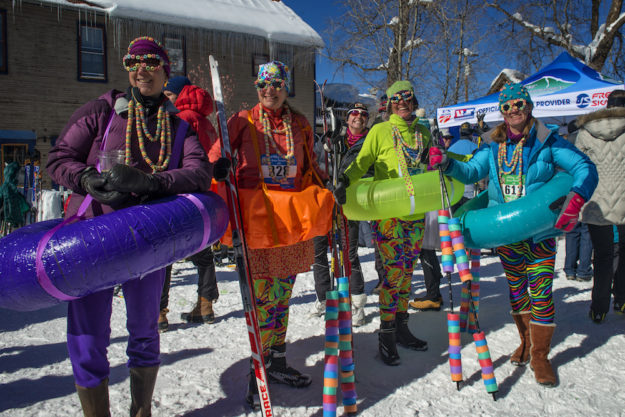 Recent years saw the addition of the Pub Ski Crawl the night before the big race. Pub Ski Crawl creator Rick Murray wanted to expand the scope of the Alley Loop and make use of all that snow that was brought in to close the street. Bars and restaurants along Elk Avenue offer a special drink to participants who ski from bar to bar and answer a trivia question or perform a silly trick to earn their treat. Pin the Tail on the Mayor was a popular game last year. Team participation is encouraged. "It's usually not the competitive athletes who do the Pub Ski Crawl," added Murray.
The awards ceremony is a party not to be missed. Of course the winners of each division are recognized, but what makes it really fun for everyone are the plethora of prizes donated by local businesses and handed out with skill by emcee and master skier, Murray Banks.  "Who came with a group of at least 6 people and are staying at a hotel or house in town?" Banks asks before handing out a gift certificate for a bar tab at the Wooden Nickel, an historic bar down the street.
The Alley Loop is accessible to skiers of all abilities, with course lengths ranging from 1 kilometer for the little kids, to 3k and 5k for a less strenuous race, on up to 42km. Even if you rarely ski Nordic, you can find a race length to suit your interests and have a lot of fun doing it, especially with those course-side beer stands to provide fortitude. Most importantly, don't forget your costume.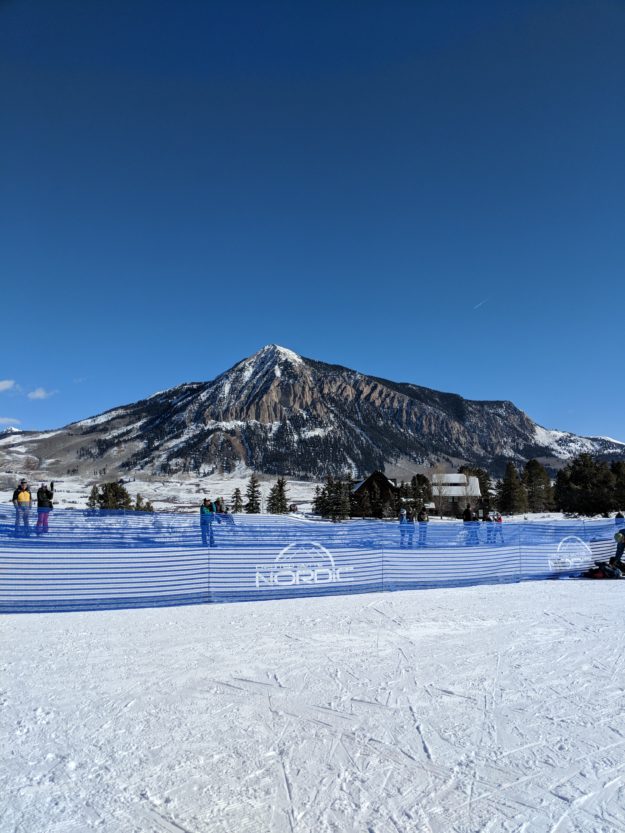 For more information or to register for the event, visit:  
www.cbnordic.org/alley-loop-nordic-marathon/
The 33rd Annual Crested Butte Alley Loop Nordic Ski Race is scheduled for Saturday, February 3, 2018.
Looking for more?
Colorado Nordic race organizers have joined forces for the CO Nordic Race Series, combining four of the great cross-country ski races in the state into one points-driven competition. Whether you are a serious racer or just want to hang out with fellow Nordic lovers, these are the places to be this winter. For more information, visit:  www.coloradocrosscountry.com/Colorado-Nordic-Race-Series
by Leigh Girvin
Photos by Carl Scofield Photography
MTN Town Magazine | We are Colorado's Mountain Town Magazine
Copyright © 2018 MTN Town Magazine all rights reserved.
Please follow and like us: