Snow Plowing Tips from (Some Red Neck in) the Mountains of Colorado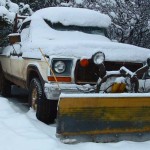 We are really excited to be able to begin including some great posts from our friend, Alpine Paradise, down in Southwest mountains of Colorado. Clay is a motorhead, he knows his stuff when it comes to big rigs and motorized transport, especially in the snow. He himself labeled this article,  Snow Plowing Tips from some Red Neck in the Mountains of Colorado. Good tips, check it out:
Gary Ford my Snow Plow Rig!!!
So what got me thinking was this article by Four Wheeler Magazine called Snow Removal 101.  They did a very good job with their overview of snow plowing, if you live in town and have a top notch rig you are working with.  As you can see, my plow rig, named Gary Ford, is a 79 F-250 that has been around the horn a few times and we live 2.5 miles down a primitive un-maintained, barely graveled, rutted mess of a road with canyons and gullies , up hills, etc.    So I have a sort of a different outlook on snow plowing than Joe City guy
  So here is a Click here to Read More
~Clay, Alpine Paradise
MtnTownViews.com is MTN Town Magazine's daily journal blogging about Colorado's mountain towns and resorts. Like them on Facebook and Follow on Twitter. Click the cover to read the Winter 2012-13 Issue.
© 2013 MTN Town Magazine. All rights reserved. Republication, in part or entirety, requires permission.