Silverthorne Colorado – Exit 205 for Adventure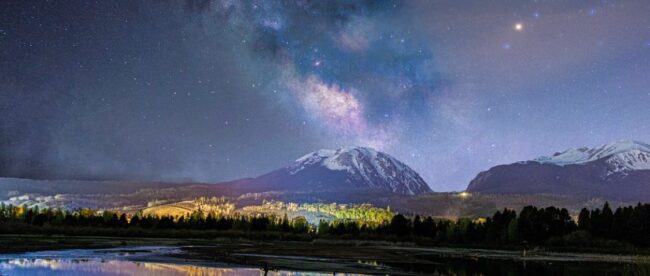 If you haven't ever exited off I-70 at mile marker 205 for Silverthorne and Dillon then you are missing a bustling new scene filled with adventures in food, shopping, outdoor exploration and art.
The Town of Silverthorne has been going through quite the revitalization which is now taking shape as a basecamp for adventure in Colorado's Rocky Mountains. The up-and-coming town not only offers summer hiking, biking and watersports, but also has a bustling arts, culture and dining scene to satisfy anyone's interests. Over the years a variety of exciting developments have opened:
The Pad, a unique boutique hotel/hostel constructed from shipping containers (and the first Colorado-based lodging company to attain B Corporation certification); the welcoming lobby features the A-BAR and a fantastic outdoor patio right on the Bike Path.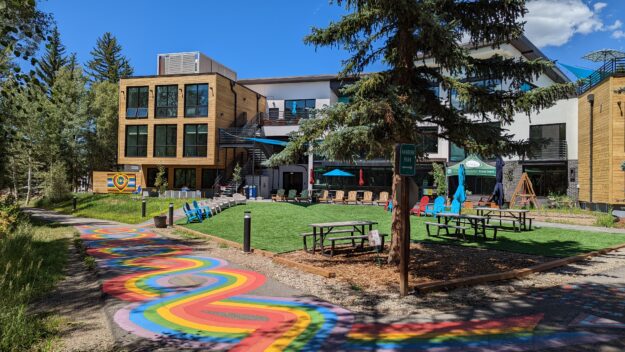 Hotel Indigo, the first IHG Hotel & Resort in a ski resort area and Hotel Indigo is also home to Kúcu Tequila Bistro.
Summit County's first food hall – Bluebird Market – provides local and Denver-based favorites from tacos, burgers and crepes, to ice cream and cocktails. They also offer a fantastic space for weddings, meetings and special events
Angry James was Silverthorne's second brewery and is central to the towns new walkable center while Baker's Brewery has been in operation for many years now.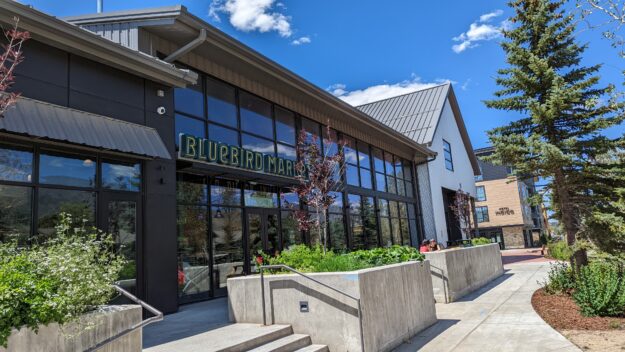 Take a walk along the river with coffee and a treat from Red Buffalo or grab a heartier breakfast at Enza's Deli. Manga at Sauce on the Blue for Lunch or Dinner. Their outdoor seating area and private yurts are lovely.
A longtime favorite for locals is the Mountain Lyon Cafe which recently moved to 10th Street. They have been serving up Breakfast and Lunch since 1994.
Outdoors:
Silverthorne is minutes away from rafting and kayaking, fishing, hunting, bike trails, parks and hiking, Silverthorne delivers magnetic natural beauty and limitless adventures.
Hikes are available for all ability levels, including: Willow Falls, an 8.7-mile trek in the Eagles Nest Wilderness with the handsome reward of scenic waterfalls along the route; Buffalo Mountain, a strenuous 5.5-mile loop starting at Lily Pad Lake Trailhead; Lily Pad Lake, an easy, family-friendly 3.2-mile hike from the Lily Pad Lake Trailhead.
Grab a Bike. The town has bike trails for everyone, including: The 3.5-mile Blue River Trail paved path that meanders through the Town of Silverthorne alongside the Blue River, perfect for any skill level; the Salt Lick Trails in downtown Silverthorne that are perfect for beginner to moderate mountain bikers; and the 31-mile round-trip route climb from Silverthorne to Ute Pass for road bikers.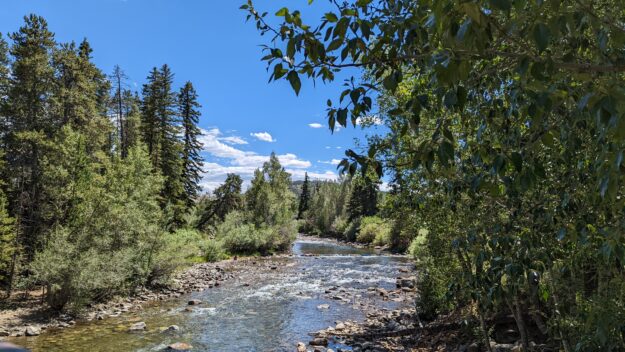 The Blue River runs through town and lakes are moments away. There are Stand-up paddle board rentals at North Pond Park. Green Mountain Reservoir and Lake Dillon are popular for SUP and are boating destinations; The Blue River offers gentle stretches for scenic rafting and great fly-fishing; and Gore Canyon's rapids attract more intrepid boaters.
The Raven Golf Club at Three Peaks is among the best mountain courses in Colorado. The challenging course was designed by Tom Lehman and Hurdzan/Fry and features lush rolling fairways and immaculate greens set amidst pine and aspen forests and snow-capped peaks.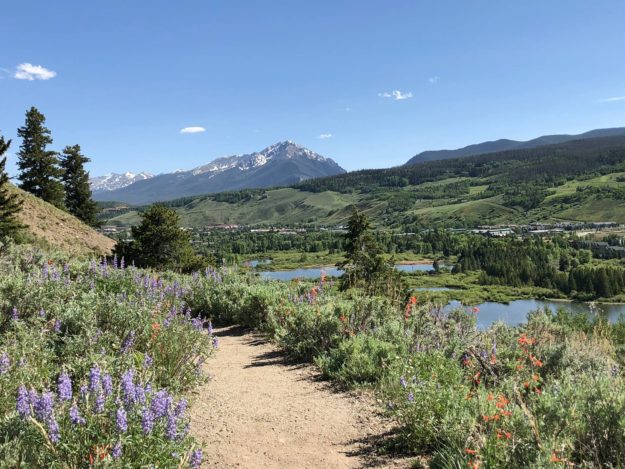 Many of the summer activities extend into the fall season, you don't have to go far to get mountain adventures and prime leaf peeping via a stay in Silverthorne. In the shoulder season, Green Mountain Reservoir has beautiful campsites that offer a great starting point for fall leaf peeping. Before things get muddy, check out the mountain biking mentioned above. In addition, fall fishing is popular in Silverthorne. Book your flyfishing trip with Cutthroat Angler or Colorado Angler.
A Leisurely Stroll
Use this art tour map and walk along the Blue River Trail to explore murals, sculptures and more.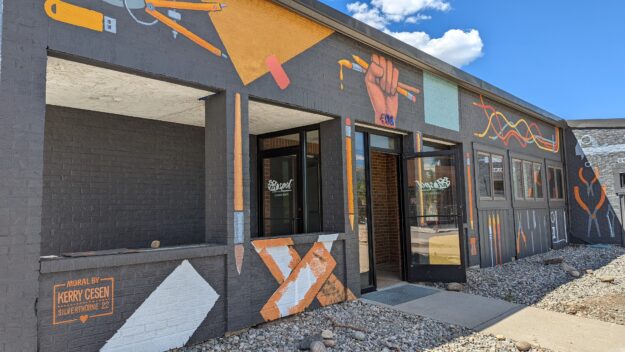 After a day outdoors, there is plenty else to do as art and adventure can be found around every corner in Silverthorne. The Town of Silverthorne hosts First Friday events where residents and visitors alike gather to celebrate arts, food, music and fun. These community events take place on the first Friday of each month and showcase the community's talented makers, artisans and performers.
Community and Culture
You can also enjoy a show from Theater Silco at the state-of-the-art Silverthorne Performing Arts Center. The company is hosting a variety of shows throughout the summer, fall and into winter. A Sunday Art Stroll takes place on select Sundays in the summers. During these events, enjoy a stroll along the Blue River trail from noon to 3 p.m. where you can experience pop-up artists and musicians while taking in the sounds and sights of the Blue River. 
If a Sunday Art Stroll isn't being held, take an art walk around town to see the various public art displays. Don't miss the fox mural outside the Silverthorne Performing Arts Center or Silverthorne's newest mural at Rainbow Park, which celebrates the community and Colorado state's connection to water.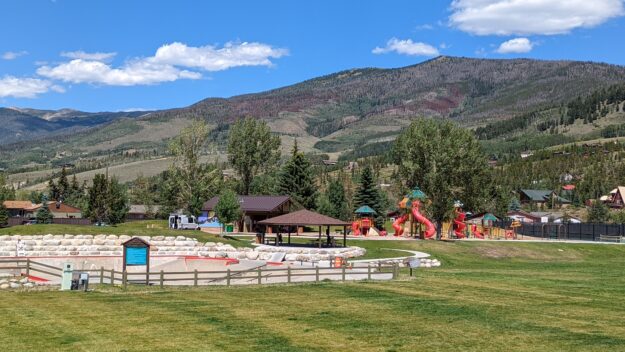 Kids love the Playground and Skateboard Park next to the town's recreation center. Work out and find community through many of their daily programs.
Skate, Shoe, Ski or Sled?
Bring your ice skates and sticks to North Pond Park
Snowshoe or XC ski at Raven Golf Club at Three Peaks: The two groomed courses, north and south, offer terrain for skiers of all abilities along with spectacular views and exhilarating twists and turns
Bring your sled to Maryland Creek State Park
Down the street you will find the Outlets at Silverthorne with a plethora of name brand shops as well as dining options. A recent development was the arrival of Sierra and T.J.Maxx. Silverthorne has been known for their shopping for quite a long time. The addition of these two new stores has been celebrated by many.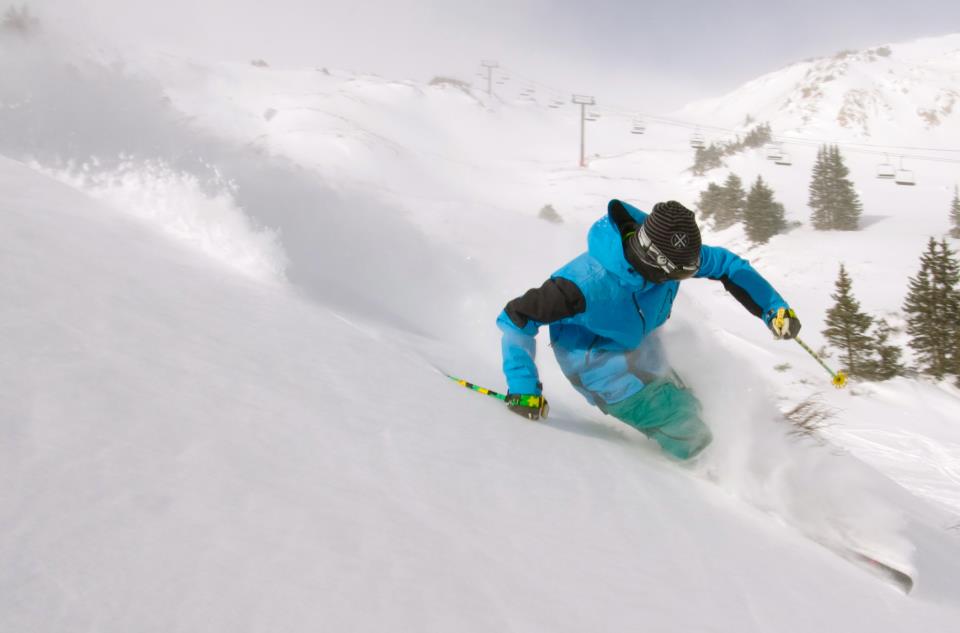 Skiing can be found in every direction. Head east on I-70 and you'll be at Loveland Ski Area in 15 minutes. Drive East on Highway 9 and you have Keystone Resort and Arapahoe Basin to entice you. Copper Mountain is 12 minutes away. Stay a few days and then depart for Steamboat Springs or Winter Park.
The town was named for Judge Marshall Silverthorn who served as a judge for miners' in Breckenridge. He came to the town as a prospector and after patenting his claim by the Blue River discovered that gold was sparse and the claim a poor investment. The land passed to his daughters on his death and was sold several times to various mining companies. In 1953 Clayton Hill bought the property and subdivided it for homes and stores.
From 1961-63 Silverthorne served as a camp for workers while the Dillon Reservoir was constructed. For a long while it was once a pass-through community but with great forethought the town has crafted an exceptional community for residents and visitors to enjoy year-round.
If all of that is not enough, check out 5 Reason Why I Love Silverthorne written by local resident Dan Morox
To learn more head to the towns website: www.silverthorne.org
Learn about all of Colorado's Best Mountain Towns Here: Colorado's Best Mountain Towns
Story Sponsored by Loveland Ski Area


MTN Town Media Productions | Celebrating the Colorado mountain lifestyle
Copyright 2023 MTN Town Media Productions all rights reserved.