Ranch House Restaurant, Devil's Thumb Ranch

Ranch vacations are like cruise ships. Once there, you are a captive audience, so the food better be captivating too. The owners of Devil's Thumb Ranch, Bob and Suzanne Fanch, know this and have made every effort to make dining there a unique and memorable experience.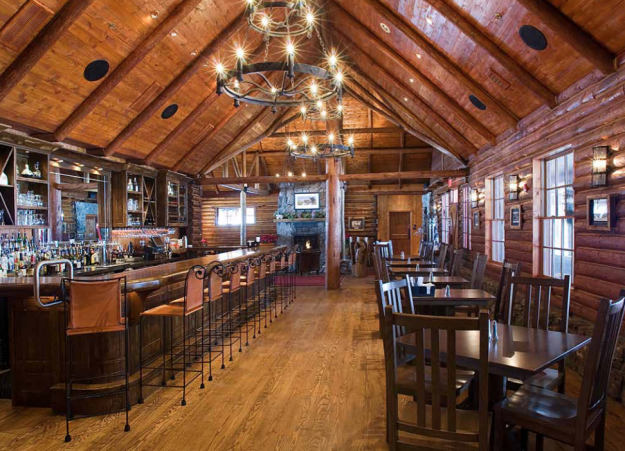 Ranch House Restaurant is one of four dining rooms at the 6,000- acre spread in Grand County. It's considered "fine dining," but you won't find white tablecloths and crystal. It's at a ranch, after all, with its own kind of rustic refinement, welcome-home feeling and fascinating history.
Sitting on a former stage coach trail, the restaurant was an old homestead cabin built in 1937 by Margaret Radcliffe who owned and operated a dairy on the property. Long before that, Native Americans hunted and fished the area, leaving behind arrowheads as a reminder. It was the natives, legend says, who named the rock outcropping jutting high above the Ranch Creek Valley "Devil's Thumb." They left the thumb exposed to remind them of the savagery of war after they buried the devil to mark the end of their warring ways.
In harmony with its rich traditions, the Fanchs have made award- winning Ranch House Restaurant a special place for Rocky Mountain dining. So special that people living in the region, not just ranch guests, have made it their place to dine on important occasions. They come for the hearty, comforting ranch food that's called New American Mountain Cuisine and for the impeccable service of a Wine Spectator "Best of Award of Excellence" restaurant.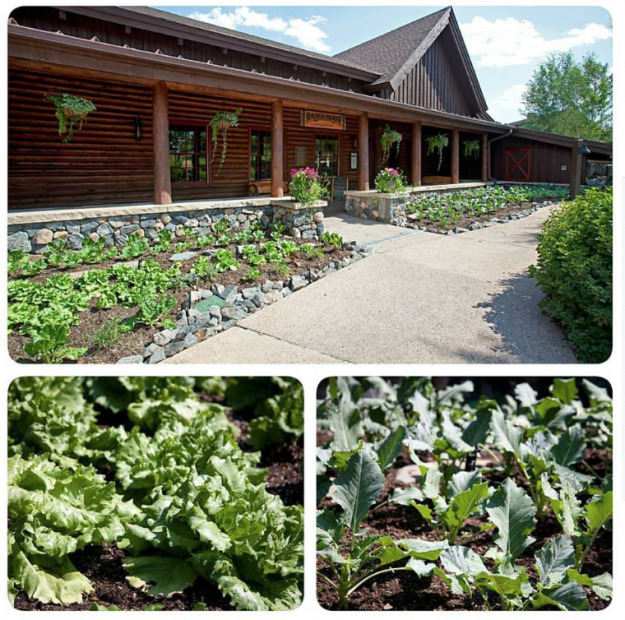 "People come here for the ranch element," said Executive Sous Chef Andrew Aghajanian. "We serve food you would find on a ranch like elk, lamb, trout and our signature Wagyu beef raised right here on the property." Foodies know Wagyu cattle yields the finest quality beef in the country, praised for its intense marbling that produces a rich flavor and higher percentage of omega-3 and -6 fatty acids than typical beef. Ranch House serves it as New York, Filet Mignon and Rib Eye cuts, plus Steak Tartare and Burgers. It also comes as Carpaccio for an appetizer.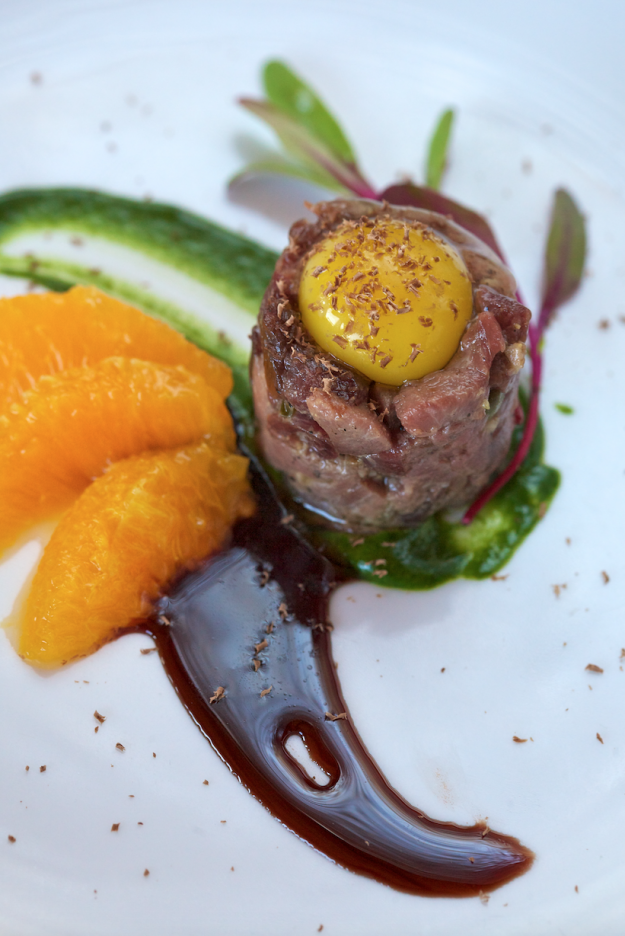 Produce is more of a challenge at 8500 feet. Though the growing season in Grand County is short, lettuce, herbs and garnishes grow happily in DTR's own garden, which they have expanded this  past spring. The high altitude yields a resilient nutrient-dense crop of lettuce with a unique flavor and quality. The rest of the produce comes from local farms, and fish is flown in from sustainably farmed fisheries.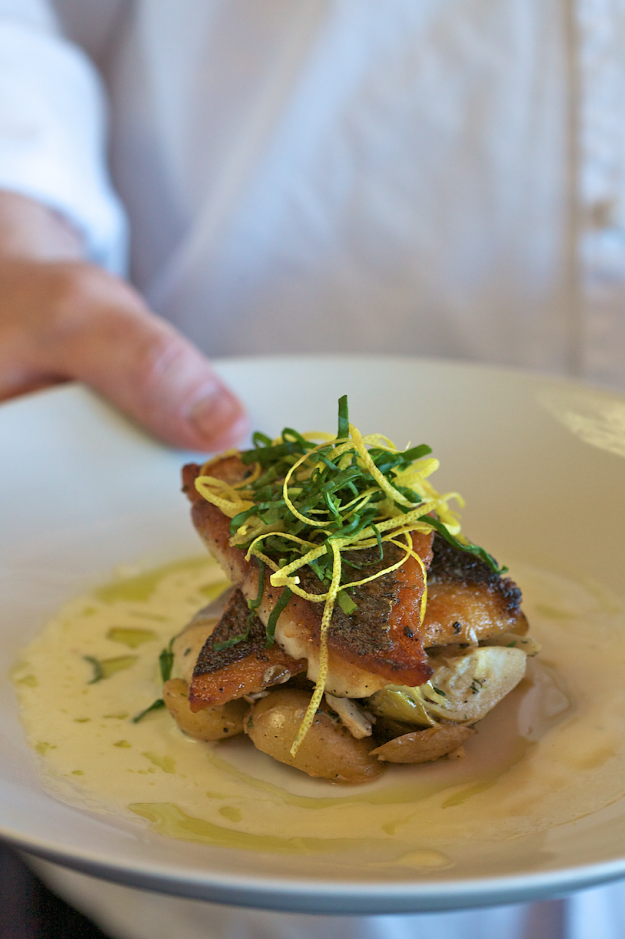 Chef Andrew is a big proponent of the Slow Food Movement that believes food should be grown and bought locally, cleanly prepared with care for the environment, and consumed with appreciation.
"I believe in keeping alive old world recipes and preservation techniques," said Chef Andrew, who cures the meat in-house. "I like handling food without chemicals and preservatives. And, if I serve a bone on a plate, I want the guest to gnaw on it and ask for a paper napkin."
I didn't see anyone gnawing on bones, but I did notice a lot of orders of Bacon-Wrapped Elk, one of the staples on the menu. This dish comes with fennel fronds for a hint of licorice and sides of garlic peas, grilled watermelon and artisan potato purée.
Smoked Chicken & Wild Mushrooms add an earthy flavor to the Risotto made creamy with goat cheese and topped with fresh asparagus.
Chef celebrates summer in the mountains with Spring Vegetables alongside hummus, Spring Onion Vegetable Soup, Live Butter Leaf Salad, Heirloom Tomato Salad and Roasted & Pickled Beet Tasting, another staple also on the winter menu.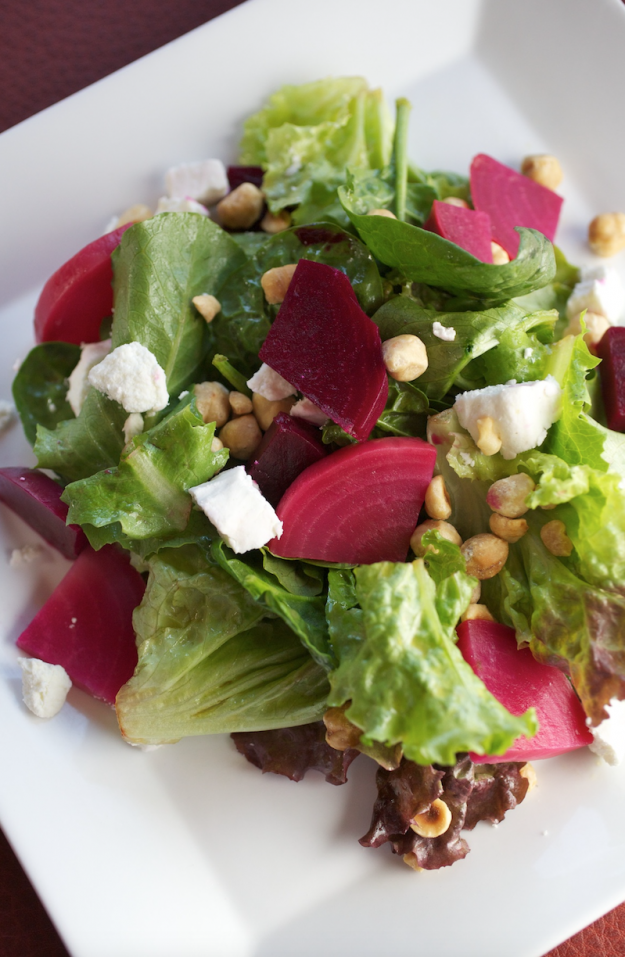 DTR is lucky to have its own pastry chef, Natalie Basarov, who makes everything from muffins to mousse from scratch for all the ranch eateries. Raised on a ranch in New Mexico and working as a pastry chef in Santa Fe, Basarov learned the secrets to high-altitude baking. Her creations are variations of the classics.
"I like home style with a bit of a twist," she said about her Blueberry Ricotta Bread Pudding made with leftover corn bread crowned with basil ice cream and decorated with fresh blueberries and Chantilly cream. Her signature creation "Sir Lawrence William," named for her chocolate-loving father, is a gooey brownie wearing a coat of chocolate coconut ganache topped with homemade pecan praline ice cream and sprinkled with pecan brittle.
Find menus on the website, then make it your next special place.
By Claudia Carbone for MTN Town Magazine
MTN Town Magazine – We are Colorado's Mountain Town Magazine sending healing, joyful vibes to #NateStrong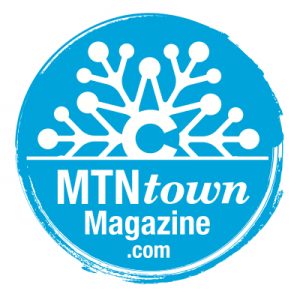 MTN Town Magazine Copyright © 2016 MTN Town Magazine all rights reserved.