Quandary Peak & McCullough Gulch – Visitors Required to Reserve Parking Online or Use the Free Shuttle from Breckenridge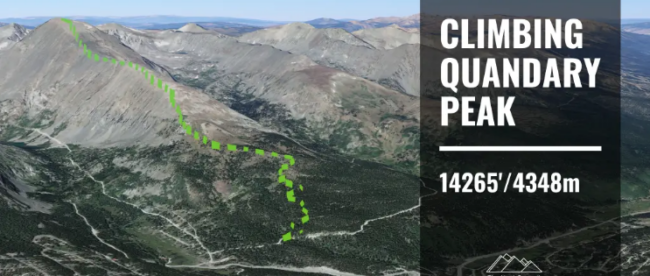 Due to severe overcrowding and illegal parking on county roads, Summit County has implemented a pilot program for Summer 2021 requiring visitors to reserve parking online or use a new free shuttle from Breckenridge to access the Quandary Peak and McCullough Gulch Trailheads.
The new parking reservation system and free shuttle service should make it easier for individuals to access these popular trails, and will allow hikers a more flexible schedule for arriving at the trailhead. Beginning July 30, individuals without a reservation who park at the trailhead will be ticketed and/or towed. Quandary Peak and McCullough Gulch trails are maintained by the Forest Service but the parking lot and roads are jointly owned and operated by Summit County and the Town of Breckenridge.
Hikers will either need to reserve a parking spot at the Quandary Peak Trailhead or take the Quandary Peak shuttle from Breckenridge to the Quandary Peak lot.
Free Shuttle
The Quandary Peak shuttle is free and will operate from the Breckenridge Airport Road Lot from 5:00 a.m. to 6:30 p.m., 7 days a week and will run every 30 minutes. The shuttles are operated on a first-come, first-served basis. The last pickup at the Quandary Peak trailhead is at 7:00 p.m.
The McCullough Gulch shuttle will run from the Quandary Peak Trailhead to McCullough Gulch Trailhead and back.
How to Make a Parking Reservation
To make a parking reservation at Quandary Peak Trailhead, visit: Parkquandary.com. *Note the website will go live on Monday, July 26 for reservations beginning July 30. Visitors will be able to reserve parking spots in the Quandary Peak parking lot two weeks in advance.
Parking reservations are as follows:
Quandary Peak:
Half-day shift: 4:00am-11:30am ($20)
Half-day shift: 12:00pm-7:30pm ($20)
Full-day shift: 4:00am-7:30pm ($50)
McCullough Gulch:
3-hour shifts starting at 4:00am ($5) – 10 spaces will be allotted for these shifts
To reserve and find out more information head to https://www.summitcountyco.gov/1446/Quandary
To learn more about Hiking 14'ers: https://thenextsummit.org/14er-route-guides/hiking-quandary-peak/
~MTMP
Feature Photo: The Next Summit: A Mountain Blog
For More Treks & Travel Ideas – https://mtntownmagazine.com/category/treks-and-travel/
MTN Town Media Productions | Celebrating Colorado's mountain lifestyle and culture
Copyright ©2021 Mountain Town Magazine all rights reserved.
Post Sponsored by MountainTown: Breckenridge