Colorado Ski Area Opening Dates 2021/22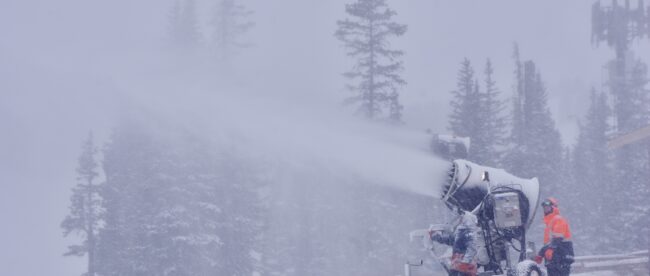 Well, it is that time of year again and Colorado Ski Area Opening Dates 2021/22 are on everyone's mind! Loveland Ski Area Fired up their guns to be sure they are ready to blow once the temps start coming down and everyone's lowest price passes are coming to a close.
Almost all of Colorado's Ski and Ride resorts have released their opening dates so we have gone ahead and updated our list for you to get into your calendars. This will be updated as we hear more from Colorado Ski Country and some of the independent resorts:
Arapahoe Basin: Open
Aspen Highlands: Dec. 11
Aspen Mountain: Nov. 25
Beaver Creek: Nov. 24
Breckenridge: Nov. 12
Buttermilk: Dec. 11
Cooper: Dec. 8
Copper Mountain: Nov. 22
Crested Butte: Nov. 24
Echo Mountain: TBD
Eldora: Nov. 19
Granby Ranch: TBD
Hesperus: TBD
Howelsen Hill: TBD
Kendall Mountain: TBD
Keystone: Open
Loveland: Open
Monarch: TBD
Powderhorn: Nov. 26
Purgatory: Nov. 20
Silverton: Heli-Ski Season Opens November 25, 2021
Steamboat: Nov. 20
Snowmass: Nov. 25
Sunlight: Dec. 12
Telluride: Nov. 25
Vail: Nov. 12
Winter Park: Nov. 17
Wolf Creek: currently open on weekends
A Few Good Resources:
Colorado Ski Country USA – https://www.coloradoski.com/
Vail Resorts – https://www.epicpass.com/pass-results/passes.aspx
As we said before, we will keep this list updated as we hear more! Be sure to snatch up a pass soon as rates will be rising! Winter is Coming : )
– MTM
Stay in touch with Colorado's Mountain Town Events: https://mtntownmagazine.com/events-calendar/
MTN Town Media Productions | Celebrating Colorado mountain culture and lifestyle
Copyright ©2021 MTN Town Magazine all rights reserved.
Post Sponsored by