MTN Town Magazine Spring 2013 Issue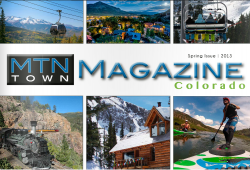 It's Here! It's Here! The Spring issue of MTN Town Magazine is up online and it is in PRINT too! We have it going out all around the state. We swore we would never print but after repeated requests for a print copy we decided to go for it. We made this issue the best one yet, filled with articles on the people, places and things that make our Colorado mountain towns great. I could keep blabbing but it would be easier to just click the image below so you can read it:
Hope you enjoyed it! We loved putting it together.
~MTN Town Magazine
MtnTownViews.com is MTN Town Magazine's daily journal blogging about Colorado's mountain towns and resorts. Like them on Facebook and Follow on Twitter. Click the cover to read the Winter 2012-13 Issue.
© 2013, MTN Town Magazine. All rights reserved. Republication, in part or entirety, requires permission.