Spring = MTN Town and Resort Festivities!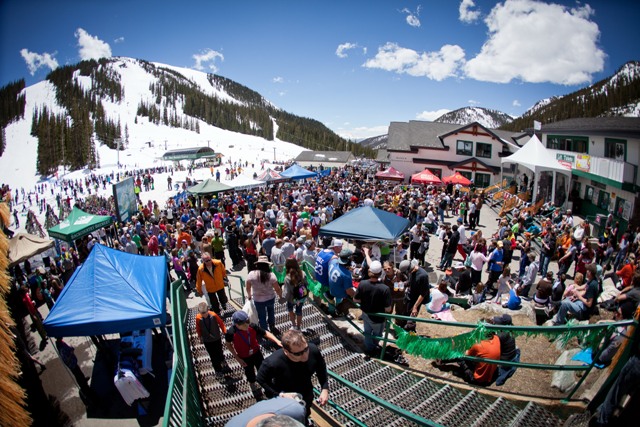 March came in like a lamb but sure has been acting like a lion since! The snow has been flying. What was once a mediocre season has been turning (literally) into an epic one. I was in a blinding snow storm early this week and thought it was funny that I was actually looking for rocks to keep the vertigo from knocking me over!
In addition to the snow there are festivites galore lined up like the storm cycle. Celebrations, concerts, contests that incorporate a blend of spring skiing with various types of fun-filled on-snow and slope-side activities are up and running for all to enjoy.
Below is an alphabetical roundup of events and deals that Colorado Ski Country gathered into a comprehensive list Easter weekend through the end of each resort's respective season. Colorado's ski season, which traditionally closes with Arapahoe Basin, is likely to continue through the end of May or early June.
Spring Events
Arapahoe Basin
Featured Photo Above: Dave Camara
March 31 Beach'n Egg Hunt
Arapahoe Basin invites guests to this free event, as the Easter Bunny visits A-Basin for an egg hunt that both skiing and non-skiing children can enjoy. Kids on skis will head to one of the beginner trails to search for eggs, and those who wish to hunt on foot can search in the learning spaces near the base area. Each egg hunt will include a special "golden egg" with either a 5 and under season pass for the 2013 – 14 season (in the 5 and under Molly Hogan area) or a child's 2013 – 14 season pass (the on-mountain egg hunt).
April 13 – 5 Annual Save Our Snow Celebration
As stewards of the environment, Arapahoe Basin is committed to protecting the mountain for generations of snowsports enthusiasts to come. Join the area for a day of environmental education and fun. All proceeds from this event will benefit High Country Conservation Center.
April 17 – 24 Annual Enduro
This is an endurance race that features teams of two taking laps up the Pali chair and either skiing or riding down the mountain from 7 a.m. to 5 p.m. without stopping. All proceeds from the event benefit a local charity to be determined, in an effort to beat the record of 72 runs.
April 20 – 11 Annual Grind
The Grind is a skin uphill, ski downhill adventure race designed to introduce new participants to backcountry skiing as well as challenge the veteran skinner. Races are modeled after European randonee events with competitors beginning on foot and running to clip into their skis. Athletes skin uphill on a challenging course and race down to the finish. The total vertical feet equals approximately 4,500′ for the race category and 2,000′ for the recreational category.
May 2013 Shakin' at the Basin Concert Series
Every Saturday in May, guests are invited to enjoy live music at the Basin with favorite local bands:
May 4: Crazy oTTo
May 11: High Five
May 18: 6 Million Dollar Band
May 25: Luv Brothers
May 26: Hardscrabble (this one is 95% booked)
May 4 – 4th Annual Huck, Rock and Roll Terrain Park Competition
This features another competition for freestyle skiers and riders who aren't quite ready to say goodbye to the season. Arapahoe Basin's Treeline Terrain Park hosts an amateur slopestyle competition for snowboarders and freeskiers still itching to perform tricks and get some air. Cost is yet to be determined.
May 26 – 12 Annual Festival of the Brewpubs
Guests are invited to join Arapahoe Basin for its largest party of the year. Guests can spend the day sampling beer from a variety of Colorado brewpubs for one low price per mug (must be 21). Breweries include Pug Ryan's, Breckenridge Brewery, Dillon Dam, New Belgium and more. Cost is still to be determined.
More information can be found at http://www.arapahoebasin.com/events
Aspen/Snowmass
March 21 – 31 13th Annual Bud Light Spring Jam
The 13th Annual Bud Light Spring Jam is the premier spring festival in the Rocky Mountains, and brings two weekends of competitions, concerts and parties to Aspen/Snowmass. Brett Dennen kicks off the live music on Friday, March 22 in Snowmass Base Village to celebrate the NASTAR National Championships. The eagerly anticipated Bud Light Spring Jam Core Party is expanded into two nights for the first time and will feature a beer garden. The event will kick off with March Fourth Marching Band playing a street concert in downtown Aspen on Friday, March 29. Grouplove will take to the same downtown Aspen stage on Saturday, March 30.
March 30 – Helly Hansen Battle in the Bowls
Teams of two will race to ski/ride the bowls of Aspen Highlands as quickly and strategically as possible on a course designed by Aspen/Snowmass athlete Chris Davenport. GPS will track each team on the course.
March 31 – Smith Grudgematch Rail Jam
Snowboarders go head-to-head to see who will take home rail glory. Guests can catch the action from the Bumps deck while enjoying food and drink specials. Registration is free at Radio Boardshop in Aspen.
April 14 – Schneetag
This hilarious event makes Snowmass Mountain closing day an attendance must. The 6th Annual Schneetag event (pronounced Sch-knee Tog) invites teams of four to create a craft that they will pilot down a slope and attempt to float across a 75×20 ft. pond. Each team has a theme and will perform a skit before descending. Past prizes included a trip to the ESPN Summer X Games in Los Angeles, tickets to a professional sporting event in Denver and skis and snowboards. This year's prizes are still to be determined.
For more information or details please visit: www.aspensnowmass.com/events-and-activities.
Copper Mountain, photo credit: Tripp Fey
Copper Mountain
April 13 – 14 Sunsation
Copper Mountain closes out the 2012/13 ski season with style and embraces spring conditions with the famous Sunsation festival, a weekend-long celebration featuring live music by Matt and Kim and Ozomatli, competitions, and plenty of sunshine to go around. Registration and details for CopperMan, Slopesoakers and everything Sunsation are available online at www.coppercolorado.com/sunsation.
Saturday, April 13, competitors will show off their tricks on rails floating on top of inner tubes in Redbull SlopeSoakers. This twist on a traditional pond skim is free for all to enter. Finish off the day with a free live performance by Matt & Kim at 4 p.m. in Burning Stones Plaza in Center Village.
On Sunday, April 14, thrill-seeking snow lovers will embark on the 2nd Annual CopperMan Winter Adventure Race. A part of the Sunsation festival, this 3k foot race strides throughout Copper's Village areas and includes frozen obstacles like a Hot Chocolate Pit and Human Luge and many more. Costumes are highly encouraged; pre-registration online is $25 and $30 the day-of. The celebration will finish with a free concert by Ozomotli at 3 p.m. in Burning Stones Plaza in Center Village.
Crested Butte
April 6 – 7 Roost the Butte
Crested Butte Mountain Resort is teaming up with XMR Racing and the organizer for all snowmobile events at the X Games to kick off the first annual Roost the Butte snowmobile competition and festival, which will be held on closing weekend, April 6 – 7. The event is open to all snowmobilers with the proper equipment who are looking to compete and enjoy the excitement of snowmobile mayhem on the ski resort. With a Snocross, Hillcross, Hill Drag and Snow Ovals, sledding enthusiasts and spectators won't want to miss the fun. For more information visit www.skicb.com/roost or call 888-280-5724 for discounted lodging rates.
April 6 Slush Huck
Crested Butte Mountain Resort will once again feature its Annual Slush Huck pond skimming event. On Saturday, April 6 cold water, costumes, skis, snowboards and good times come together for an entertaining show, as contestants attempt to make their way down the snow and across a 50 foot pond of water. Spectators will line the slopes and judges are on the edge of their seats for this once-a-year event.
Durango Mountain Resort
March 31 Ska Beach Party
Purgatory at Durango Mountain Resort is teaming up with a local favorite, Ska Brewing Co., to host the biggest beach party of the year. Guests can celebrate a great winter season during the Ska Beach Party at Purgatory by finding answers to clues and other items during the on-mountain SKAvenger Hunt for a chance to win cool prizes. They can also enjoy a SKAlicious Pig Roast and Snow Bar featuring Ska beer specials on the beach, and participate in the Snow Bowling Tournament. Entertainment for the kids takes place with an Easter Egg Hunt in the beach area, followed by dancing in the afternoon with live music by Ralph Dinosaur. Spring Stay & Ski Specials are available for just $99 per person, per night. For more information and to book, call 800-525-0892 or visit www.skipurg.com.
Eldora
March 30 Eldora Brew Fest
Several local craft breweries make an appearance at Eldora to greet thirsty guests.
March 31 Easter
The Easter bunny will visit Eldora, as the resort hosts its annual egg hunt for kids. One lucky egg will hold a certificate for a kid's season pass for the 2013-14 season. For more information visit http://www.eldora.com/mountain.event.
Loveland
March 30 New Belgium Scavenger Hunt
New Belgium Brewing and Loveland Ski Area are teaming up to bring back the popular on-hill Scavenger Hunt. Guests can build their team and sign up for a day of riddles, clues, costumes and problem solving as they race around the mountain scoring points and having fun. If you miss being a kid, this is your chance to take advantage of this scavenger hunt; don your favorite onesie, or whatever costume you like, show up, and have loads of fun! Tons of great prizes including a pair of Rocky Mtn Underground skis and New Belgium Beer will be in the offing. The cost is $10 per person with teams of 1 – 4 people, and proceeds benefit the Alliance for Sustainable Colorado.
March 30 Ski With A Ranger Day
The US Forest Service and Loveland Ski Area host Loveland's first ever Ski With A Ranger Day. Guests can join a Forest Service Snow Ranger for a fun, free, and easy run centered on the relationships between Loveland and the land. Topics will include glacial geology, winter ecology, local history, and partnerships and are suited for all ages (recommended for ages 8+). Guests should meet at Ptarmigan Roost Cabin at the top of Chair 2 at either 10:30 a.m. or 1:30 p.m. for a run with the Snow Ranger, and plan to be there 15 minutes early. The Ski With A Ranger Program will be taking place once a month until the end of the season. The final Ski With A Ranger date is April 27.
April 6 Skiing Magazine's Don't Stop Skiing
Join Loveland and Skiing Magazine for an amazing day of demos, BBQ, live music, beer, and giveaways. Skiing Magazine brings all the favorite ski brands to Loveland to let guests try their 2013-2014 line up of skis before they are available to the public. Packages are available and include unlimited demos, lunch, and a lift ticket if needed. After a great day of testing out skis, guests can kick back and enjoy sampling some of Colorado's finest brews at the beer garden and rock out to some live music on the patio. Skiing Magazine will be giving away a ski trip to Valle Nevado in Chile and an on-hill poker run will give guests the chance to win other great prizes. Pre-register to save up to 10 percent off walk-up prices.
April 13 Loveland Derby
The longest running amateur ski race in America continues in 2013, and will feature live music from Delicious Point.
April 27 Corn Harvest
Loveland Ski Area hosts the 11th Annual Corn Harvest, a benefit ski party for the Colorado Avalanche Information Center (CAIC). The Colorado Avalanche Information Center plays a large role in skiing safety, as not only is the organization an invaluable source for backcountry travelers, but is helpful in maintaining the safe use of the I-70 corridor for travelers. Guests are invited to enjoy a great day of skiing and riding, a BBQ lunch, live music, great raffle prizes and to show their support for the CAIC.
More information can be found at http://www.skiloveland.com/events/April.
Monarch Mountain, Photo Credit: Monarch Mountain
Monarch Mountain
April 6 Kayaks on Snow
This is Monarch's signature event. Contestants race head to head, similar to Skier Cross, down a specially designed course featuring berms, banks, and bumps, ending in an icy pond. This is as fun to watch as it is to race. Great sponsors will be on hand to provide plenty of stoke for this unique event. The $10 entry fee includes event t-shirt. For more information and registration, call 888-996-7669 x-5050. Sponsors include Ark Valley Libation Society, CKS, The North Face, Bolle, Scott Sports, Smith, and Mountain Khakis.
April 14 Parking Lot Cook-off and Tailgate Party
Guests are invited to celebrate the end of ski season and beginning of whitewater season with Monarch's Annual Parking Lot Cook-Off And Tailgate Party. Guests are encouraged to whip up their best eats, competing for a Monarch 2013-14 season pass, among other goodies. Contestants will also be judged on decor and spirit, and should spiff up and head to the mountain, snow or shine. This event continues to attract closet chefs from around the region.
More information can be found at http://www.skimonarch.com/index.php/generalinfo/events-calendar.
Powderhorn
March 30 – 31 Closing Weekend
Powderhorn features its main events during closing weekend. On March 30 the resort will feature a Skier/Boarder Cross and Downhill Bike Race before closing down on Sunday, March 31 with a Pond Skim event. More information can be found at http://www.powderhorn.com/special-events.
Silverton
April 7 – 12 Annual Brewski
On April 7, Silverton will be celebrating the 12th Annual Brewski event at Silverton Mountain Ski Area. Guests are invited to take part in a full day of skiing at Silverton Mountain and an afternoon of beer tasting with Colorado's finest microbreweries featuring Wanderlust, Steamworks, Avalanche, Three Rivers, Carvers, Ska, and Durango Brewery. This year's event will have a cowboy theme. Guests are invited to ski in jeans, wear their best buckles and hats. The usual mustache comp will also occur. Reserve lift tickets can be purchased online at www.silvertonmountain.com.
Ski Granby Ranch
March 30 – 31 Closing Weekend
Ski Granby Ranch will have a DJ on the patio both days of closing weekend, and will be firing up the outdoor grill. On March 31, join the resort and the Easter Bunny who will be stopping by Ski Granby Ranch once again this year to bring plenty of eggs and cheer. The Easter Egg Hunt will be held at 11 a.m. Guests can celebrate with traditional spring splash at 1:30 p.m. and music at the base area. The festivities are free to the public. More information can be found at http://www.granbyranch.com/event-calendar.html.
Steamboat
March 31 Easter
A sunrise service will take place, along with a special Easter Sunday Brunch on the Mountain. The Easter Bunny will be on the slopes to celebrate the Easter holiday in Ski Town USA also.
April 6 Pool Party Rail Jam
At 2:00 p.m., a Ski & Snowboard competition will be open to the public, featuring DJ music from the Red Bull MXT truck and prize giveaways. Registration will be from 12:30 – 1:30 p.m. in the Race Crew Lounge above Ski School. The entry fee is $20.
April 6 50th Anniversary Fashion Show
Guests are invited to bring their awesome vintage ski outfit from 1990's or earlier, and to strut their stuff in the fashion show, which begins at 3:30 p.m. Participation is open to the public, and entry forms will be accepted through March 31.
April 13 33rd Annual Cardboard Classic
At 11:00 a.m., Steamboat's traditional rite of spring returns for the 33rd year. This wild and hilarious race features homemade cardboard crafts, constructed only from cardboard, glue, string, water based paint, duct tape and masking tape, racing down Stampede to the finish. The uniqueness and creativity of the race make it a highly anticipated event each year. Guests can watch this event on Stampede at the base of the Steamboat Ski Area.
April 13 Billy Kidd's Birthday
Director of Skiing, Olympic Silver Medalist and World Champion, Billy Kidd, marks his own milestone during the resort's Golden Anniversary – his 70th birthday. The resort will be going all out to honor this American skiing icon.
April 14 Annual Splashdown Pond Skimming Competition
The Splashdown Pond Skimming Championships hits Steamboat once again at 1:00 p.m. for a 6th season on Closing Day. Wrapping up another epic season at Steamboat, the Splashdown Pond Skimming Championships brings brave (and slightly crazy) skiers and riders in costume with a dream of crossing the icy pond successfully. Guests can watch this event on Stampede at the base of the Steamboat Ski Area.
April 14 Bud Light Rocks the Boat Free Concerts
The Bud Light Rocks the Boat Concert Series is presented by Bud Light, Steamboat Ski & Resort Corporation, Sprint and Wells Fargo. All concerts are held in Gondola Square at the base of the Steamboat Ski Resort.
More information can be found at http://www.steamboat.com/things-to-do/events-calendar.
Telluride
April 6 – 7 Closing Weekend
On April 6, the Telluride Prom will take place at Gorron's, before the resort closes on Sunday, April 7, with a Closing Day Pond Skim and the Strange Americans as the featured band to play after the resort has closed for the season. For more information, visit http://tellurideskiresort.com/TellSki/info/activities-events.
Winter Park
March 31 Golden Bunny Classic Candy Hunt and Fun Race
Winter Park Willie and the Easter Bunny will host an on-mountain candy hunt and the "Golden Bunny Fun Race," which has been a Winter Park tradition for more than 35 years. After scouring Discovery Park for delicious Easter treats, all kids 10 and under will be invited to take part in an untimed, fun race down Lower Village Way trail. Racers can take as many laps as they wish from 12:15 to 1:30 pm.
April 20 – 21 Winter Park Springtopia
The 2012-13 season closes out in style with the inaugural "Winter Park Springtopia," a two-day celebration. In addition to the Annual Spring Splash Race, Springtopia features two free concerts at the Winter Park base. The weekend starts with a performance by Julian Marley & the Uprising on Saturday and concludes with a concert by Karl Denson's Tiny Universe on Sunday. Boulder DJ Munson Meeks will open both concerts, which will be held on a giant stage erected at the base of Winter Park Mountain. Both are free and open to the public. For more information, visit http://www.winterparkresort.com/events-and-activities/index.
Wolf Creek
March 31 Easter Race Series and Easter Egg Hunt
The Easter Race is part of the Fun Race Series and is free and open to skiers and boarders of all ages and abilities. Guests should sign up from 9:30 a.m. to 10:30 a.m. in the Prospector Grill and the race will commence at 11 a.m. on Charisma run. Guests can win Gold, Silver or Bronze medals for placing. The Easter Bunny will also be visiting Wolf Creek on March 31, with an Easter egg hunt to follow his appearance. This event is open to children ages 8 and under who have a valid lift ticket. Children should meet at 12:30 p.m. in the Wolf Pups Hollow.
March 31, April 3, April 7 Local Appreciation Days
Lift tickets will be $35 for adults and $20 for seniors and children. No ID required, as everyone is considered a local.
April 6 College Days
Lift tickets are $35 for students with their valid college photo ID
April 7 Fun Race Series Finale
The Fun Race Series is free and open to skiers and boarders of all ages and abilities. Guests should sign up from 9:30 a.m. to 10:30 a.m. in the Prospector Grill and the race will commence at 11 a.m. on Charisma run. Guests can win Gold, Silver or Bronze medals for placing. For more information, visit http://www.wolfcreekski.com/wolf-creek-event-calendar.
So, is that enough stuff to do or what? With that we also ask you to be safe. If your heading out of bounds be VERY sure you know what the avalanche conditions are. While in-bounds, be careful, there are a lot of folks out wanting to have fun too. Enjoy all!
~MTN Town Magazine
MtnTownViews.com is MTN Town Magazine's daily journal blogging about Colorado's mountain towns and resorts. Like them on Facebook and Follow on Twitter. Click the cover to read the Winter 2012-13 Issue.
2013 MTN Town Magazine. All rights reserved. Republication, in part or entirety, requires permission.