Mountain Town Good News #5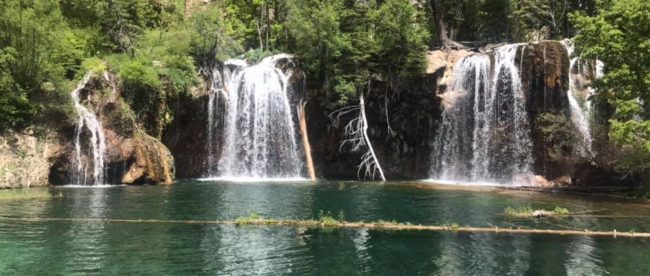 We continue down the path of Good News and it is lovely! My heart is full after Five weeks of reporting on all of the Good things taking place in our communities. Read our previous dispatch here: https://mtntownmagazine.com/mountaintowngoodnews-dispatch-4/
FIRST! All of our Colorado Mountain Towns are Beginning to Open Up! Shops, Restaurants, Camp Grounds and activities!
Graduating High School Seniors are finding new ways to celebrate their transition! Telluride will be holding a Gondola Graduation ceremony!
Each grad will be accompanied by members of their immediate family in a separate gondola car, which will travel from Mountain Village to the San Sophia Station. Once there, the group will disembark, and the graduate will be awarded their diploma and congratulated. The gondola car will be disinfected, the group will climb back in, and (five minutes or so later) another group will arrive in a separate car at San Sophia station, for a whole new ceremony.
Summit County's Senior class will have a Motorcade Parade down Main Street Breckenridge with each graduate in a car with their family. Community members are invited to spectate inside their cars along Main Street where restaurants will have yummy stuff for folks to order and enjoy during that time.
---
Buena Vista's CKS PaddleFest
will be held virtually! There will be films starting tonight as well as virtual clinics to learn new skills, virtual talks to listen in and discover news on conservation, athlete chats and cocktail sessions! Check in here and enjoy: https://www.facebook.com/ckspaddlefest/
Colorado State
has really bumped up the ability to be tested for Covid-19. Here is a link to find out where: https://covid19.colorado.gov/covid-19-in-colorado/about-covid-19/telehealth-and-nurselines
We discovered 'Skiers' Best Friends, Avalanche Working Dogs of Colorado'
a fantastic picture book with brief stories behind each colorful image that will bring a smile to all ages. The 104 pages book was put together with high quality images and a brief backstory on each image. It reflects the dedication of of our ski patrollers who handle / train these four legged first responders. https://scottbroc.com/product/32609/
Silverton Mountain
is offering the unguided season pass for only $99 for a limited time. In case that crazy low price wasn't enough, this season pass deal also comes with $39 Heli Skiing and an exclusive Private Mountain Day for passholders! https://silvertonmountain.com/shop/2021-spring-unguided-season-passes/
Summit Musicians Relief Fund
is sponsoring paid video concert gigs for local musicians who have been impacted by the pandemic shut down of the music scene. The SMRF Cares Concert Series is a one hour, original music video concert filmed on the Arnie J Green stage at the GOAT. The qualifying artists will be paid for the gig and receive a professionally produced video of their show they can use for promoting their music.
Hanging Lake
is Opening June 1 and is beginning to take reservations for a limited amount of groups. https://visitglenwood.com/hanginglake/
Rio Grande County's new variance
is allowing restaurants to open up for dine-in seating at 30% capacity. Patrons are required to have customers wear a mask until seated per the new regulations. Parties larger than 6 can not be accommodated as of yet. The Windsor Hotel, The Dining Room, in Del Norte will have 5 Tables open, by reservation Wednesday, May 27. https://www.windsorhoteldelnorte.com/
Lake City
was excited to announce that they are the newest Gateway Community on the 3,100-mile Continental Divide Trail! https://www.lakecity.com/
Summit Biz Weekly Coffee Meetups and Educational Sessions
The Summit Chamber is hosting weekly coffee meetups, every Tuesday at 9:00 a.m. These meetups are informal and fun! Educational Sessions will be held every Wednesday at 9:00 a.m. and will include a featured speaker. For more information, please visit the Summit Chamber Facebook page.
The Vail Valley Foundation Community
Matching Fund raised more than $1 million for locals affected by Covid-19, which will be distributed by a Steering Committee that includes citizen representatives. Eagle County gave 130,000 from their $1.6m relief fund to their cause and the VVF Board of Directors stepped up to match at the 11th hour. More than 500 people gave, and more than 65% of donations were small gifts, under $250. It goes to show just how caring and giving people are in our community. https://vvf.org/donate/community-fund/
The Aspen Temperance Society has launched the Virtual Quarantine Cocktail Challenge:
Using just 4 Ingredients, bartenders are developing Apres-themed Quarantine Cocktail (or Mocktail) to compete for the title of best mixologist. Marble Distilling is participating in the virtual Apres Ski Quarantined Cocktail Challenge, presented by the Aspen Temperance Society, in lieu of the annual Apres Ski Cocktail Classic. Visit Aspen Ski Cocktail Classic to watch the cocktail challenge on Youtube and to donate "tips" by Venmo to the bartender's fund to support these mixologists during closures. For bartenders who want to join in on the action visit apreskicc.com to learn how you can join the challenge, or send the organizers an email at info@apresskicc.com
The Crested Butte Music Festival
(CBMF) joins the rest of the arts world in expressing concern for the well-being of our community amidst the COVID-19 pandemic. At this time, they anticipate conducting the Festival as scheduled, albeit with new health and safety measures and will provide plenty of notice if changes must occur. The CBMF 2020 Season Theme "Not Just Beethoven" celebrates Beethoven's 250th birthday. The Festival will take place from July 26th through October 3rd, with additional performances in December. Programs will be located across the
Gunnison Valley, including at the new technologically advanced Crested Butte Center for the Arts, a $20 million performing arts center that features a 350-seat theatre and state-of-the-art acoustics. https://crestedbuttemusicfestival.org/
Middle Park Fair and Rodeo
is still on in August. Destruction on K Town is still scheduled for June 12 and 13, 2020 featuring some crazy monster trucks and serious adrenaline action. Head to their website for tickets: https://www.middleparkfairandrodeo.com/
Routt County Quarantine Sing-a-long:
This inspiring group (currently 1,300 members strong and growing rapidly) sings a song each evening from driveways, decks, front steps, windows, you name it, to inspire and connect. It doesn't matter where you live; the group is public so anyone can join. Here's how it works: A poll is posted on Facebook https://www.facebook.com/groups/295649114735907/about including song options for the evening and followers may vote for one song; winning songs are announced at 3 p.m. daily.Each evening begins with a collective deep breath at 6:59 p.m. signaling a moment of gratitude, followed by one minute of applause for our frontline workers as the clock strikes 7 p.m.; the group (individually) breaks into song promptly at 7:01 p.m.At end of the song, community members are invited to enjoy five minutes of presence in this moment of music, love and laughter to break from any stress or anxiety of COVID-19.
Mountain Film 2020
kicked off and it's more accessible than ever. You can tune in from all over the world, passes are $75 and most content can be watched anytime from May 15–25. Get ready for the classic Mountainfilm mix of stoke-inducing adventure films with mind-blowing (and world-changing) documentaries. https://www.mountainfilm.org/
Vail Resorts
CEO Rob Katz issued a letter on Thursday saying he hopes to have lifts running at all of his North American resorts by late June or early July. He said, "It's hard to put any firm dates around anything right now, given how new information and guidance comes out every day. But our hope is to have our lifts turning, at all of our resorts, by late June or early July and be welcoming people in all our lodging and retail stores by that time as well. This includes both North American resorts that have summer operations and Australian resorts that are about to kick off the winter season.
We hope that filled you with more Hope! Things are looking up and feeling good. I love seeing each one of our communities working together and look forward to updating you next week on our Mountain Town Good News!
Cheers and Namaste to all of you,
~Holly Battista-Resignolo, Publisher
Stay in Touch and Subscribe to our Newsletters: https://mtntownmagazine.com/subscribe/
Mountain Town Magazine | We are Colorado's Mountain Town Magazine
Copyright © 2020 MTN Town Magazine all rights reserved.
Post Sponsored by the Breckenridge Distillery