Mountain Adventures in the Moonlight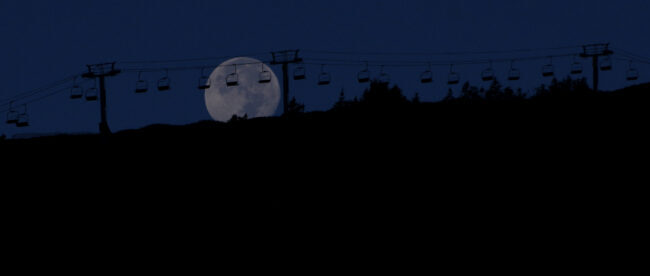 Mountain adventures don't end when the sun sets. Under the light of the moon or a starry sky, Colorado's mountain towns shine with amazing activities.
by Claudia Carbone
During the long nights of winter, nowhere does the full moon shine brighter than in Colorado's high country. With moonlight reflecting off the snow, it's bright enough to read a trail map. Far away from city lights, the silvery moon hangs like a lantern in the inky sky, providing enough illumination for doing just about anything at night that you can do during the day. "The soft moon glow gives you the feeling you're seeing the world as the wild creatures do," said Beth Sharp, a Summit County local. "Especially under a super moon—it's daytime washed in blue!"
SKIING
Skinning up
With only the moon to guide her, Sharp spent her most memorable Christmas Eve skiing at Breckenridge. "At midnight, it was bright as day," she said. Using skins (sleeves of synthetic material ribbed for gripping snow that fit over skis), she and friends climbed up the slope for a peaceful ski to the bottom. She advises you to check rules and regulations prior to heading out at any ski resort and always choosing a familiar, prepared run while keeping a lookout for the lights of grooming machines.
Loveland Pass
Skiing the pass has been a full-moon tradition for years. It's not uncommon to encounter 30-50 people at the 11,992-foot summit on a clear night when you can see from ridge to ridge. Enjoying a picnic of wine and cheese before diving into the moon-beamed bowl, one skier said, "It's not about getting in lots of turns. It's about finding a nice spot to see the stars and bright moon at nearly 12,000 feet." Take all the backcountry precautions, as this area is not patrolled. For a less risky adventure, hike the ridgeline where you will be wowed by the beauty of Colorado's mountain tops.
Steamboat Powdercats
The Moonlight Descent I did a few years ago has been tamed to skiing in the magic light of the alpenglow rather than full moonlight. Nevertheless, it is for lovers of deep snow—first tracks through meadows of Steamboat's famous Champagne Powder at the top of Buffalo Pass. The heated snowcat grinds deep into the forest and arrives at a remote cabin where a hot three-course dinner awaits. But first we took three or four short but oh-so-sweet powder runs. The three Alpenglow Tours (extra hour, Apres party, dinner) can be tacked on to the cat-ski day for private groups only beginning Feb. 1. Bring your camera! 800-288-0543; steamboatpowdercats.com
Cross Country
Pick a familiar trail, one that you hike or ski during the day, dress in layers as the weather can change quickly, and then kick and glide to your heart's content. It's so quiet, all you hear is your breathing and the skis hissing in the snow under them. "After dark, the snow freezes, so between the fast conditions and the hazy light, it feels like you're flying," said Adde Sharp, remembering childhood memories under full moons.
SNOWSHOEING
One of the best and inexpensive ways to experience the tranquility of the shadowy woods or brilliant peaks is to walk across them on snowshoes. It's true that if you can walk, you can snowshoe. As in cross-country skiing, pick a familiar trail and dress in layers. I like snowshoeing up Boreas Pass Road south of Breckenridge for a spectacular view of the Ten Mile Range drenched in moonlight.
DOGSLEDDING
Mushing in the moonlight is magical, not just for the bright scenery but Huskies seem to be more alert and run better in the crisp night air. "Moonlight changes everything," said Lisa Mapes, guide and owner of Cosmic Cruisers Sled Dog Tours in Crested Butte. She and husband Dave love nocturnal sledding, but are not offering night tours to the public right now. However, Krabloonik Dog Sledding in Snowmass offer a Twilight Tour through the wilderness that includes a campfire with hot drinks and a chance to love on the dogs. The earlier in the season you go, the better chance of catching the moon rising. 970-923-3953; krabloonik.com
---
Post Sponsored by Friends of CAIC

---
SNOWMOBILING
"Over the hill and through the woods" takes on new meaning when you're guiding a powerful snowmobile on the trail. The adventure is heightened when only headlights and the moon light your way. Here are 11 places to vroom your snow vehicle around the state, compiled by Colorado Tourism. https://bit.ly/2ZKwUKt
HOT SPRINGS
The moon reflecting off hot mineral water in the chilly nighttime air adds a new dimension to what Colorado's Ute Indians call Pagosa, meaning "healing waters" for their therapeutic value. The state offers nearly 50 hot and warm springs, our most beloved natural resources. Some are clothing optional at night for adults only, like Strawberry Park Hot Springs in Steamboat. Open until 10 p.m., they do not allow flashlights or lights of any kind, making lunar light even brighter. Rustic cabins, a train caboose, a covered wagon, and a tent camping site are available for overnight guests. 970-879-0342; strawberryhotsprings.com Heading to Durango, head to Durango Hot Springs Resort and Spa after a day on Purgatory's slopes. Their recent renovations make this a top stop the perfect spot. Forty-One unique thermal mineral water features include 26 natural mineral soaking pools, 8 private Japanese-inspired cedar soaking tubs, a reflexology walking path, and a rain tower. Other amenities include a resort-style swimming pool, concession area, and cold plunge pool. Book time at their Spa and indulge yourself after soaking in their large array of pools. The Hot Springs are open until 10 pm allowing a tremendous amount of time under the moon and stars. www.durangohotspringsresortandspa.com
SLEIGH RIDES
Dashing through the snow 'oer the fields can be any time of day, but under a full moon in Frisco it's the perfect postcard winter scene. Combine a ride bathed in moon beams and pine-scented air with an old fashioned chuckwagon dinner with entertainment and you can cross it off your bucket list. Be sure to dress warmly and bring a blanket as they can no longer provide them due to COVID. 970-453-1520; Two Below Zero dinnersleighrides.com
ICE SKATING
Many outdoor rinks in mountain towns stay open until 8 p.m., just enough time to get the winter moon glow. Such is the case at the famous Evergreen Lake on Saturdays. With 8.5 acres of groomed ice, it's the largest Zamboni-maintained rink in North America. This year they are dividing it up into smaller rinks for social distancing. Reservations are required. 720-880-1391; evergreenrecreation.com Keystone Resort also offers a beautifully groomed surface on their ice rink at Keystone Lake. This lake is the largest Zamboni-maintained ice rink in North America, offering just about 5 acres of outdoor skating fun! Visitors can enjoy practicing their figure skating skills or even play in a pickup game of pond hockey. www.keystoneresort.com
Feature Image of Loveland Ski Area Under a Full Moon by Dustin Schaefer

Claudia Carbone is an award-winning travel writer and member of the Society of American Travel Writers, North American Travel Journalists Assoc. and Denver Woman's Press Club. Currently, her work is published in The Denver Post, Colorado Expression Magazine, London Sunday Telegraph, GoWorldTravel.com and RealFoodTraveler.com. Her blog Sleepin' Around covers any place you can sleep on vacation.
For more Mountain Adventures head to our: Treks and Travels Page
MTN Town Media Productions | Celebrating the Colorado mountain lifestyle
Copyright 2022 MTN Town Media Productions all rights reserved.
Post Sponsored by