B Like Breckenridge – A campaign for Everyone in our Mountain Town Communities and Beyond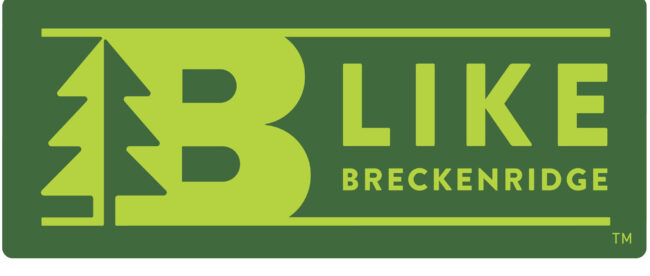 B Like Breckenridge – B Like Breckenridge and join a campaign that values the Mountain Town Lifestyle
For all of us who love the mountains we are working hard to preserve and protect the spirit of our special mountain town and the natural wilderness we all love so much. Breckenridge and the folks who love to live and visit here are on a mission to inspire everyone – whether for a weekend or a lifetime – to join in preserving and enhancing life through the B Like Breckenridge campaign.
1. BE KIND
Our first act is to be Kind and Patient to all who are working hard to provide the laid back welcoming spirit that Breckenridge has always been known for. Things get busy here. Everyone wants to get outside to play these days whether at the trailhead, shops or our restaurants.
2. CONSIDER GOING CARLESS
Getting to and around Breckenridge is easy and convenient, due to free transportation options and our easily walkable town. Breckenridge's shuttle and transportation systems will help. Ways To Go Carless During Your Trip:
Book an airport shuttle to easily get to and from Denver International Airport (DIA).
Use Breckenridge's free community transportation systems: FreeRide, Main Street Trolley and the Summit Stage. Also check out our article on Pegasus.
Explore the town by foot or bike.
If staying at a hotel, utilize free lodging shuttles to get to and from downtown.
Choose hiking trails near your lodging by using the GPS feature on AllTrails, Google Maps & COTREX.
Opt for ride share services like Uber and Lyft whenever possible if a car is needed.
Choose guided activities that offer free shuttle service transportation.
*A quick reminder a mask may still be required on public transportation in Summit County.
3. PACK IT IN AND PACK IT OUT
Protecting what we love is more important than ever when heading outdoors. Be sure what you pack in gets packed out all the way to a trash can. Leave what you find, like wildflowers and artifacts. Bright and beautiful when in bloom, the Rocky Mountain Columbine has been Colorado's state flower since April 4, 1899, but is it illegal to pick them when found in the wild on public land.
4. BYOB (BAGS & BOTTLES)
The Town of Breckenridge has a bag fee of 10 cents per bag at shops around town, restaurants and grocery stores. Visit like a local and bring your own reusable shopping bag. You might notice that straws don't come in your beverages, that's because straws are only available per request. Another item to keep in your day bag is a reusable water bottle. Breckenridge has water refill stations throughout town and some of the best tap water in the country.
5. RESPECT WILDLIFE
While you're in Breckenridge, you may see animals like moose, mountain goats, foxes and bears. In most situations, people and wildlife can coexist, and most wild animals are harmless if left alone. It is exciting to see wildlife and it's ok to take photos from a distance without disturbing them. Please leash your dogs and pick up after them too.
6. STAY ON DESIGNATED TRAILS
On trails, walk single file in the center of the tread — even where it's wet, rocky or muddy. Trails become progressively wider and form parallel paths when people walk on the edges or detour around obstacles. Taking a shortcut, especially on switchbacks, has severe consequences. Shortcuts become unsustainable trails or gullies that cause erosion and require costly restoration. Stay on trails is to minimize animal disturbances. Wildlife have learned to expect people on trails and may avoid these areas. When you wander off trail you increase the likelihood of disturbing wildlife and altering their natural behaviors. As always, be respectful of others while on the trail.
7. KNOW BEFORE YOU GO!
The CAIC – Colorado Avalanche Information Center encourages everyone interested in Backcountry Recreations to check the forecast. If you're heading out to ski everyone should take a field based Avalanche Course before heading out too.
Weather knowledge and proper planning helps to ensure that you have a safe and enjoyable hike while minimizing your impacts on the natural world and yourself. Be prepared for extremes. In Colorado, the weather can change quickly so pack layers and make sure you are prepared for sun, rain, wind and even snow. When hiking in the high country, remember to start your hike early in the morning so you can be back at your vehicle before the afternoon storms roll in.
Be sure to pick a hike that matches the goals, skills and abilities of your group. Gain knowledge of the area you will visit by checking local hiking or land management websites, guide books and studying area maps. Make sure you understand the terrain you will encounter, local area regulations, check the muddy meter and how long the hike may take you. Always bring a map with you, as there may not be cell service in the place you are visiting.
With these local tips, you'll save money, keep Breckenridge clean, stay safe, have great photos & stories to share with friends and B Like Breckenridge!
~MTB
For More Information on Breckenridge head to www.mountaintownbreckenridge.com
MTN Town Media Productions | Celebrating the Colorado mountain lifestyle
Copyright 2022 MTN Town Media Productions all rights reserved.
Post Sponsored by