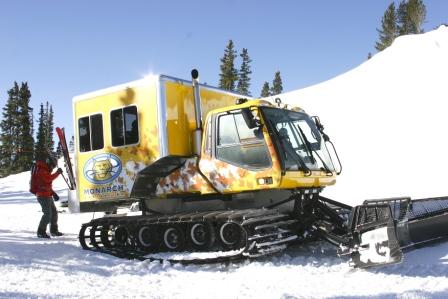 Crisp white runs, bluebird skies and terrain for all will greet you at Monarch Mountain. Located on the East side of the Continental Divide about 20 minutes from Salida this Colorado Gem is everyone's mountain. A place that greets you with genuine hospitality and boat loads of fun – literally.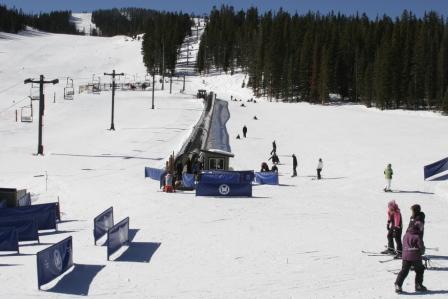 One of the first pluses of Monarch Mountain is their location to parking. You literally pull up, exit your vehicle and you're on the snow, no buses or gondolas to lifts to access more lifts. Life is simple and sweet, perfect for families of course but Monarch is also a fantastic mountain for those who want a bigger serving of fun, adventure and challenge.  Hike to Terrain will treat you to great caches of snow in Mirkwood Bowl, the East Trees, Elation Ridge and a ton of other runs that offer steep expert chutes and glades, rock cliffs, and excellent tree skiing.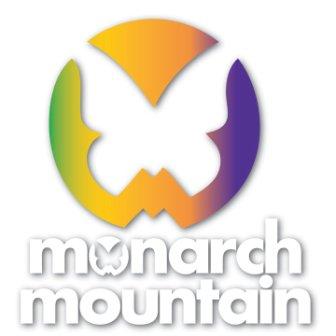 You're a park Rat? No problem, The Never Summer Terrain Park has great features including cool natural features, fun-boxes, rails, hips, and hits for skiers and snowboarders. For those who are learning to launch their boards into new heights there is The Tilt Terrain Park, located just below the base of the Panorama lift. Back to newer skiers, there are plenty of groomed intermediate runs as well as the very cool. The Catepillar Lift is a hoot for newbie's as well as their seasoned friends and family. This 450 foot long covered conveyor lift has clear walls so you can see everything as you head up – talk about being spoiled!

Monarch has done a remarkable amount of improvements over the past few years. They have dramatically improved the skiing experience with a new parking lot, new restrooms, a lodge expansion and upgrade, reduced pricing for children's programs and the inclusion of the new Elmo's Bar where skiers and riders can enjoy a cold or warm beverage without going up to the Sidewinder Saloon.  Big screen televisions carrying sporting events and picture windows looking out onto the mountain make Elmo's Bar the newest hot spot for Après Ski. What hasn't changed is the incredible, happy attitude there staff has at any time of the year. Everyone is friendly and helpful all the time.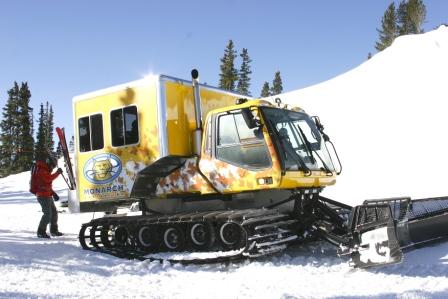 A very hip amenity that the area offers is Monarch's Cat Skiing. A full day of Cat skiing will bring you to over 1,000+ acres of steep powdery runs, the stuff of your dreams. Monarch Cat Skiing is like booking a day on your own private mountain since the tour goes up with no more than 11 other guests per day (12 people max if you do the math). The Cat Skiing staff is well seasoned, certified guides who very experienced with the terrain. They know this area inside and out.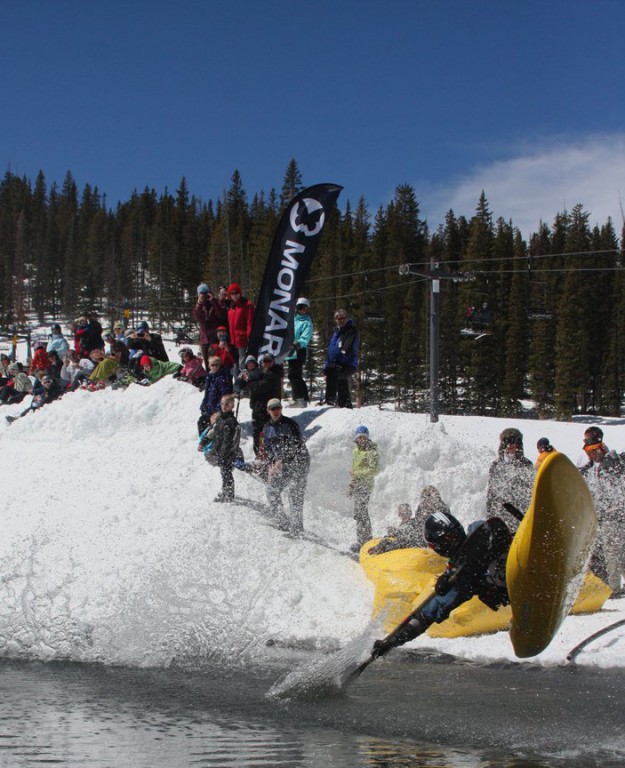 With spring here in Colorado's mountain towns the event calendar is packed with a ton of fun events and competitions. Go ski with a Naturalist, Demos Days, Kids Fest, Fundraisers and more are on the schedule until they close. Closing weekend is a like the finally to a fireworks display. Monarch's signature event, Kayaks on Snow is a head to head race, similar to Skier Cross but in Kayaks, down a specially designed course featuring berms, banks, and bumps, ending in an icy pond! This is as fun to watch as it is to race. Some good swag is to be had at this event. Their closing day is highlighted with a parking lot cook-off and tailgate party. Guests are encouraged to whip up their best eats costumes and décor. Best of wins a 2014/15 season pass among other prizes.
As mentioned before Monarch Mountain is a 15 to 20 minute drive from Salida. If you have not visited there recently we highly recommend you check out their shopping and dining district along with the Arkansas River. So many new and unique shops have popped up along with restaurants, distilleries and breweries. Amicas Pizza & Micro-Brewery and Elevation Brewing Company are two prize winning breweries, Woods Distillery has some great whiskey, there are killer coffee shops and fun clothing boutiques to browse through. This is known as the Rocky Mountain "banana belt" and offers the classic Colorado opportunity to ski in the morning and bike, hike, kayak or golf in the afternoon. The Chaffee County motto is "Now this is Colorado" – yes it is. Take your friends and family to Monarch Mountain with plans to have a whole bunch of fun, they will thank you.
~MTN Town Magazine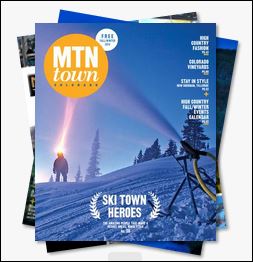 MTN Town Magazine Copyright © 2015 | MTN Town Magazine all rights reserved. All editorial and images are property of MTN Town Magazine and require permission for use and re-publication.