Minturn – More then a Sidetown!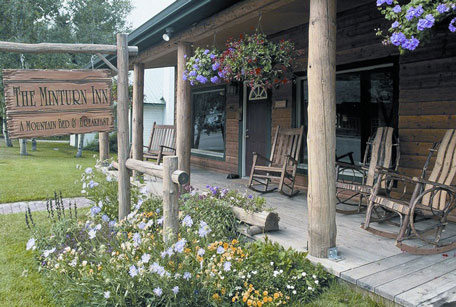 Minturn , Colorado there's always something going on in this charming town, just minutes from Vail, Beaver Creek, Avon, and Edwards. Be sure to visit Minturn online and in person.
According to the Minturn Saloon website, The Minturn Mile is one of the most famous "off-piste" or "out-of-bounds" ski runs in the world. It is accessed from the top of chairs 3 or 7 on Vail Mountain and then by taking the out of bounds access gate at the top of the turn on the "Lost Boy" trail. An ability level of upper intermediate or better is suggested to enjoy the experience. Once you reach the bottom, your choice of dinner/drinks/snacks begins at The Turntable and extends down Main Street with the Minturn Saloon, Sticky Fingers Cafe & Bakery, Minturn Country Club, Nicky's Quickie and Kirby Cosmo's BBQ Bar. Please remember this is out of bounds terrain and is not patrolled! You are on your own and will pay a monetary fee if rescue is needed.
More Minturn
Along with the variety of breakfast, lunch and dinner spots, Minturn hosts businesses ranging from clothing (Jayded, Holy Toledo) to coffee (Vail Mountain Coffee & Tea Company) and music (Minturn Music) to outdoor guides (Minturn Anglers). Johnie's Garden and the Minturn Tune Shop keeps up with the seasons and Minturn Tattoo can give you something to remember them by. Architects, wood-workers, realtors, shoe repair, home repair and gift shops sprinkle the area. Minturn also hosts non-profits: Minturn Community Fund, Eagle Valley Alliance for Sustainability and the only community driven radio station in the Vail Valley, Radio Free Minturn.
Minturn Chatter
The Minturn Inn keeps up with all the local happenings through the use of social media. Many of the local businesses are on Facebook and Twitter and can be seen daily through online communication channels. This makes it easy to share the latest news and information on the area with the click of a mouse.

The Minturn Inn also uses Foursquare and Gowalla, which are geolocation games with the use of smart phones. Many businesses offer specials for the social media savvy when you "check-in" to a location. The Minturn Chatter link can be seen on the Minturn Inn Facebook page, http://www.facebook.com/MinturnInn. You can also book your accommodations online either from the Facebook page or from the website at http://www.minturninn.com/. http://www.vailonsale.com/ also shows booking specials.
Checking in online will guarantee a first glimpse at activities, including scheduled bands for the Minturn Concert Series at Little Beach Park and Amphitheater, Minturn Market, Ladybug Release, Missoula Children's Theatre, 4th of July celebration, Bravo Concert, and much more.
There's always something going on in this charming town, just minutes from Vail, Beaver Creek, Avon, and Edwards. Be sure to visit Minturn online and in person.
Helpful Links:
http://www.minturnmarket.org/links/recreation.html
http://www.minturn.org/Business/businessLinks.html
http://en.wikipedia.org/wiki/Minturn,_Colorado
http://www.visitvailvalley.com/vailonsale/vailonsale.asp?id=185
~Post brought to you by The Minturn Inn and the Vail Valley Partnership