Knickers, Walnuts and an Old-Time Bike Race in Western Colorado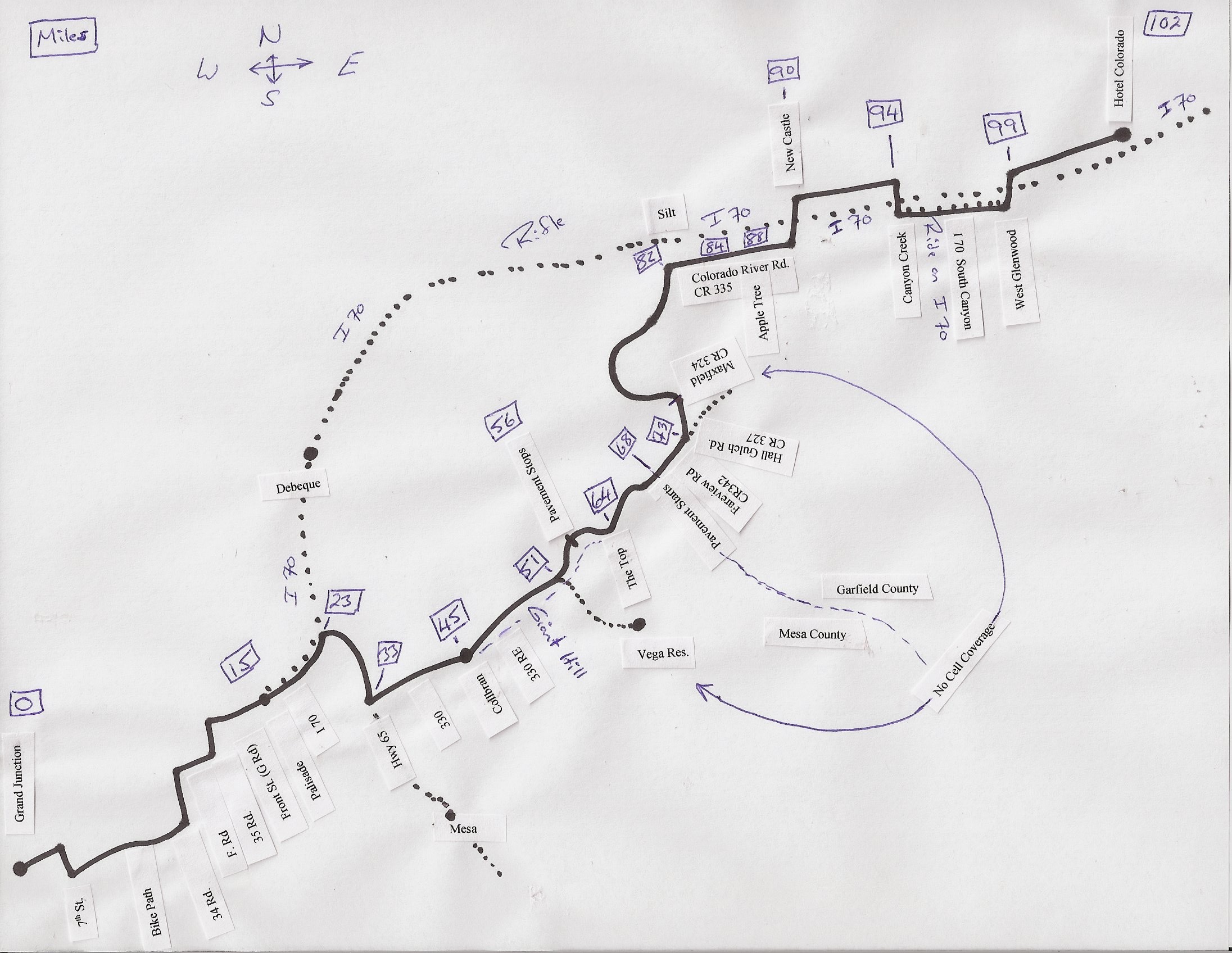 Chris Brown is admittedly fascinated by history. He is also fascinated by bikes. The owner of Brown's Cycles in Grand Junction, Colorado, Chris has collected antique bikes, cycling memorabilia and local biking history for many years. "It's a disease," he told me. "I am fascinated by history. When I walk down Main Street, I think about who walked before me. It kind of takes me someplace else. It's a fun trip."
Not content to merely walk down Main Street, Chris is taking his "fun trip" one step further with the resurrection of The Colorado Midland bicycle race from Grand Junction to Glenwood Springs, Colorado on Sunday, May 15.
 The Big Thing
 Beginning in 1898, cyclists from Grand Junction and Glenwood Springs met for a race — a head-to-head challenge between the Wheelmen of these two young cities. An excursion train ferried the cyclists from the Grand Valley to the Roaring Fork Valley, where they raced from Basalt back down to Glenwood.
Not only was the race known as the "Big Thing," it was also a "Big Day Out" for everyone involved. The Grand Junction riders often brought along a band to provide entertainment on the train. After the race, the cyclists played baseball, again pitting Glenwood against Grand Junction. Glenwood often won, but usually because of unethical umpires, according the newspapers of the day. By 9:30 in the evening, the train was pulling out of Glenwood to return to Grand Junction. The annual "Big Thing" was over.
The Fruita Social Wheel Club entered the competition in 1902 but didn't take the train. Instead, they rolled their bikes 102 miles on the new Midland Trail Highway to get to Glenwood Springs. Inspired by this story, Chris Brown researched the route of the Midland Trail and decided it was perfect for a nostalgic bike race.
The Big Thing Meets L'Eroica, Circa 2011
"This race is the hybrid of lots of ideas," says Brown. "I've been following biking and bike history for years. There is a race in Italy, called L'Eroica ("the Heroic") where riders dress up in vintage clothes and ride on dirt roads. I thought about doing something similar here. Then I heard that the Fruita Mirth guys had gone out for a ride wearing wool knickers. Here were people doing what I was thinking about. From this point, our local L'Eroica evolved." 
To encourage riders to get into the spirit of the race, Brown has devised a unique point system which rewards authenticity rather than speed and the latest technology. For example, enter and ride a bike built in 1935 or before and you'll get 6 points. A bike circa 1936-1970 will get you 4 points, while a bike built after 1970 will only bag you 2 points. A fixed gear bike nets 8 points, while a standard 6-30 speed bike awards only 2. Wooden rims will add another 8 points and a leather seat provides another (painful?) 4 points.
While your choice in equipment can add to your score, bigger points are given for attire. Wear a vintage woman's dress and pick up a whopping 40 points — and the point card doesn't specify that you must be female to qualify. Knickers will net you 10 points, while putting your hair in a bun (or maybe wearing a bun wig) will bring in another 10 points. Sunday-Go-To-Meeting Shoes will garner 6 points, while eschewing all technology — cell phone, iPod and the like, nets 8 points.
This doesn't mean you can just show up, look good and win. The winner will get 60 points and to qualify for any points, you have to ride at least 100 of the 102 miles. But the point system does make it more fun and strategic. As Brown explains it, "People have to pick their poison. Maybe you want to use a geared bike, but dress up to get points. Each rider has to grapple with what's doable and what's not and think through their strategy before the race starts."
Who Will Be "The Heroic"?
As for Chris Brown, he'll be riding a 1951 German 3-Speed. That's an extra 8 points for him. He didn't disclose the specifics of his costume, but he did tell me that he was planning to "grab an apple and a bag of walnuts (authentic period nutrition — 4 points), put on wool knickers (another 8 points) and disappear for 12 hours" in the gorgeous Colorado plateaus and mountains.
No matter what the cyclists wear or ride, Colorado's inaugural version of "L'Eroica" is sure to be historic. Brown hopes it will also be a lot of fun. While the victor will be crowned "The Heroic," Chris hopes that all participants will find "The Big Thing" to be "big fun."
When You Go….
Registration, including a Sunday night stay at the historic Hotel Colorado, a finishing photo, a pass to the Hot Springs Pool, awards banquet, and train fare for each cyclist and his or her bike on the return to Grand Junction, was $180.00. I am writing "was" because the official registration is closed. However, Brown states that anyone who is still interested should sign up and all-comers are welcome. He just can't guarantee a hotel room or train reservation for late registrants. If you are interested, please contact him directly at Brown Cycles, 970-245-7939. Interested in next year's race? Again, contact Chris Brown.
Participants will leave Main Street Bagels in Grand Junction on Sunday, May 15 at 6:00 a.m. The old Midland Highway route follows I-70 to Plateau Creek Canyon and then winds its way up to Collbran. From this point, riders will take the back road to Silt, Colorado and then proceed along I-70 and frontage roads into Glenwood, terminating at the Hotel Colorado. Of the 102 miles, about 75 are asphalt and about 27 are on graded dirt. Brown's best guess as to when cyclists will arrive in Glenwood is between 4:00 and 8:00 p.m. Sunday.
Kristen Lummis – Brave Ski Mom
Images Courtesy of  Chris Brown:
map of 2011 route
1915 race winner, Harold Gesburg
1903 Race Medal
Fruita Mirth, circa 2011
2011 Winner's Race Plaque
Fruita Social Wheel Club, 1897, Photo Courtesy Steve Hight.