Golden – Colorado's First Mountain Town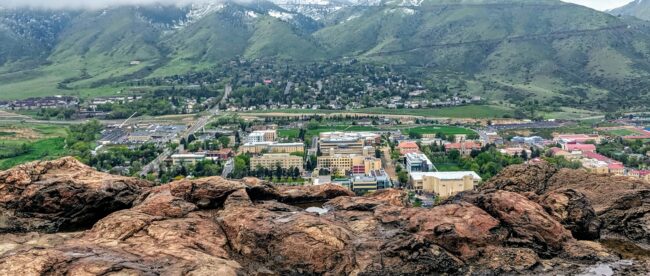 Golden Colorado is the state's First Mountain Town and is a perfect retreat for great events, shopping and dining.
If you live up in the mountains you know the transition between winter to spring and fall to winter often leads to a trip to the Front Range of Colorado. This Colorado mountain town is like the goldilocks of off-season escapes. Not too cold, not too hot, but just right with a ton of fun to be had. The big difference between Golden and our other Colorado mountain towns is that it is only moments away from Denver and Boulder. It offers a warm respite at 5,675 feet high and is a fantastic place to stop for events, activities, and delicious dining at all times of the year!
Tucked behind South Table Mountain, Golden has preserved its small-town feel with streets lined with beautiful homes, unique shopping, art, entertainment and eats. As you roll into their downtown the iconic 58-foot arch over Golden's main street proclaims "Howdy Folks! Welcome to Golden" and it is a sincere greeting from this hamlet's towns folk.
Founded during the Colorado Gold Rush of 1859, the city of Golden is the Jefferson County seat and home to world-famous Coors Brewery. Golden is the last Colorado mountain town you will encounter as you exit the Colorado's Rocky Mountains. Clearly it is the first mountain town you will encounter as you retreat from Denver and is a gateway to the fun and adventure of all of Colorado's mountain communities.
Golden was once the most powerful city in the state and the capital of the Colorado Territory. The National Renewable Energy Laboratory (NREL) was also built in Golden during the energy crisis of the 1970s.
Today, Golden is known for Coors Brewery, the Colorado School of Mines and is the seat of Jefferson County. Over the years, a variety of industries have thrived in Golden and it has matured into a hive of art, culture, entrepreneurship and is a true foodies delight. The city remains a center for industry, education, and now tourism, with sites such as the kayak park at Clear Creek.
There are gorgeous mountain views in all directions. A river offering fly fishing, kayaking, and even gold panning flows through the center of town. There are more than 100 miles of hiking and biking trails, including the iconic climb up Lookout Mountain. There are colorful historic buildings from Colorado's Gold Rush days lining their main thoroughfare with outdoor cafes, recreation stores, bike shops, galleries, and one-of-kind boutiques. And of course, this being Colorado, there are a half dozen breweries and distilleries with outdoor beer gardens and food trucks.
Here are some getaway suggestions to do in this sweet little mountain town:
Stay in one of Golden's Unique Lodge's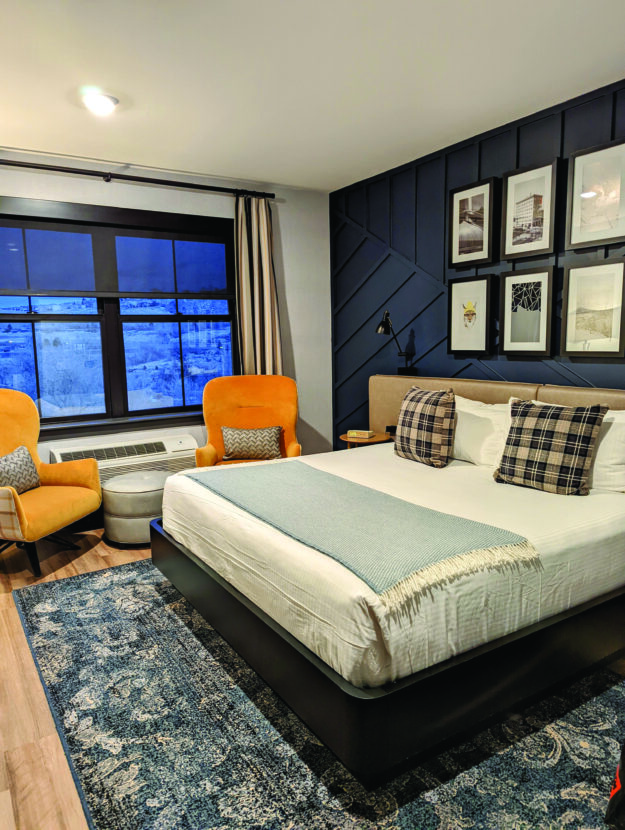 There are a variety of places to stay in Golden. The new Eddy Taproom and Hotel is a perfect dog friendly base camp for your adventures with a great restaurant, outdoor play and dining space. Origin Hotel Red Rocks is a perfect spot right between Red Rocks and downtown Golden. The Dove Inn is a romantic bed and breakfast styled in a restored old Victorian. Table Mountain Inn and The Golden Hotel are located on the main drag of downtown.
Paddle, Bike, Fish and Stroll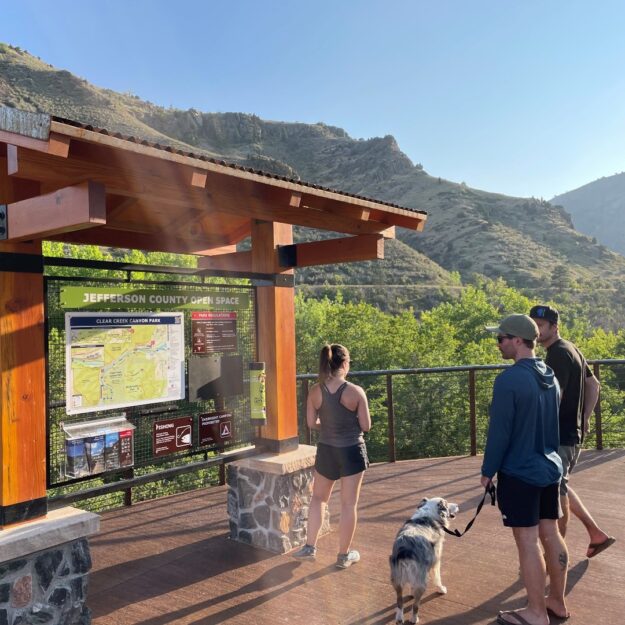 Clear Creek flows right through the center of Golden with a paved trail running alongside it. This lovely Creekside trail runs 11.8 miles east to Denver and continues west of Golden up into the foothills. The creek has award-winning man made whitewater features perfect for kayaking or stand-up paddleboarding, and the upper stretches are renowned fly-fishing spots. The trail links directly to the Peaks to Plain Trail sections. This 65 mile trail is scheduled to be completed in early 2025. Clear Creek has a good population of small to mid-sized rainbow and brown trout and abundant bug life.4.
Take a Free Bike Ride, the Golden Bike Library (located conveniently behind the Golden Visitor Center on the banks of Clear Creek) has bikes available for free two-hour rentals, Pedal down the Clear Creek Bike Path, or try the more challenging 5-mile mountain-bike loop that circles North Table Mountain.
Hike the Old West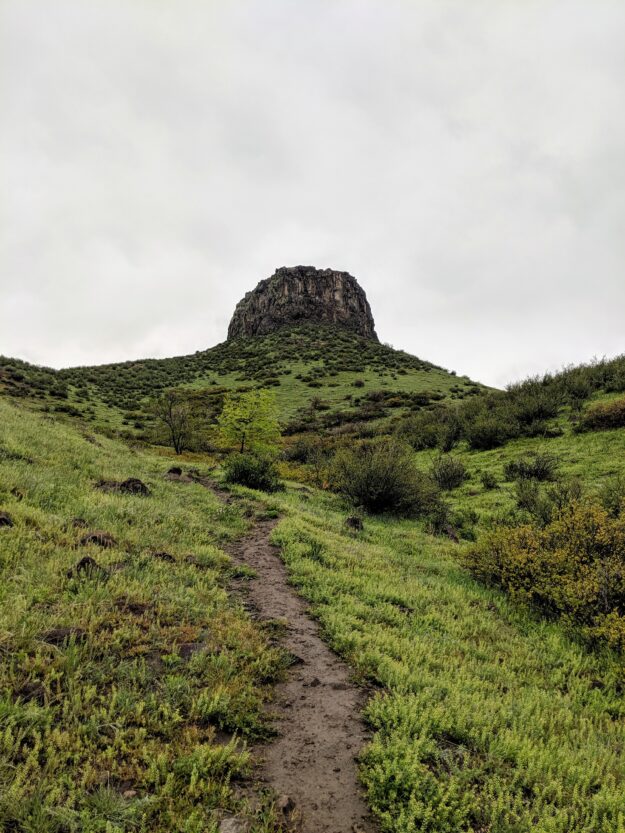 Blocks away from the main drag is the Golden History Park, a re-creation of an authentic frontier homestead with a barn, farmhouse and outbuildings, all in a spectacular setting. Stop and feed the chickens and check out two nearby hikes that visit old farmsteads. White Ranch Park has beautiful hiking and mountain-biking trails that lead to an old farm nestled in a valley, while nearby Golden Gate Canyon State Park has many trails that pass historic log cabins.
Bike, Run or Drive Up the Lariat Loop Trail
From downtown Golden to the top of Lookout Mountain is an iconic Colorado stretch of road and boasts majestic views that stretch from Wyoming to New Mexico. This road, which gains 1,300-feet in just 4.3 miles, featured twice in the US Pro Challenge and ridden by the world's top cyclists, is one of the classic bike rides in the state. It's also one of the state's best scenic drives, peaking at the 7,379-foot summit of Lookout Mountain with 360-degree views. It's just a short walk from the free parking lot on top to Buffalo Bill's Museum & Grave. Stop and learn about the famous Old West scout and showman, put a penny on his scenic grave and don't miss the giant gift shop — If you're looking for true Colorado souvenirs this place is for you.
Say Cheers: Beer and Distilled Beverages
After a climb, hike, bike or stroll, you might need some sustenance. And what could be better than three free beers? The fascinating tour of Coors Brewery (the largest single brewing site in the world) takes you past endless copper kettles and into the packaging plant and ends with a chance to taste three free glasses of their various beers. More of a craft beer person? There are six craft breweries in Golden, three in downtown within walking distance of Coors.
Learn the History of Mountaineering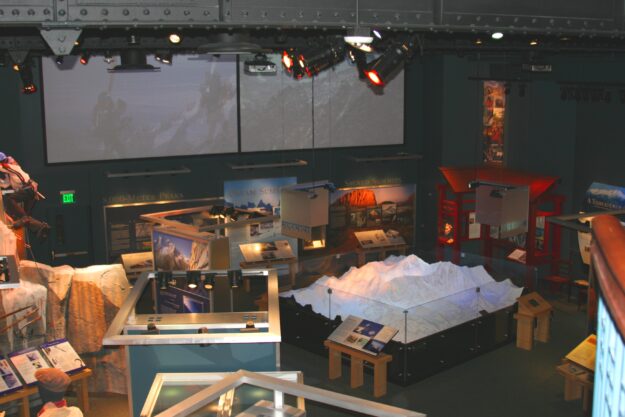 The Bradford Washburn American Mountaineering Museum is fantastic. It is the first and only museum in the United States dedicated to the heroism, technology, culture and spirit of mountaineering. Whether you are thinking about summiting your first 14'er or you have climbed a dozen this is the place to start.
Ride a Train
Colorado is famous for its narrow-gauge steam railroads, but you don't have to drive across the state to see them. The Colorado Railroad Museum in Golden has a half-mile of circular track and they fire up their steam locomotives and give everyone the thrill of riding a genuine steam train all year long.
Climb
Clear Creek Canyon offers some of the best rock climbing in Colorado. It is largely known for sport climbs with some trad climbs interspersed. The rock varies from gneiss and schist to a sandy granite with a variety of ratings.
Eat Alfresco The people of Golden are outdoor folk and almost all of the restaurants in Golden have outdoor dining. Some of the best patios include the Golden Hotel's Bridgewater Grill, which has a sweeping patio overlooking Clear Creek; the Table Mountain Grill & Cantina, which has a flower-lined deck and a great view of South Table Mountain; and New Terrain Brewery, which has food trucks and rests at the base of North Table Mountain. The newly renovated Buffalo Rose, an authentic American West saloon and restaurant, has a retractable ceiling and stylish outdoor seating. There are more than two dozen restaurants. Join the locals at Woody's Pizza, head to D'Deli to grab a delicious sandwich, check out the new Tributary Food Hall offering eight unique eateries to choose from or head to Golden Mill for interesting and authentic foods. You can eat in Colorado's old capital, the state's first capitol building is now a restaurant and bar, The Old Capitol Grill & Smokehouse.
Outfit Your Next Mountain Expedition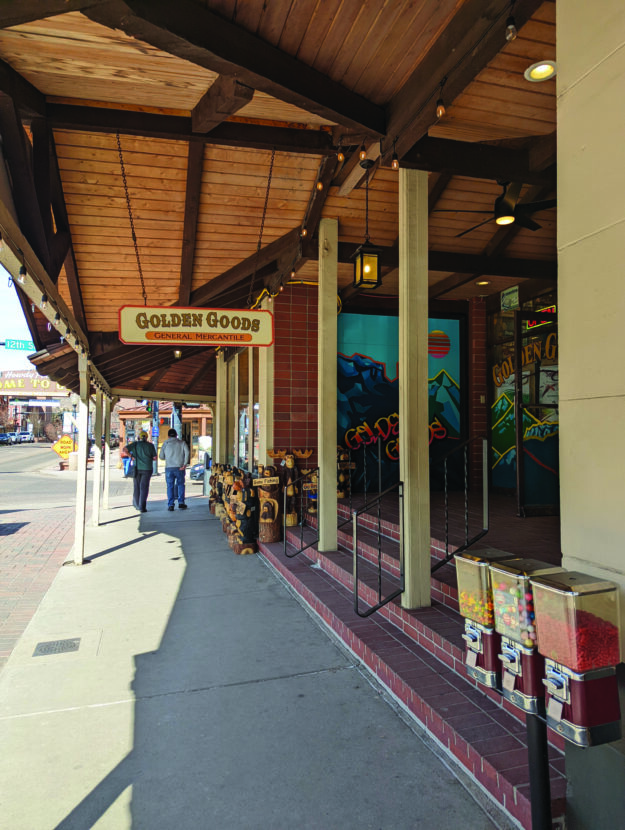 Golden has one of the greatest and most concentrated collections of outdoor recreation stores around. There are shops devoted to hiking, biking, skiing, snowboarding, climbing, fishing, camping, backpacking and hunting.
Shop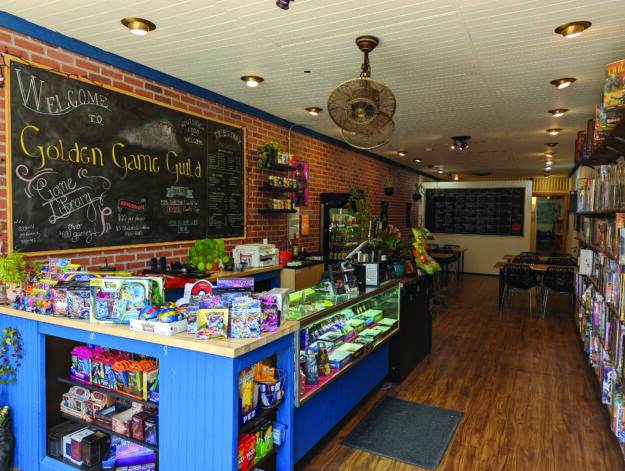 And we know it is a clique but the shopping is fantastic. There are unique finds along Washington Avenue. We love Baby Doe's Clothing, Yo Colorado and the Spinster Sisters shop. Icelantic has a great little retail shop alongside their corporate offices and we love Bent Gate Mountaineering. There are also art galleries, jewelry, toy stores and coop spaces housed in the historic buildings along Washington Avenue.
We love bringing our guests for a stay before we head up to higher altitudes, it gives them a little bit of an edge on acclimating to our clear mountain air. Getaway with friends, family or alone. Golden, Colorado is the perfect retreat.
by Holly Resignolo
Learn About all of our mountain town communities: www.mtntownmagazine.com/colorado-mountain-towns-guide
Visit our Story Sponsor:


Mountain Town Magazine | We are Colorado's Mountain Town Magazine
Copyright 2020 MTN Town Magazine all rights reserved.