Durango is Open for Business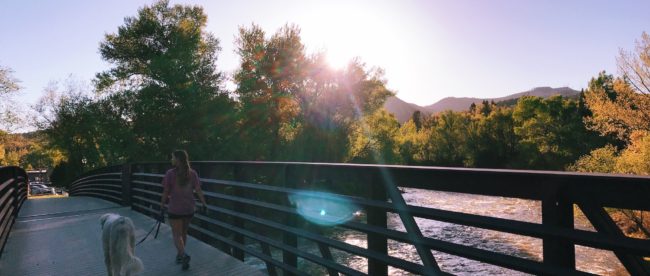 Durango is Open for Business! Tucked between the majestic San Juan Mountains and pine-clad mesas of Southwest Colorado, Durango is a vortex for idealists. Historians swoon, geologists drool, train buffs flock and foodies rave. Entrepreneurs make moves. Nonprofits thrive. Kids and old-timers shred gnar. College students and second homeowners come and go, and everybody gets rich in outdoor adventures.
Since 1881, Durango has survived the busts and booms of mining, tourism, and the climate, building its very own brand of bona fide Colorado mountain town. While wildfire rages in the surrounding San Juan National Forest and smoke settles in the Animas Valley every night and morning, it's hard to remember those afternoons are glorious, and Durango is open for business. Here are 8 reasons to keep your travel plans and check out the golden nugget of Southwest Colorado: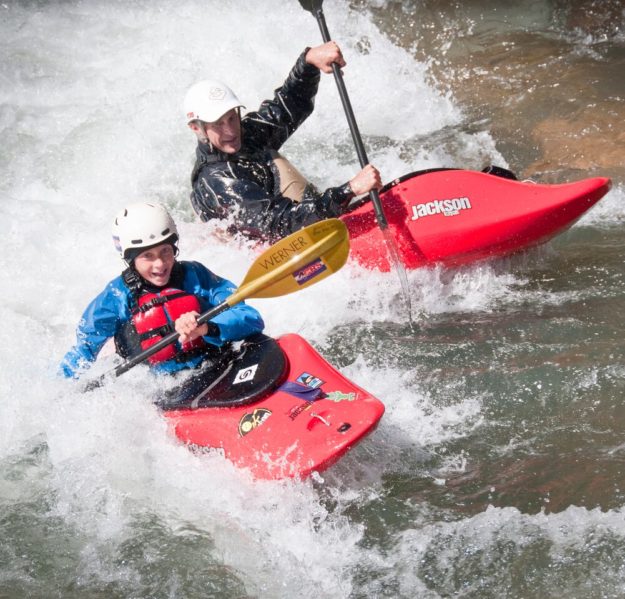 Watery Fun on the Animas
The Animas River
Durango unfolds along the banks of the Animas River, one of Colorado's last free-flowing rivers. Trickling from meadows off the flanks of Cinnamon Mountain north of Silverton, the Animas eventually joins the San Juan River and ultimately feeds the Colorado River. In Durango, the Animas serves as both a playground for rafters, kayakers, tubers and fisherman, and the lifeblood for flora, fauna, and anyone who appreciates a really pretty park flowing right through town. Picnic along the seven-mile greenway path along the Animas' lush shores, or take the plunge and be rewarded with a reset button on life.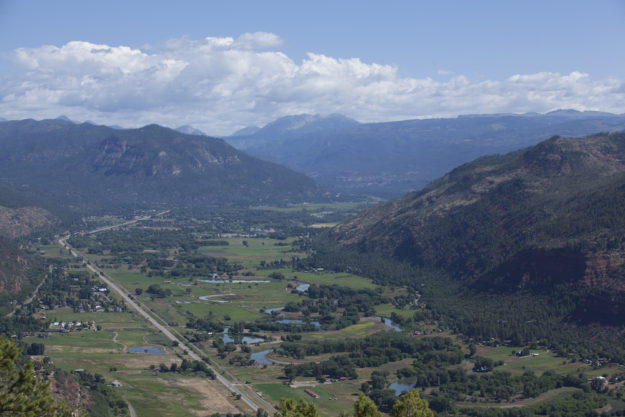 Trails, Trails, Trails
At 6,512-feet above sea level, Durango gets the average Texan high in minutes, while also serving as a breeding ground for more Olympic, world and national champion athletes than any other town in the country. Mountain bikers, trail runners, hikers and man's best friend relish nearly 2,700-acres of protected open space surrounding downtown Durango, in large part thanks to the efforts of local nonprofit, Trails 2000. For information on open trails, check out trails2000.org.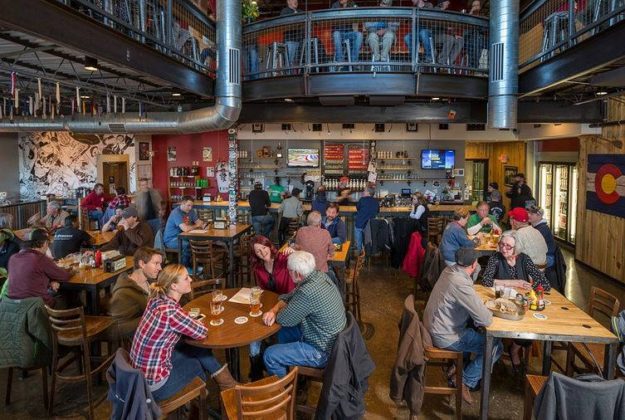 Ska Brewing
They Come in Pints!
Durango is home to six quality breweries: Animas Brewing Company with its Kolsch and soft pretzel allure; BREW Pub & Kitchen, which was built on an Indian burial ground and offers the best seat in the house for viewing the train returning from Silverton; Carver Brewing Company, Colorado's second oldest brewpub and Durango's best brunch; Durango Brewing Company, the North Side's brewery; Ska Brewing, the 22-year-old industry standard for craft beer; and, finally, group-friendly dining spot, Steamworks, which took home gold at the 2016 World Beer Cup for its Steam Engine Lager.  
Be sure to check out the Crafted Beverages of SW CO campaign,  this year they have a Tasting Passport that visitors can pick up for free at the Durango Welcome Center. It promotes breweries, wineries, distilleries, cideries, and non-alcoholic producers (soda, coffee roasters, kombucha) across the entire Southwest region, including Durango, Silverton, Ouray, Ridgway, Telluride, Dolores, Mancos, Cortez, Bayfield, Ignacio, and Pagosa Springs. Once you've collected six stamps,  bring it back to the Durango Welcome Center for a prize, and be entered into their grand prize drawing, which is a return trip to the region in 2019. Sweet!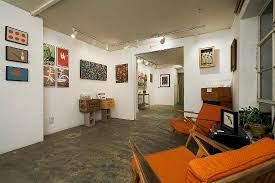 Studio &
Creative Hotbed
For a walk on the cultural side, check out Durango's dozens of award-winning galleries and museums, like the Durango Arts Center, Durango & Silverton Train Museum, Studio &, Animas Museum and Powerhouse Science Center. As well, Durango boasts more than 3,800 businesses ranging from technology startups to dog treateries. Home to Fort Lewis College and a bright community overflowing with PhD's, Durango clearly takes a pro-entrepreneurial mindset and serves to encourage folks to pursue their money-making dreams, while making plenty of time for fly fishing and a cup of Joe at 81301.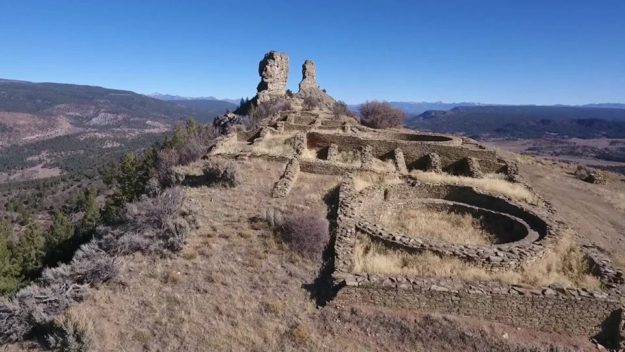 Chimney Rock National Monument
The Past Lives On
Step back in time and explore the region's fascinating array of ancestral Puebloan archaeological sites. Besides Mesa Verde National Park, don't miss national monuments, Aztec Ruins and Chimney Rock, both within an hour's drive of Durango. These off-the-beaten-path destinations offer an unparalleled opportunity to explore ancient homes, ceremonial buildings, intact ruins and reconstructed kivas. Get ready for some jaw-dropping storytelling!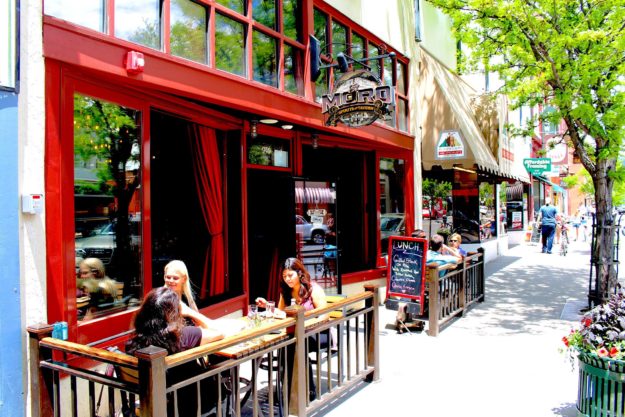 El Moro Spirits & Tavern
Wipe That Drool Off Your Chin…
With more restaurants per capita than San Francisco, Durango makes it easy to find something for every palate in this land of plenty. Relish spoonfuls of green chile at the Durango Diner on your breakfast burrito. Get your global fix with molcajetes and margaritas at Tacos Nayarit. Enjoy live jazz music and fresh, Mediterranean cuisine at Cyprus Cafe. And, for those special occasions, don't miss an evening at the Ore House, where bold wines, killer steaks, and farm-to-table goodness guarantee satisfied smiles.  Don't forget dessert at the Animas Chocolate Company too!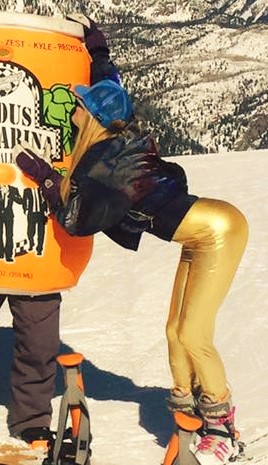 Style For Days
When times are hard, nothing brings a smile like wearing a wig, Hawaiian board shorts and mustache (that's real, actually). Despite USA Today notoriously voted Durango to be the Least Fashion-Conscious City in America in 1988, Durango is also easily the Best Costumed Society in the World (unofficial title). Eager natives use any excuse to don an alter ego, whether mourning the loss of a friend or trying to shake off cabin fever during those five days in February called Snowdown. So pack that gold one-piece suit and bring the party with you!   
Paradise Found
Besides winning awards for its ski-ability and leaf-peeping grandeur, Durango also serves as the ideal backdrop for first dates, weddings, honeymoons and anniversaries. From riding horseback through snowy woods to standup paddleboarding in a refreshing lake on a bluebird summer's day, this Hamlet doesn't lose its shine as the years roll by. So, if you choose to visit, good luck trying to leave, for Durango, Colorado, is, at the end of it all, a beautiful, beer-soaked, tan, happy vortex.
Thanks for your support during times like these! We look forward to welcoming you because Durango is Open for Business 🙂
~Joy Martin, Associate Publisher
Born in Denver and raised in Mississippi, Joy Martin resides in Durango and calls the area's outdoor spaces her home.