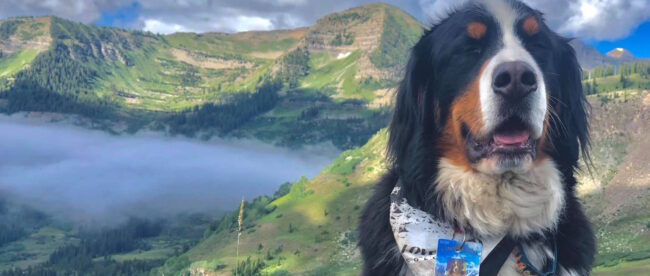 You have seen them we are sure. Bright little blobs of pink, green, and teal, sometimes black littered alongside a trail. Some are smushed and dried out others are puffy, condensing in the sun. We all know what I am talking about – PoopBags! Yuck. But I guess at least they've already been packaged, the worst one is when they are still fresh, and naked in all their glory, kicking up a stink in their immediate radius. I've seen all sorts of colours too, even orange dog poop…. that can't be healthy! Anyway, the whole aspect of leaving poop on walking trails is a big no no. Packaged or not, they need disposing of, is it really that hard?
Mayor Parker the Snow Dog says, "If you can take the time to bag the poop, than most likely you can figure a way to pack it out."
We are on a mission! Dog Poop Bags left on the trail by folks is unsightly, unsanitary, and unnecessary! We found this not so pretty poop bag ruining the view "hidden" away at 12,000 feet, such a bummer.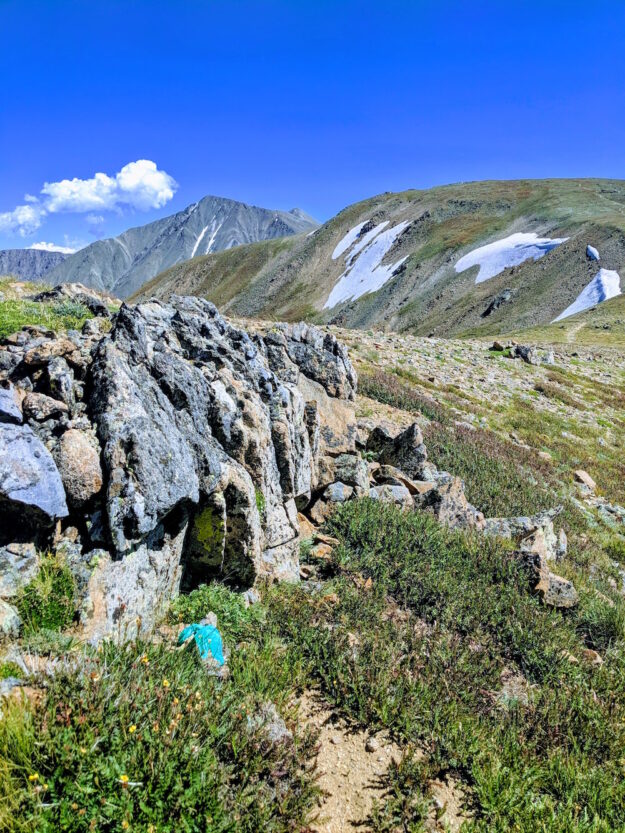 We are here to help. There are a variety of products that you can place your poop bags into until you reach a trash receptacle.
Leave No Trace says 9 out of 10 people in the outdoors are uninformed about their impacts. Here are several different products you can use to Pack It Out and Leave No Trace!
RuffWear Pack Out Bag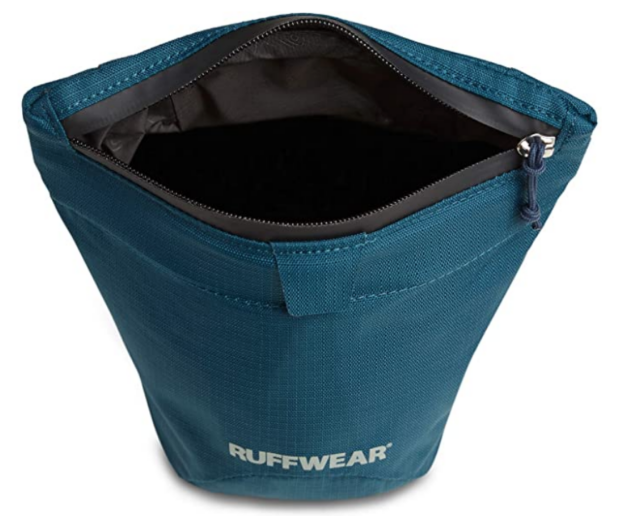 The Pack Out Bag is a convenient solution for carrying full pick-up bags (read: poop) hands-free between drop points. A water-resistant shell fabric and waterproof lining work in tandem with a waterproof zipper for easy-to-clean odor containment. Includes an adjustable belt to carry it around the waist. Or, directly attach it to a pack or your waist with the integrated clip. The Pack Out Bag makes it a little easier for all of us to doo-doo our part to keep our trails clean. https://ruffwear.com/products/pack-out-poop-bag
Doo Doo Tube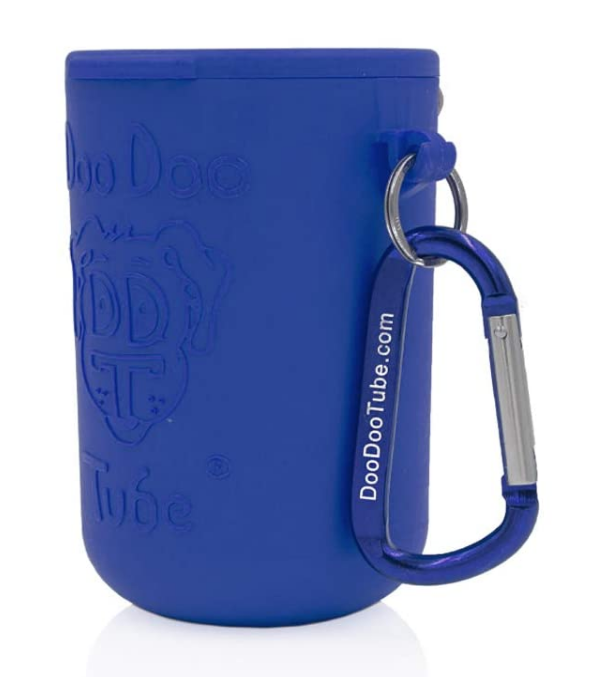 The Doo Doo Tube Carries filled dog poo bags while walking and hiking with your dog. Their plastic "can" seals in the odor and the germs and includes a carabiner to easily attach to any leash, belt loop or backpack. The tube holds filled bags from dogs weighing up to 110 pounds or 4 dogs weighing  40 pounds each. The best part, it is easy to keep clean and does not retain odor. https://dogdootube.com/
Go Bag for Walking Dogs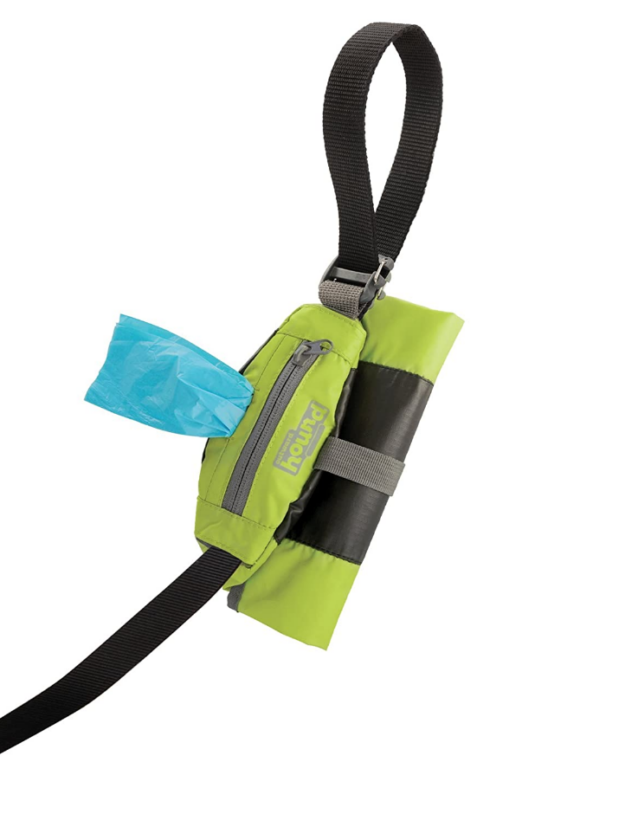 The Outward Hound GoBag carries the load so you don't have to. This easy to use pet waste storage solution has a compartment for poop bags and a separate compartment with a unique roll bottom design that adjusts to accommodate large or multiple poopy loads. https://outwardhound.com/gobag.html
Poo Vault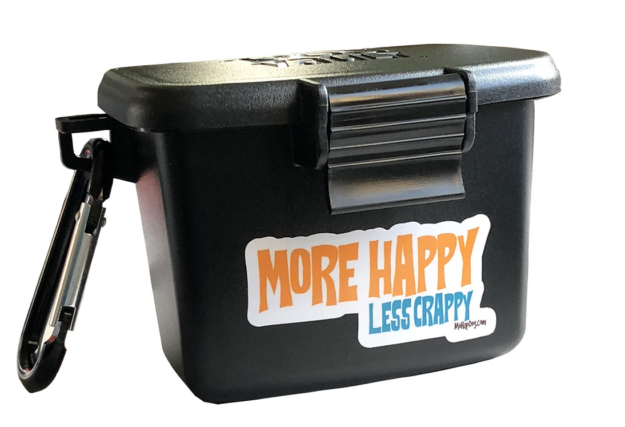 Poo Vault is hard palstic case that holds in smell and germs with an o-ring in the lid and a snug but easy to latch top, so you can enjoy fresh air and being with your pup. It can be attached to your leash with the carabiner, or to your belt or pocket with the built-in belt clip on the back, creating a hands-free experience. Better yet pop it into you pack as head out on a hike. The PooVault does the dreaded task of dealing with offensive waste and awkward carrying positions, so you can have a nice walk. https://poovault.com/
DayPak Dog Backpack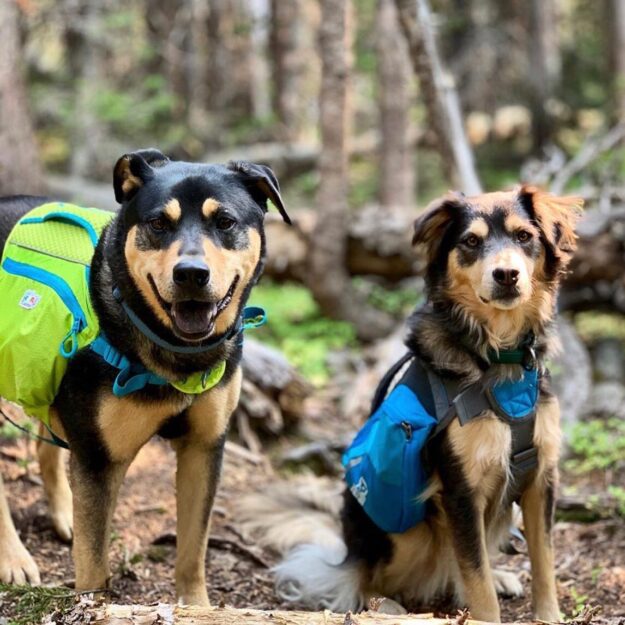 The Outward Hound DayPak securely holds all of your dogs walking and hiking essentials for more hands-free fun. The sleek design of this dog backpack is free from bulk and full of function. Adjustable straps keep the pack in place and reflective piping provide enhanced visibility to your dog day or night. Deep pockets can hold everything you need to pack out your pups poo too! https://outwardhound.com/dog-gear/daypak.html
Here are some other ideas. Grab a bunch of zip lock bags, double or triple them up and put the poop bag inside and then bring along in your pack.
Designate a Nalgene or water bottle to pack you pups poop away until you get to an appropriate area to dispose of it.
Keep our Mountains and Towns beautiful! Just pack it along with no mess, it is a must.
Love,
Parker the Snow Dog, Trigger and their parents Holly & Dustin
Visit our Story Sponsor : Rendezvous Colorado

Mountain Town Magazine | We are Colorado's Mountain Town Magazine
Copyright 2020 MTN Town Magazine all rights reserved.