Ridgway to Ouray Mountain Bike Ride or Hike – Super Dallas!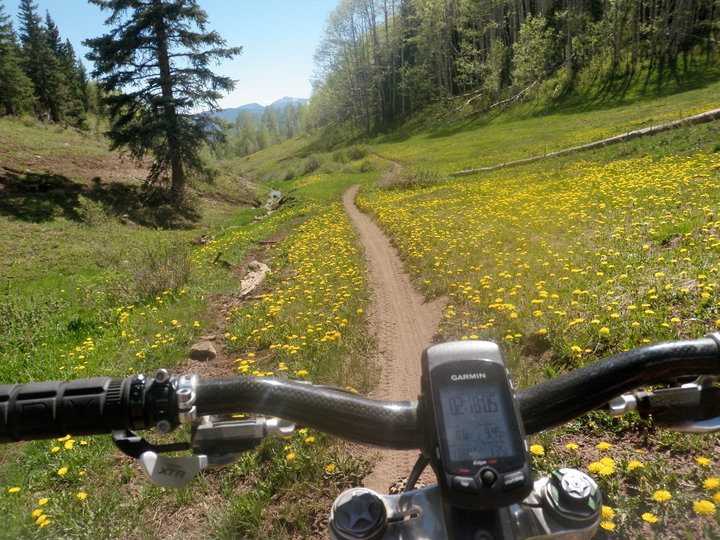 I finally did a ride here in Ridgway that I'd been thinking of for a while. I wanted to loop the entire Dallas Trail from town (Ridgway). I managed to get two of my friends to join me on this and at 7:30 AM we were off from the shop. Our ride started with an easy cruise out of town up Hwy 62 then we turned off on CR24D which would put us on dirt for the rest of the trip (pretty much).
We cruised 24D at a solid but leisurely pace. Eventually CR24D  winds back around and comes out on HWY 62 at the base of Dallas Divide, we then took a left, went down a 1/4 mile or so and turned right onto CR9 (West Dallas Rd).  This road which passes through Ralph Laurens property goes back about 8 miles and eventually links up with the Dallas Trail. At this point, we were 20 miles and 2 hours into the ride, but the real work was beginning. From the entrance at Box Factory it's a pretty good push uphill for a bit before you can get on the bike and ride but once on the views are amazing!
The section of trail between Box Factory and Blue Lake is fairly rugged and although it is only 4 miles or so it can take a little while to cover. What it lacks in flow though it more than makes up for in beauty and remoteness!
We hit the Blue lakes parking lot and were shocked to see all the cars there, man that's a popular trailhead! We split left and headed towards the Blaine Basin trail ( the less traveled) and started to climb (AGAIN!). Luckily, once again the views as we grind uphill are wonderful. Directly in front of us on the way is a gorgeous waterfall.
Hanging a left off Blaine Basin we were back on the Dallas Trail and it was now time to push our bikes big time. The trail switchbacks up the mountain to the summit of Wilson Peak and it's a pretty long and nasty push. About this time (now almost 4 hrs in) we are questioning the sanity of our decision.
Once over the top though it was a screaming 3-mile descent on a ripping trail. I was initially concerned about deadfall over the trail on this part but was surprised to see someone had been through very recently and cleared this entire section. This was great news for two reasons. First, we had an awsome descent which quickly erased the memory of the heinous push-up and second had we needed to stop and go over/around all of those spots. It would have easily added 45 minutes+ to our trip.
Crossing a creek at the bottom we climbed "AGAIN" and finally linked onto FSR 852. Now we were back on the route we normally ride (CR5 to Ouray). We grinded through the last few climbs and topped out at Moonshine park at 5hrs 50min.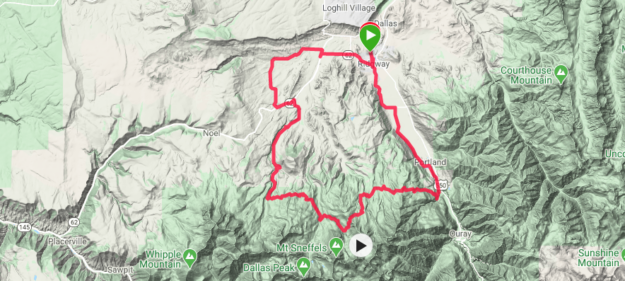 From here it was a 3K foot descent into Ouray then a cruise back on CR17 to Ridgway. That's Super Dallas!
Final ride stat's were: 43 miles
6553 feet of climbing
11,000ft max elevation
6hrs 26min
Maybe we'll do it again next year!
~Randy