December 1st Kicks Off Colorado Resort Holiday Fun!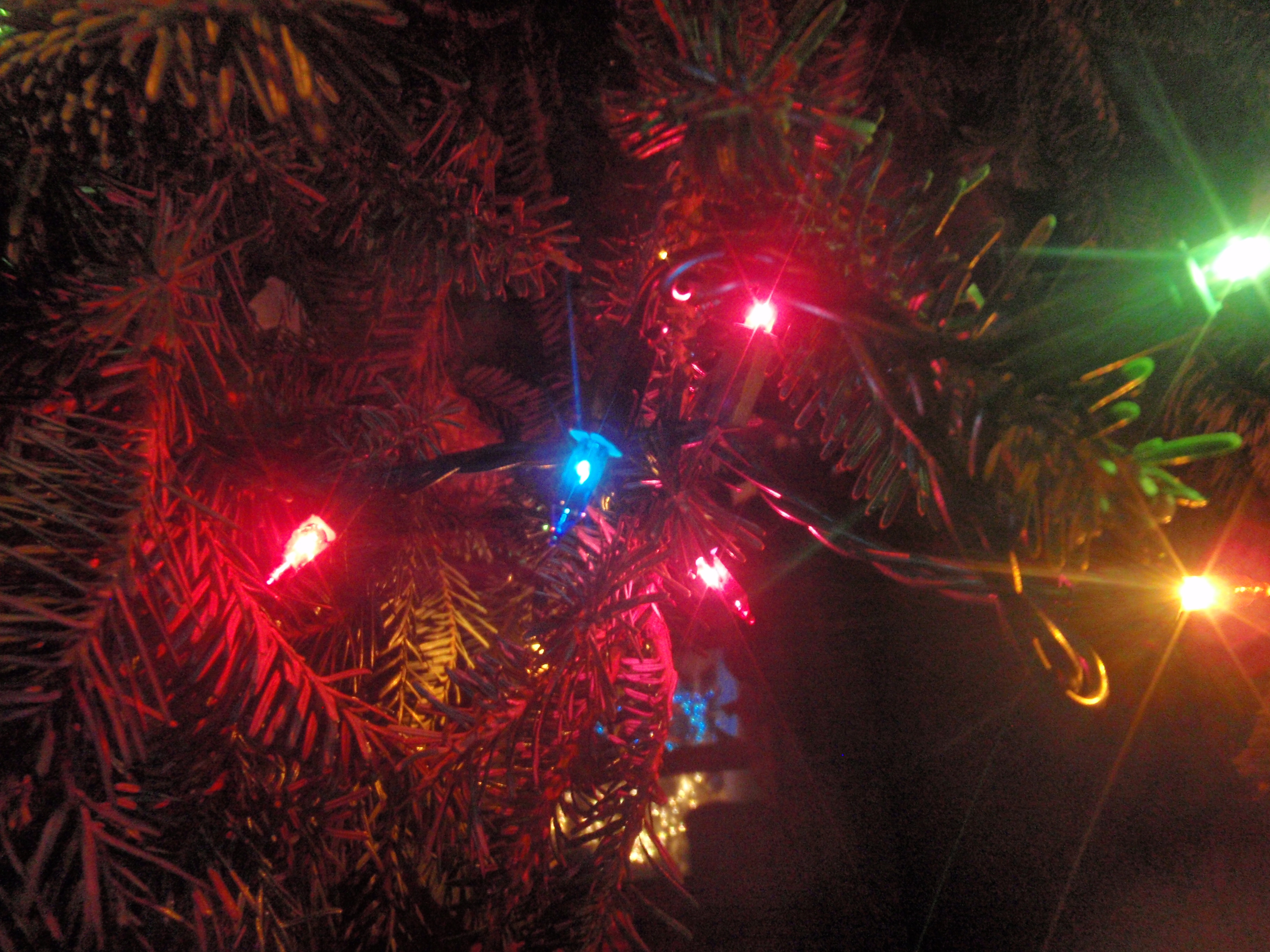 Colorado Ski Country just sent this press release out. If your like me then December 1st is significant. The pumpkins and turkey decor go and the Christmas lights come out! I begin thinking about all of the great gifts that we can give to friends and family and I begin making that list… no not the naughty one, just nice. The list below is all nice and helps make the holiday festive no matter what your celebrating. Living in our Colorado Mountain towns is something I celebrate everyday!
SANTA CLAUS IS COMING TO TOWN
Everyone's favorite jolly old man dressed in red will be making the rounds at resorts this holiday season.
Santa comes early this year to Sunlight on December 17 – 18. Ski and snowboard demos will also available to help those who haven't yet filled out their wish lists. Santa then heads over to Ski Cooper on December 19 at 10:30 a.m.
On Christmas Day, Santa will be visiting Loveland for some turns, Monarch Mountain for a photo opportunity with the kids, and Arapahoe Basin to enjoy the Summit County Choral Society. At Telluride, guests are invited to stop by Gorrono Ranch starting at 12:30 p.m. to get their picture taken with Santa. Those who miss St. Nick can still keep an eye out for him on the mountain, as he will be skiing all day. Santa will also be visiting the slopes of Wolf Creek on both Christmas Eve and Christmas Day.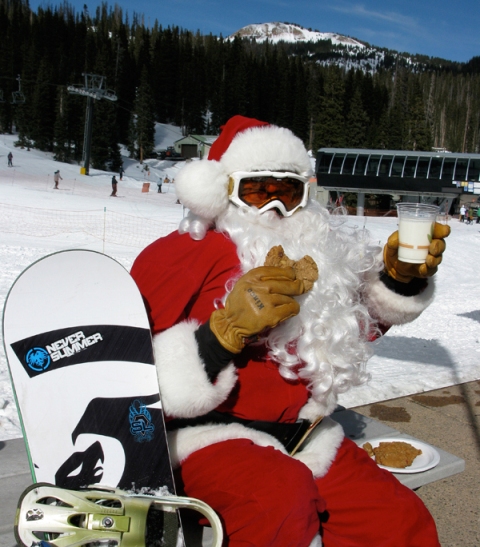 PARADES AND TORCHLIGHT CELEBRATIONS
Guests are invited to heat up their winter festivities this holiday season at Copper Mountain during En Fuego. On Christmas Eve, there will be a spectacular snowcat parade making its way down the mountain. Afterwards, visitors can enjoy DJ Kris Kringle spinning holiday tunes, bonfires, carolers and a fireworks finale. This long-standing holiday tradition is a must see at Copper. Guests can also ring in the New Year with an encore En Fuego. On December 31, enjoy another snowcat parade along with fire dancers, bonfires, glow sticks, parties throughout the village, and two fireworks shows. For more information, visit www.coppercolorado.com.
Crested Butte Mountain Resort offers holiday events throughout the month of December. As Christmas and the New Year draw near, visitors can watch brilliant torchlight parades that wind down the front side of the mountain from the Silver Queen lift on December 24 and 31. Guests can also enjoy moonlight snowshoe tours on the mountain beginning just after dusk on December 10. Rock on Ice, a professional ice carving competition with chainsaws and sculptures on display, will take place on December 16 – 18 around the base area. For more information, visit www.skicb.com.
Guests are invited to celebrate the New Year with a brilliant Torchlight Parade and Fireworks Display at Durango Mountain Resort. They can take a horse-drawn sleigh ride from the base area into the scenic forest, and watch the torchlight parade wind down the mountain while taking in the firework show. Finally, visitors can listen to live music by Champagne with Friends and indulge in fabulous dinner specials at Purgy's and Creekside Italian Kitchen to top off the night's festivities. Visit www.durangomountainresort.com for more information.
On December 31, Monarch will host itsannual Torchlight Parade and Firework show. The celebration will begin around sunset with a magnificent firework display, accompanied by drink specials. To participate in the Torchlight Parade guests can call guest services at 888-996-7669.
Celebrate the New Year at Steamboat with the Sprint Torchlight Parade and Fireworks Display. This tremendous on-snow parade takes place on the mountain, beginning with torches and ending with fireworks. Fireworks can be seen throughout in the Steamboat Valley, but the best views will be from Gondola Square at the base of the mountain. Visit www.steamboat.com for more information.
Telluride once again invites guests to join in its Christmas Eve Torchlight Parade on December 24, beginning at dusk. As darkness falls, on the Mountain Village side under lift 4, guests can observe a marvelous parade of skiers carrying torches down the mountain. The resort will also have the same spectacular parade for New Years Eve followed by a fireworks show at Mountain Village. To find out more, visit http://tellurideskiresort.com/TellSki/info/activities-events.aspx.
Winter Park celebrates Christmas with the Eve Torchlight Parade and Fireworks. The event begins with Christmas carols around the bonfire at the base of Winter Park Resort. At 5:30 p.m., a procession of torch-bearing skiers and riders make their way down Lower Hughes trail, followed by Santa Claus and his merry helpers. A spectacular fireworks display and snowcats adorned with Christmas colors light up the slopes in a Christmas tree formation to conclude the festivities. For more information, visit www.winterparkresort.com.
FINE HOLIDAY DINING
Welcome the New Year with a full stomach at Arapahoe Basin with the resort's Moonlight Dinner Series. On December 31, visitors can spend New Year's Eve in the mountains and partake in a celebration that includes champagne, tasty sweet bites, and party favors. At 10 p.m., guests can greet the New Year with New York and watch the ball drop in Times Square. To reserve a spot, visit http://shop.arapahoebasin.com/estore/.
At Copper, guests can celebrate the New Year in Country Style on December 31. The resort invites guests to grab their hats and boots for a night of eating and dancing. Enjoy an elegant buffet, Country Western dancing and live music, and Kids' Corral. Learn more at www.coppercolorado.com.
The Durango Mountain Institute begins holiday fun at Durango Mountain Resort beginning December with a Healthy Holiday Cooking Class. Visitors can join wellness expert Tess Challis and learn how to make nutritious, delicious holiday recipes for only $39. On December 22, there is a complimentary class where individuals will be taught how to make fresh holiday wreaths, with both materials and instruction included. Visit www.radianthealth-innerwealth.com/classes for more details.
On December 24, Durango's Creekside Italian Kitchen will feature dinner and a movie. Family-style Italian dishes will be served, while "The Night Before Christmas" will be played as guests wait for Santa to arrive. The evening will also have plenty of hot cocoa and delectable desserts on hand.
Christmas and the New Year will be special for those who wish to enjoy holiday menus atop the Gondola at Steamboat. While dining, they can enjoy breathtaking views of the entire Yampa Valley. Guests can call Steamboat Central Reservations at 800-922-2722 to book this holiday dining experience.
Starting December 7, and running each Wednesday from 3 – 4 p.m., S'mores by the Fire will begin at Winter Park. This free family activity is a great way to make new friends around the fire, although families are advised to arrive early, as s'mores are served on a first come, first serve basis. For more information on this, guests can visit www.winterparkresort.com/todo/calendar/december/index.htm.
Guests can also enjoy a meal to remember on both December 24 and 25 with the 2011 Holiday Dinners at The Lodge at Sunspot. This special experience is the only dining experience of its kind in Winter Park, offering fine dining on-mountain. Two options are available, the Sunspot's Alpine Buffet starting at $59, or the five course meal in the Sunspot Dining Room starting at $79. The price includes the gondola ride, buffet, non-alcoholic beverages, and dessert. Guests can make their reservations early by calling 970-726-1446.
HOLIDAY BARGAINS
Enjoy holiday deals on lift ticket and lodging packages at Aspen/Snowmass this holiday season. December 16 – 31, guests that book their lodging at Stay Aspen Snowmass in conjunction with the purchase of their lift tickets can save more than $60. From January 1 – February 9, visitors can take advantage of the Value Season and save up to $85. For more information, visit http://www.stayaspensnowmass.com/activities/aspen-snowmass-lift-ticket-pass-prices.
The New Years Eve celebration at Copper Mountain this year features the Burton Mountain Festival. Guests can try out all the latest and greatest gear Burton has to offer during demo sessions. Two lucky individuals will win a pass to the X Games Rail Jam and Burton Am Series Competition. Visit www.coppercolorado.com to learn more.
Guests to Durango Mountain Resort can go on an excursion around the resort on December 23 and December 30 during the Evening Snowshoe Tours. Tours include snowshoe rentals, guides, a chairlift ride to the top of the mountain, and a wine and cheese party at the Powderhouse restaurant. The snowshoe tour runs from 3:30 – 7:30 p.m. and is $55. Call Guest Services at 385-2147 to take advantage of this unique nighttime opportunity.
Echo Mountain will be offering extended hours for the holiday season starting December 23. For more information and times, please visit http://www.echomtnpark.com.