Colorado Tent and Yurt Stays – Glamping!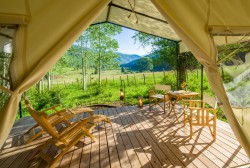 In order to land on this list, we had to disregard all the fabulous, and tempting, cabins and permanent-walled structures. It's time to keep on with tradition of Western exploration and narrate the trend of Tents and Yurts. Originally intended to house nomadic peoples, its usage is widespread across the continents, but its true glory, is only known to a few. These portable structures, usually with a dome or pointed-like top, will not only fascinate, but may leave you longing to put one up on your own property. They can be massive in size, large enough to hold a dinner party of 20, or they can be intimately sized to just house one bed with a fresh-laid down comforter and newly stoked fire.

Dunton River Camp – Pure Luxury
Why not tempt you with the best? The most exotic and luxurious on our list of Tents and Yurts is Dunton River Camp, a new, separate addition to the famous Dunton Hot Springs. The Camp is located 4 miles from Dunton Hot Springs and features eight luxurious, safari-style tents, each equipped with its own gas stove for heating, spacious en-suite bathrooms with full soaking tub, luxurious bed and furnishings as well as a private lounging terrace, with spectacular views of the San Juan Mountains and Dolores River.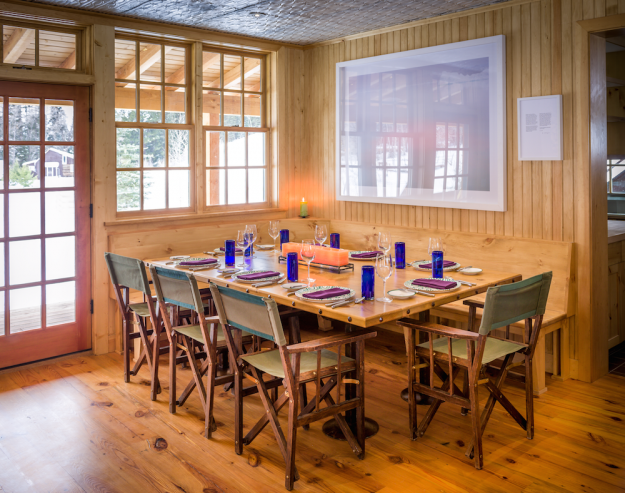 A 19th Century Farmhouse has been renovated to act as the resorts base camp serving all meals and beverages in its charming interior and on its beautiful deck space. Being a part of nature is what this incredible location is all about. Each tent includes two mountain bikes to explore the 1,600+ pristine acres of wilderness. Hiking, Mountain Biking, Yoga, Horseback Riding and Fly-fishing will all keep you outside in the glorious Southern San Juan Mountains all day long.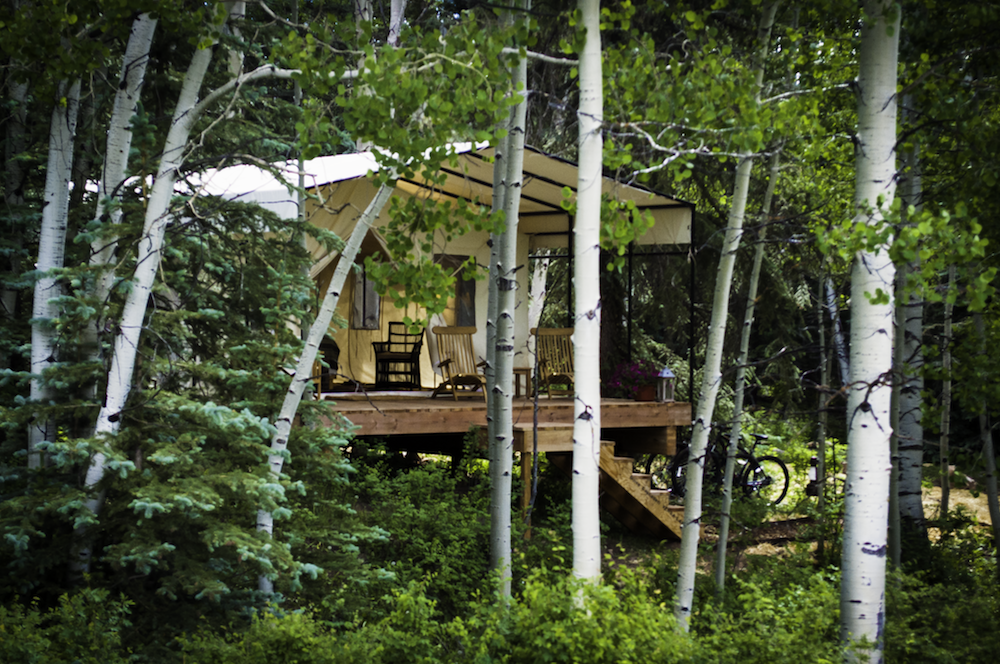 Dunton River Camp guests can also have access to all of the spring/summer and fall activities offered by Dunton Hot Springs, including hiking, biking, horseback riding, fly fishing, rock climbing, mountaineering, rafting, yoga, vineyard tours/wine tastings at nearby Sutcliffe Vineyards. The hot springs are not always available due to the many groups that book Dunton Hotsprings for their special events. Not bad for a night of "roughing" it!
Not bad for a night of "roughing" it! Dunton Rivercamp is open June 1 to October 31.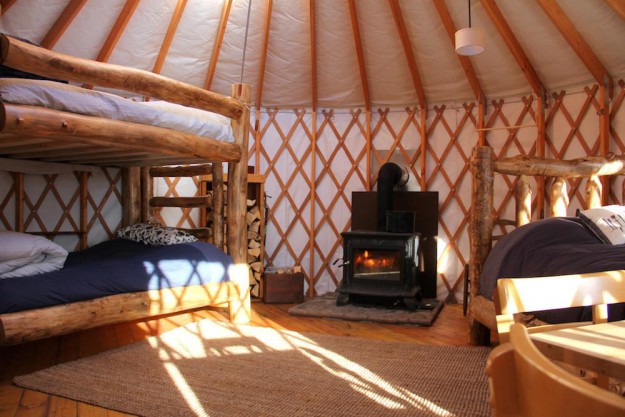 Tennessee Pass Cookhouse and Yurts – High Altitude and High Style Cuisine
The Tennessee Pass Nordic Center, Cookhouse and Yurts are where I found myself with my husband, away from my then one and three-year-olds, for our sixth anniversary. I couldn't fathom how my husband would think sleeping anywhere, let alone outside, at nearly 10,000 feet would be romantic? If you have kids, you stopped reading that last sentence, midpoint. Any night away from children is a dream, and a night amongst one of the most intimate eateries and settings in the state, with those crystal clear, star-filled nights and early morning quiet hikes with no one in sight, was more than just a one-night escape.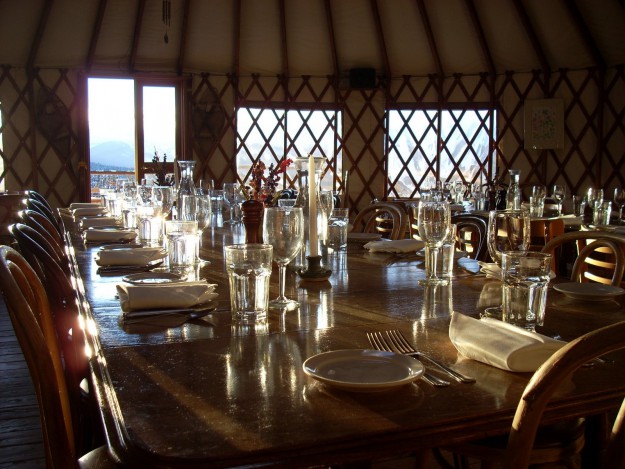 The yurts were more than comfortable and accommodating, especially since I had a few cell phone bars to keep in touch with the sitter and children back in the Mile-High city of Denver. The ambiance, silence and perfect creature comforts such as fresh water, playing cards, lights, kitchenette stocked with coffee, tea, hot chocolate and everything needed for light cooking was perfect and the Yurts have fabulous down comforters and beds. This place serves up more than just an anniversary spot. It is also a great place to gather with friends and family.
You can bring your own meals or head to the cookhouse, located a few minutes' walk from the Yurts. Come sunset, we had wine and hors d'oeuvres served up with the most incredible views from the vista of the dining yurt. Grilled Elk tenderloin with a port reduction of blueberry and sage, served with signature mashed potatoes and seasonal roasted vegetables, was my husband's choice. I couldn't resist the Colorado rack of lamb with a fresh herb gremolata served with the signature mashed potatoes and seasonal roasted vegetables too. Desert, if there is even room for it, can be taken to go and enjoyed in your yurt, as we did. The Tennessee Pass Cookhouse is the place to indulge.
Open throughout many of the months, there's Nordic skiing, downhill skiing, sledding, hiking, fishing—pretty much anything outdoors within minutes of your doorstep.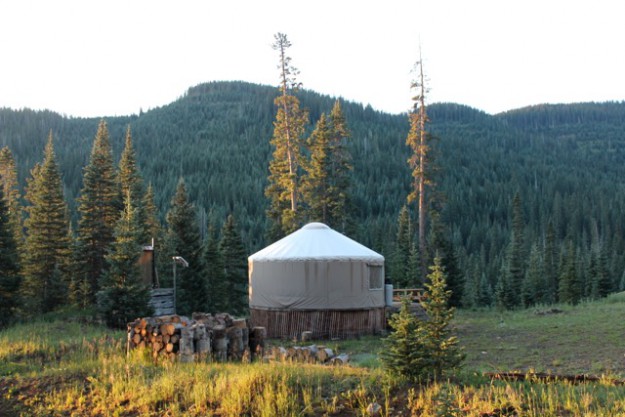 Pass Creek Yurt – Not so Remote, But Remote
If you happen to find yourself in the only town in Archuleta County, then you are half way to Pass Creek Yurt. Pagosa Springs, known for its hot springs and access point to world-renown skiing at Wolf Creek Pass, has a more eclectic yurt option, Pass Creek Yurt. Pagosa Springs is a passage point in the southern part of our Colorado mountain towns for outdoor recreation galore. My family was there last year for the hot springs, and my husband and I twice for a New Years' rendezvous ski trip with family and friends. If good beer, great waterways and gorgeous scenery are on your agenda, adventure out to The Pass Creek Yurt—it's your welcome door to Wolf Creek backcountry. Right at the base of the Continental Divide, this yurt provides any group with access to abundant recreational options in the Colorado forest. However, the extra attraction of this yurt is its proximity to the hot springs and skiing.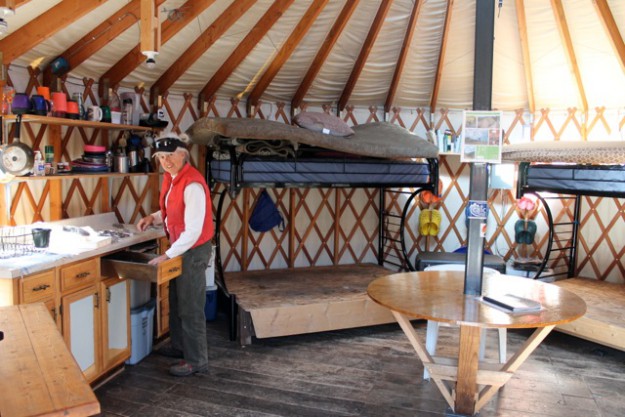 Come a bit more prepared for this yurt experience, and remember to bring your own first aid kit! There are tables and chairs, a 3-burner stove, pots and pans, utensils, solar lighting, bunk beds and pillows for six, and that's about it. You bring the rest. Rustic, yes; too far off the beaten path, no way!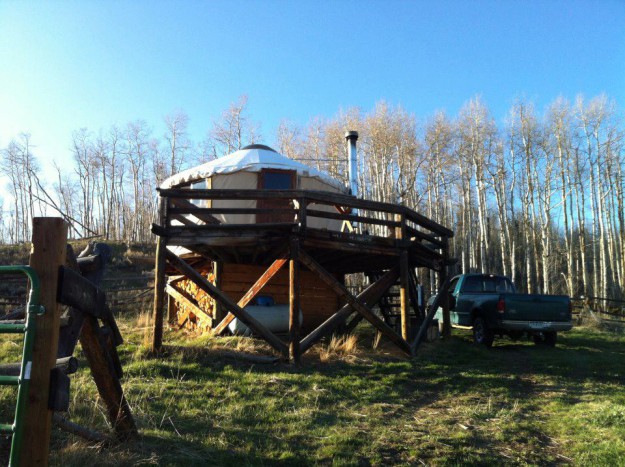 Never the Same, Never Summer Nordic Yurts
Don't fret over the title, Never Summer is no indication of the warmth and beauty of this wilderness outside of Fort Collins.  Actually, these yurts are quite popular and well known, so book early. For obvious reasons, summer nights are hard to come by.
During the day you can hike, mountain bike, Nordic ski, fish or hunt and at night, set up amongst the solitude and stars in the yurts. The company that provides Never Summer with its ever-going summer has 11 total yurts; 8 in the Never Summer Mountain Range and 3 others in the remote North Park area. Depending on your group and their needs, Never Summer Yurts can accommodate anywhere up to 12 individuals in some of their yurts. Included in the yurt is a wood burning stove, firewood, small propane kitchen with a two-burner Coleman cook top, dishes, utensils, pots and pans. Groups need to bring in food, water, sleeping gear and entertainment, although not much is needed in this theatre of wildlife.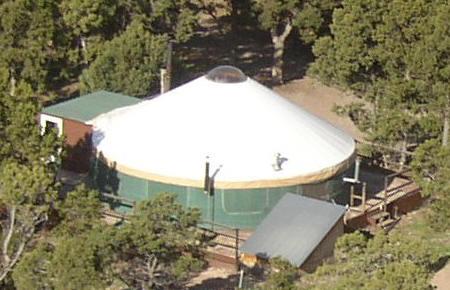 The Yurt at Screwball Ranch – The Name Might be the Indication
The Yurt at Screwball Ranch is a silly title, so we assume you are to bring the silliness to this paradise. Located just 15 miles outside of Cedaredge in Delta County (think Western Slope, mesas and agricultural beauty), this ranch is located on 80 private acres and isolated access to over 6,000 acres of BLM, so yes, there's plenty of room to play and get silly.
The actual yurt is 30 feet in diameter with almost 900-square-feet-of space. There is a  3/4 bath with hot and cold running water that sits behind a kitchen that you will find amply placed. Beds include two twin beds, in a loft, and a queen sleeper sofa in the main area.
~by Julie Bielenberg for Mountain Town Magazine
Images Courtesy of each Lodging location
Mountain Town Magazine Copyright © 2015 | Mountain Town Magazine all rights reserved. All editorial and images are property of MTN Town Magazine and require permission for use and re-publication.