Mountain Town Water Sports – High Altitude H2O Fun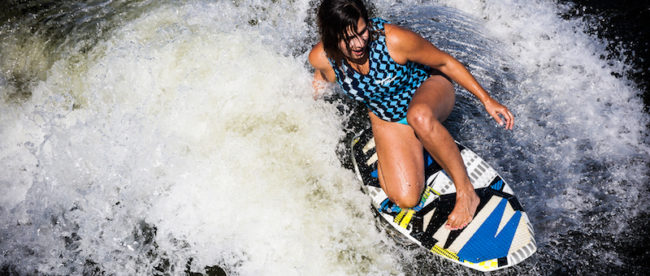 Here are a few Colorado Mountain Town Water Sports ideas (High Altitude H2O Fun) to help you catch your favorite wave. Summer offers a plethora of water sports options, from whitewater to flat water. We sure do like water. We ski, ride, skate and snowmobile on it when frozen and rejoice at the waves it creates as it melts each spring and summer. All that snow creates a plethora of watery summer fun. Here are a few Mountain Town Water Sports ideas to help you catch your favorite wave.
WAKE
,
Steamboat Springs
Meet Ben and Kimberly the owners of Wake water sports in Steamboat Springs, a Colorado Mountain Town Water Sports mecca. Thier love for lake sports created a great opportunity to pursue their passion while assisting folks to have fun on the water. Wake is located in Steamboat Springs where their Centurion Avalanche C4 Wake Board Boat is gassed up and ready to take you out on Stagecoach Lake. They carry the highest quality water based sports equipment for wakeboarding/skating, wake surfing, water skiing, tubing, knee boarding and more.
Wakeboard: Already know how to ride? Then hop in the boat and let them provide you with a pull behind one of the best V-drive boats today. Don't know how? Their goal is to provide you with any and as much instruction as you want. Boards featured are specific to ability level, weight and women's/men's specific boards.
Wake Surfing: Come and try one of the fastest growing sports in the industry! Surfing in Colorado is rare but behind their sweet boat, you will feel like you're surfing an endless wave on the ocean. And who knows, this activity might just inspire the surfer in you to take a trip to the ocean shores of California, look up a surfboard rental san diego, and start actual surfing lessons. Sounds cool, doesn't it?
Wake Skating: This is wakeboarding with attitude! The difference is the "skate" style featured by a shorter board and no bindings. The loose foot system is designed to provide the ability to do "kick flips' and "olies" while being towed.
Wake is open every day in the summer and can accommodate up to 8 people per boat. Boats are operated by experienced driver and instruction is top notch.
(970) 846-6336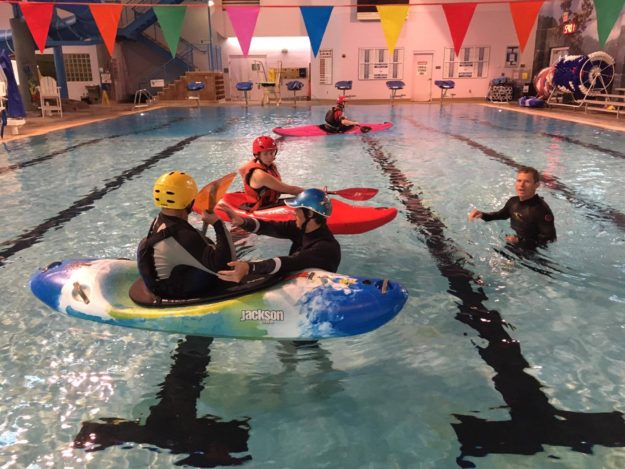 Aspen Kayak & SUP Academy,
Aspen
Have you ever wanted to learn how to Kayak? How about Stand Up Paddleboard? There is a school in the Roaring Fork Valley (Aspen area) that can help you achieve this goal. Emphasising safety first is the school's number one goal. Meet Charlie MacArthur and his staff. Charlie has over 20 years of experience on rivers around the world. He has been certifying and coaching students and instructors in the art of river running since 1990. All of his staff are seasoned paddlers who know how to help increase your skills and your confidence on the water.
Kayaking is for anyone who can swim ages 12 and up, no prior experience is necessary. The school offers pool classes and full on-river instruction complete with professional gear and equipment. The Academy is not relegated to beginners. Current Kayakers can also learn advanced techniques with Aspen Kayak & SUP Academy. The academy offers the same services for Stand Up Paddleboard enthusiasts as well.
The surrounding environment of the Valley is perfect to learn. Both the Roaring Fork River and Colorado River are navigated by the Academy's classes with appropriate stretches of water are selected for your level of experience. Flatwater and Lakes are also utilized in their training courses.
Try Half Day, Full Day and Multi-Day Class lessons. Group and Private sessions are also available. Multi-Day expeditions can be reserved on the Green River and Grand Canyon. ACA instructor certification courses are available too.
(970) 925-4433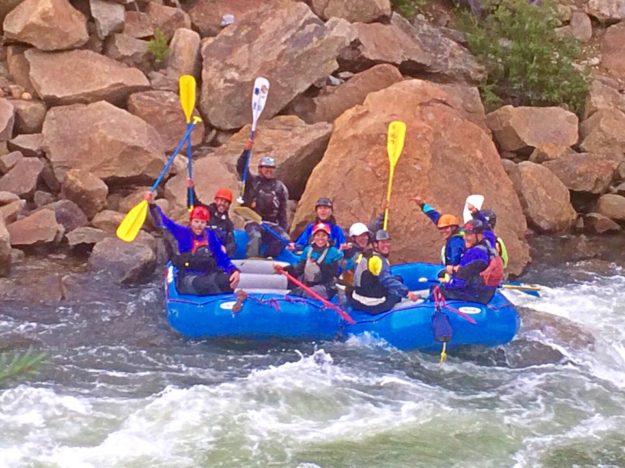 RMOC
,
Salida
At RMOC they invite you to customize your own adventure, after all, it is your vacation. The trip will then be tailored to your group's needs and abilities. Choose from any of the activities that we offer and design your perfect trip! Half-day, full-day, and multi-day options available. Feel free to combine activities for a full variety of what this region has to offer.
Raft through Colorado's newest National Monument. This scenic and remote section of river offers one of the most popular rafting trips in the country. Whatever your adventurous heart desires, RMOC can make it happen.
Try the Royal Gorge, rafting this Colorado classic is river rafting at its best. Big Rapids, lots of water, and unbelievable views. A great section of river for families or those looking for an introductory trip on milder water is the river around Salida. It is peaceful and calm as it winds through the mountain filled valley. You can go all out and try The Numbers an action-packed section of river that provides non-stop thrills in a high mountain environment. With tight lines and steep drops, you should be prepared for plenty of action as you navigate through granite boulder gardens.
RMOC also offers a top-notch paddling school for both the beginner and advanced SUP and Kayaker as well. Call or e-mail them with the details of your perfect adventure and they will promptly compose an itinerary and price quote for your review.
(800) 255-5784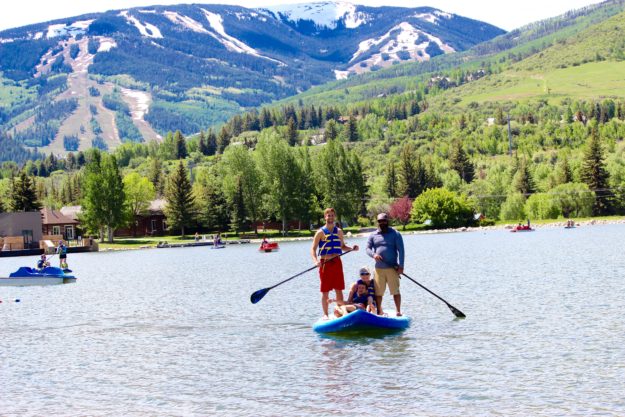 StandUp Paddle Colorado
,
Dillon, Avon & Bond
Stand Up Paddleboard Colorado has a lot going on in a variety of locations. Choose from two different lake locations: Lake Dillon in Dillon, Colorado or Nottingham Lake in Avon. Both offer SUP rentals and lessons.
On Lake Dillon, you can choose an all-inclusive clinic/paddle that focuses on instruction and paddling technique or you can do a full tour to the Snake River Inlet or around the islands and then back to the Marina. The tour includes Equipment, Personal Flotation Device, Safety Talk and Paddling Clinic. The pace of the tour is completely up to the paddling ability of the group and conditions on the lake. All tours have Pontoon boat back up in case the weather turns cruddy.
In Avon, they have a wide variety of SUP boards that are sleek and fast, big and stable or enormous and can fit the whole family. Buoys are set up for those inclined to race and also have the latest thing in SUP "SUP Polo." where you compete on a court in the water in a 3 on 3 match. Check out their daily SUP Yoga Classes and the new SUP Power Paddle fitness classes.
Give the Colorado River a try at their Rio Rancho location in Bond. Full instruction and safety demonstrations are provided from their experienced and professional guides. The Upper Colorado has ideal river sections that can be split according to levels of comfort, safety, and athleticism. Everything you need to experience the river tour is provided. This is a very exciting SUP experience.
970) 453-7873

Row,
Frisco
The Frisco Rowing Center is a nonprofit organization dedicated to educating and providing the opportunity for people to experience the sport of rowing. We believe the sport of rowing enhances health, and longevity. It provides unique abilities to promote personal and community growth through teamwork, discipline, coordination skills, and physical fitness. We reach out to a wide range of age groups as it a sport that many senior citizens excel in, as well as youth. We are also dedicated to supporting community and environmental organizations in promoting clean water for recreation.
Lessons at the club are given by the staff of Colorado Rowing Camp. The staff of the rowing camp are certified rowing coaches including many elite rowers who have been on the US Rowing National Team and participated in US and international competitions including the Olympics. The program includes:
Lessons for beginners from 12 to 90!
Video analysis
Physiological analysis and fitness training
Altitude training
Race strategy and training
Rigging Clinic
Take a Lesson and learn. Instruction at the club is provided by the staff of Colorado Rowing Camp.
970-333-8320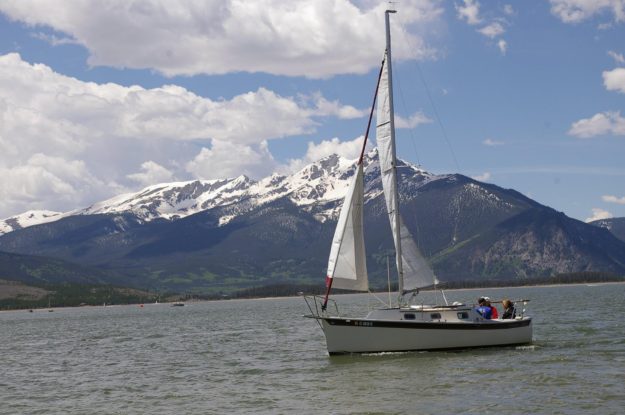 Sail,
Dillon
Head to world highest deep water marina. Beginner, Intermediate and Private Lessons are available (for adults 18 & older). The sailing school at the Dillon Marina is a certified American Sailing Association (ASA) training facility. We have a friendly and knowledgeable staff whose love of sailing is sure to inspire even the novice sailor. The private and semi-private lessons can incorporate everything from basic sailing for the novice to brush-ups and sailing varying winds/weather conditions for more advanced sailors.
Would you rather just relax and let someone else do the work? The "Sailing Experience" tour is a two, three or four-hour sail on Lake Dillon. You must be at least 12 years old to participate. Tours are offered for 2 – 5 people per boat. Tours are scheduled on weekdays or before/after scheduled sailing school on the weekend.
Maybe you already know how to sail a boat. Rent a 22′ Catalina. Each of their Catalina's have a maximum capacity of 6 people and are equipped with a 4-stroke OB motor and a roller furling jib. Rental of any of their sailboats requires sailing certification or the ability to pass a verbal sailing quiz.
So much more is available to the water enthusiast at the Dillon Marina. Call to make reservations to find out more!
(970) 468-2403
We hope you get a chance to experience some of these great Colorado Mountain Town Water Sports ideas and to help you catch your favorite summertime wave.
~MTN Town Magazine
MTN Town Magazine | We are Colorado's Mountain Town Magazine
Copyright 2018 MTN Town Magazine all rights reserved.