Angelman Syndrome – Noah's Story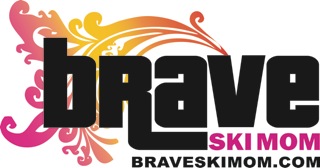 Today's post is written by a close friend of Brave Ski Mom, David Lazerwitz, a Brave Ski Dad. David and his wife Alyson have two beautiful, skiing children. Their oldest child, Noah, has Angelman Syndrome. For Noah, skiing is one of his miracles.
On Saturday, the Angelman Syndrome Foundation is holding their annual fundraising walk. Team Noah will be participating. I am donating $1 per visit to this page today (up to $250) to Team Noah. You can help too. Please donate and/or share this post throughout your social network. Let's raise some money for Team Noah. Thank you.
Noah's Story
Our son Noah was diagnosed with a rare neurological disorder just after his first birthday.  At the time he was diagnosed, we learned that he would likely never talk, would suffer severe cognitive impairment and seizures, and might never walk.
At that time, despite our great love of the outdoors and skiing, the fact that he would likely never ski didn't even come close to the list of issues on our minds. For those first several years, as we learned about Noah's disability and retooled our expectations for his future, we left skiing and a great number of other activities by the wayside.
Thanks in part to our desire to teach Noah's younger sister to ski, and to get back into the mountains, at age five we enrolled Noah at the Disabled Sports USA Far West program at Alpine Meadows Ski Area in North Lake Tahoe.  We didn't have high expectations but we really wanted to see whether he would enjoy the snow and the experience of being in the mountains.
Today, three years later and despite the prediction that he might never walk, our eight year old son Noah is able to ski with assistance from some amazing and truly committed instructors and volunteers at this fantastic program.
From a Sit Ski to A Simple Tether
The first few times on the mountain, the instructors took Noah on a "sit ski" – effectively a wheel chair on a wide ski – and whisked him around the mountain.  Given his enjoyment of motion and movement, Noah loved the sit ski and the instructors came back to report that, by the end of the day, they were running black diamond runs and he was howling with laughter.
During the past two years, the instructors have slowly worked to improve Noah's skills, moving him onto skis, using a reverse walker with ski supports and an instructor on each side and, most recently, a simple tether to his ski tips and guidance from behind.  He truly loves being on the slopes.  While we often ski off on our own to avoid distracting him and to allow him to focus on what he's doing, he loves skiing and being a part of our family trips to the mountains.
Between Noah's sleep issues, getting him dressed and outfitted, and being on call to come help the instructors with any issues that might arise, there is no question that these trips are a lot of extra work. However, it's effort well spent both in terms of Noah's exposure and growth as an individual and our family's ability to enjoy a sport that we all love.
Dedicated Instructors Make A Difference
Disabled ski programs exist at ski areas in most regions and serve a wide variety of individuals with physical and cognitive impairments.  Some popular and highly regarded programs are at Winter Park, Colorado, Park City, Utah and Alpine Meadows, California.
During the years, we have encountered people with every impairment imaginable. From the blind and deaf, to quadriplegics, to autistic individuals, the Disabled Sports USA Far West program has a huge array of equipment to assist and facilitate the ability of these individuals to ski.  The real asset, however, is the people who serve as instructors and volunteers and who exhibit a great love and commitment to what they do.
Angelman Syndrome
Noah has Angelman Syndrome which is a randomly occurring genetic disorder caused by the deletion of a very small portion of chromosome 15.  Individuals with AS typically have extremely limited expressive language, but are often able to learn to communicate through gestures, adapted sign language and electronic devices.  Other symptoms include cognitive impairment, epilepsy, and gross and fine motor difficulties.
While often-times misdiagnosed as severe autism or cerebral palsy, the disorder is becoming increasingly common as it is properly diagnosed through genetic testing.  Perhaps most fortunately, individuals with AS tend to be extremely happy people and Noah is a true ray of sunshine in the lives of those around him.
On May 21, 2011, the National Angelman Syndrome Foundation will hold its annual walkathon to raise money to fund scientific research, education and public awareness in our quest to find a treatment and cure for the disorder.  Team Noah is participating in the walk in Sacramento, California, and would certainly welcome your support.  To contribute to Team Noah's efforts and to learn more about AS, please visit www.angelman.org/teamnoah.
The Brave Ski Mom Adds….
Thank you David for sharing Noah's story. The first time I read it, the wonder of it made me cry. We are so fortunate to live in a world where people dedicate their time, effort and money to helping each other in such a meaningful and inspiring way.
Please join Team Noah. In addition, there are fabulous Adaptive Sports programs at many resorts and in many communities across the United States. Please support these organizations with your time and talent, and if you can, your money too. Thank you.