Crested Butte Mountain Guides reminds us that Spring is Here!!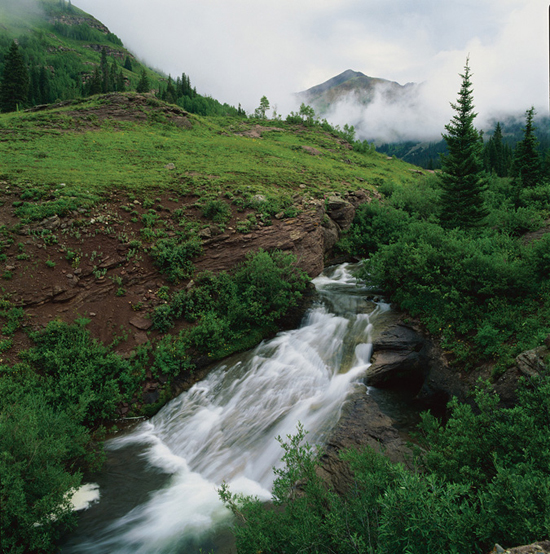 Spring has sprung in the mountains around Crested Butte and this has started the annual thaw of the people, as well as the environment, as we all get excited for the short but incredible summer season amidst the Elk Mountains at 9,000′. April & May have been busy and exciting here at Crested Butte Mountain Guides, with lots of spring Ski Mountaineering trips, another successfulAnnual Haute Route Ski Tour, and the beginnings of rockclimbing, mountain biking, and alpine climbing season here in Colorado.
The late season snow and cold temps have made for one of the finest spring backcountry ski and ski mountaineering season's in anyone's recent memory, and looks like some of the more proud lines on the big peaks will last well into June this year ! So if anyone out there is still itching to get some turns in under warm spring temps, or tackle a famous Colorado 14er on skis, now is the time……
Also, warmer temps down low, means the beginning of the rockclimbing season, with our guides venturing out daily to the local crags of Taylor Canyon and Hartman Rocks, as well as the bigger walls farther beyond town to the Black Canyon of the Gunnison, and sandstone towers of the Utah Desert.
Late Spring & Early Summer is also a great time to get in some of Colorado's famous 14er's via alpine climbing routes, ski mountaineering routes, or standard hiking routes. This year's combination of late season snow and nice Spring weather, mean that these peaks will be an ideal playground for the beginner to expert mountaineer with snow and ice routes being the norm and giving a real big mountain feel to these wonderful high mountain peaks that Colorado is known for.
Summer in Crested Butte this year looks to be an exciting one, and true to the town's long roots, this will likely be known as the Summer of Cycling 2011 in Crested Butte, CO. So if anyone out there is an avid road cyclist, mountain biker, both, or is thinking about being one, this is the place to be this summer with lots of HUGE cycling events that will showcase why Crested Butte is known as such a mountain biking mecca.
This summer's events kick off with the Annual Ride The Rockies tour of Colorado, beginning in early June in Crested Butte… followed by the oldest mountain bike festival in the country, the newly re-named (same old feel) Crested Butte Bike Week. CBMG is excited to be partnering this year with the Chamber of Commerce, as we are offering professionally guided rides of single day and multi day overnight rides, with included tickets and passes to all the great festival events, at this year's festival….visit our website or Crested Butte Bike Week for more info on all the cool happenings or to register.
 Then in late July comes the Crested Butte Alpine Odyssey, a national qualifier for the Leadville 100 mountain bike race. Finally in August, comes quite possibly the biggest of all the events,  The USA Pro-Cycling Challenge….if you are a biker this is the place to be this summer ! Of course, no summer season at Crested Butte Mountain Guides would be complete without our partaking in the Annual Crested Butte Wildflower Festival as well…leading daily hikes to many of our favorite spots to share why Crested Butte is known as the "Wildflower Capital of Colorado".
We are looking forward to another beautiful Summer Guiding Season here in the Elk Mountains and hope you will join us, and let us share our love and intimate knowledge and connection with our favorite backyard…..in the meantime Spring is here which means skiing, climbing, mountain biking, hiking…and sometimes all in the same day !
—Staff of Crested Butte Mountain Guides
All Photography Courtesy of: Crested Butte Mountain Guides