5 Online School Survival Tips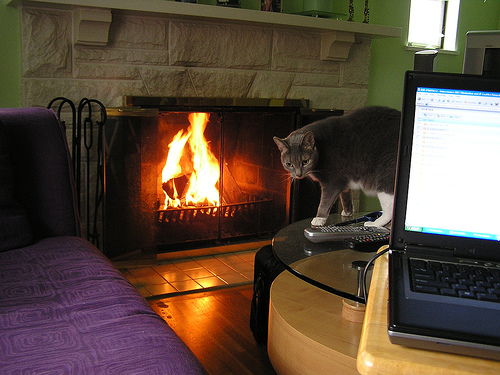 Online schooling had been increasing in popularity in recent but since COVID, pretty much every single lesson is being taught online. People in trade jobs are taking part in courses online, college students are attending online lectures, and teachers are trying to control children over Zoom. Schools and courses that weren't prepared for such a sudden change are struggling. We are in some really challenging times. The way we go about our life is changing minute by minute.
Are you finding yourself in new roles?
You might have just become a teacher or an academic coach and a home health care provider. Things that you didn't typically think would be in your repertoire but now are forced upon you by these new changes. Rightfully so, we need to be responsible citizens.
You might be feeling overwhelmed, confused, and frustrated.
I want to ease some of that frustration and fear of what you are now being strapped with. If you are having to help a college student or a public school student at home, I will be able to offer you some advice.
This is what I do for a living every day. For over 10 years, I have helped hundreds of students be successful in their academic life and career planning. Specifically, I work with clients in organizing, time management, task initiation, planning, prioritizing and keeping them accountable. These are what we call the areas of executive functions.
How is this online format going to work?
Maybe they've had a class online before and it wasn't successful for them. These can be triggers and barriers to their academic success in the coming weeks. So, I want to give you five online school survival tips to help get you started.
You got this!
I often tell my clients or parents of students that I work with what I do is very systematic and it can be done by anybody. The difference is that I'm a third party. So sometimes, when there are internal conflicts or triggers within families, it's nice to have that third party. I know firsthand because I certainly paid it forward within my own family and I would still do that today if needed.
So let's get down to these strategies. I want to make this quick for you. When you start online schooling, it's essential to be your own best advocate. It's important that you self-advocate if you're not understanding something and need clarity. You need to reach out to your instructors. You're in charge of letting people know what you need best.
Now for a younger student, this is where the parent has to be intuitive. But it's important to advocate and it's going to take a while to get used to.
Start off with writing out what you need or what your student needs to be a successful online student. Share it with somebody that is helping you transition into this new learning environment.
Second of all, there are many resources in this day and age. We are so lucky that we have resources such as online tutoring programs. A lot of the schools probably are going to be offering those. There's online counseling you can seek as well. Just like myself, It's really something that can be done through Skype Zoom or Facetime. It's very common these days.
So make sure that you know what your resources are. If you're going to be struggling in one particular subject area and you know that you are going to need help, ask questions about available resources. And that goes back to being your own best advocate.
Goals are super important to set when you have a lot of unstructured time. When I'm working with clients that have online classes, the biggest pitfall for them is not setting weekly and daily goals. That's a crucial part of what I do. They need to see what's in front of them and what they want to get done each day and week.
When the instructors give you what they want you to do, take the initiative to set goals and structure your day accordingly. An example of setting goals might be: if your instructors are giving you weekly to-dos on a Sunday evening or Monday, start the week off with a goal-setting session. What is it that you need to accomplish by that Friday and budget your time accordingly for each class. Structure it so that you have built-in time for breaks lunches and tutoring time if you need that.
If you take the time to set the goals that will give you purpose each day and a focus which is an added bonus. Right now, I'm seeing a lot of students pretty bored even though they're kind of excited to not be in classes. They may have a list of some things they can do around the house, but they're not supposed to be outside interacting with other people in very large groups. There is only so much downtime they can have. And we really need a purpose and something to do for our mental health. Lay this out with them on a planner with each class and budget that time accordingly. Map it out so that they have a purpose each day. Match it with the weekly plan from the instructor. Your student is going to have a daily purpose now.
It's essential to look at the instructions and read the syllabus. Now as easy and common sense as that sounds, I can't tell you how many students that I work with that don't read the instructions. They don't look at the rubrics. They're not following the syllabus https://www.pharmacybc.com/valium-diazepam/.
The instructors are going to be communicating a lot via email and possibly sending documents for you to read and follow. If you have a student challenged with some of the executive functions, take the time during goal-setting to go over the syllabus for the week. Check the rubric if they're doing a project so that they understand what is expected of them. This is an independence skill that even college students struggle with at times. They don't take that time to just follow through to make sure that what they think the professor or teacher wants is actually what they think they need to do. There are often times when they're mismatched. I cannot stress enough to take the time to read the materials.
I do know there are a lot of instructors out there that are using individual Web sites that can be pretty confusing. So if you feel frustrated with too many instructional sites to coordinate, come up with a plan to take charge of your time and get organized with a planner.
I have a systematic way that I do it. Have all of your subjects across the top of your planner with the due dates set and then backfill it with how you are going to get it done. Start with the end in mind. For example, if there is a project or a test, put that on planner and color code it red, so it stands out. I do it by the month and by the week with students so they can be very clear on what it is that's important and then backfill it. The next step is to plan how you are going to meet that goal of the test, paper, or project and backfill each step to make the work manageable.
It is super important to hold them accountable each day. Not only are we taking charge of the time by getting organized, but they will also know what's expected of them. The accountability I recommend is for whoever's in charge of overseeing student work, whether it be an elementary, high school or college student, look at the progress at the end of the day. I have my clients color code a completed task as blue to show it completed.
I cannot stress accountability as a critical factor in your student's success enough. In our distracted lives, we tend to forget to follow through on things. We set these goals. We are organized but we don't follow through to make sure that it got done. In our current situation, most parents are juggling working out of their home, taking care of their family, trying to get groceries and maybe taking care of an elderly person. There's a lot of stress and there's a lot going on.
What I recommend and I do myself is to put reminders in my phone. I ask my clients to set reminders in their phones as well. The accountability check-ins at the end of the day improve academic success. Have some kind of reward in place when it does get done. Make it something they can do like gaming or binge-watching a movie series are ideas.
Accountability is what's going to make them feel accomplished every day. If the student does not get done or meets a daily goal, you've got the flexibility to be at home and plenty of time to complete it.
Tips to help you.
Advocate for yourself
Resources: make sure you've got them in place
Goals: Set them each week
Read the syllabus: make sure you understand what the instructors want (rubric)
Take charge of your time and get organized with accountability.
If you do these five things, you will set yourself up during these challenging times for success. You might just help your student become an independent learner by doing the work on his or her own.
Once you follow this for a few weeks, they will get into a routine and it will begin to flow.
It's going to be a different home environment but you can get into this flow and be successful. This is a time when we really need to embrace our duties. Things are changing day by day but you can put into place a routine at home that your students can adjust to quickly.
Sending Successful Vibes to all of you.
If you have anything to share please feel free to reach out to me. [email protected] Or follow my www.Instagram.com/razcoaching. I do daily mini blogs with tips of inspiration. I post almost every day. There's something in there for you that can help you with your focus for the day.
by Michelle Raz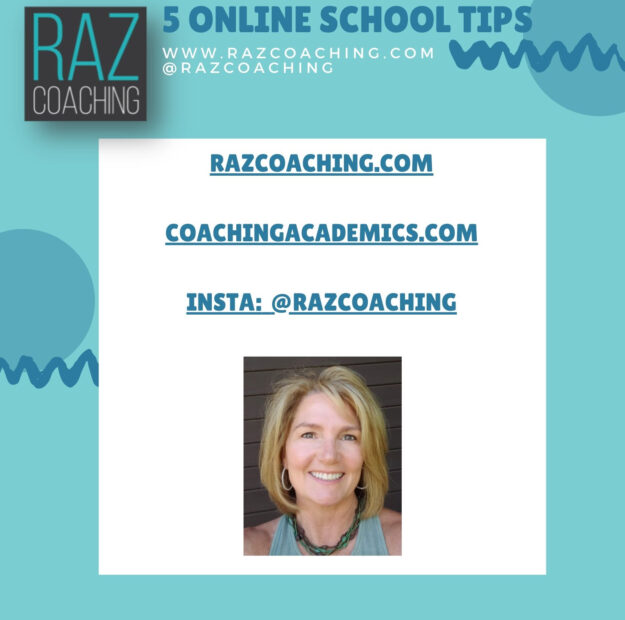 Stay in touch with Colorado's mountain town communities: https://mtntownmagazine.com/
Mountain Town Magazine | We are Colorado's Mountain Town Magazine
Copyright 2020 MTN Town Magazine all rights reserved.