Romp Skis – Making Skis a Custom Experience in Crested Butte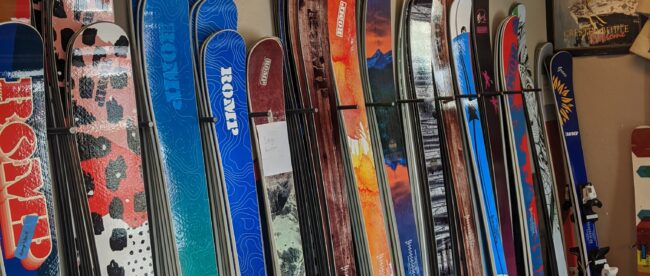 So you have heard of folks ordering custom skis and maybe you think that is only for the experienced or full-blown professional. Honestly, the idea seemed downright intimidating. I am a very good skier but I have never gotten wrapped up in the shop and tech talk – Rocker? Underfoot? Camber? Sidecut?
While visiting Crested Butte this past fall I met brothers, Morgan and Caleb Weinberg who own and produce Romp Custom skis out of their shop space on Belleview Avenue. This was not some big fancy factory but a space dedicated to the craft of ski production for people who love skiing.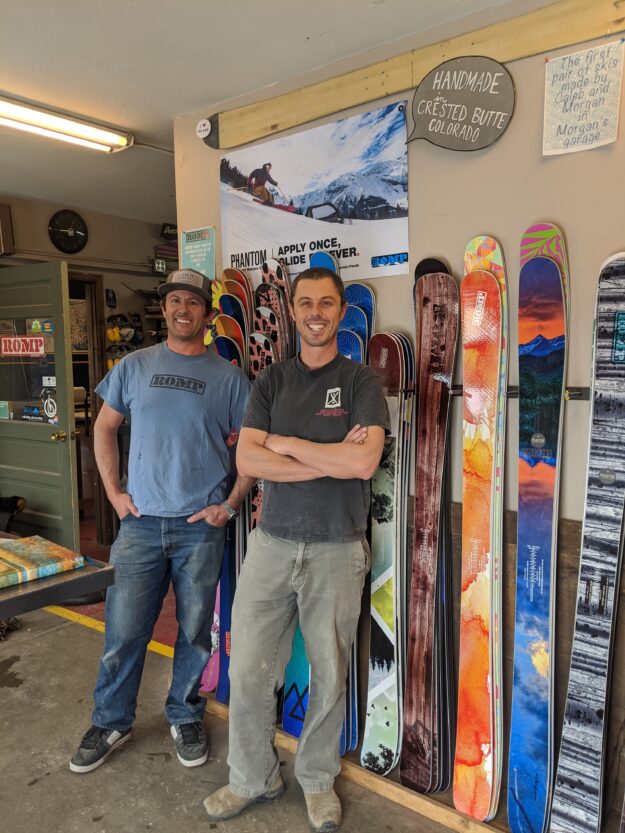 Custom skis can help improve certain aspects of skiing or they can be designed to maximize the skills of the skier. Custom skis make skiing easier, more playful and fun. Romp custom skis are individually handcrafted to help you ski your best. Romp's premium options will take you to an even higher level.
Romp Skis' builders tailor the flex and damping of the ski to your specific needs. The lightweight and extra damping of Countervail® increase edge hold and reduces chatter. The benefit? Reduced fatigue. Romp's backcountry skis utilize carbon fiber to reduce weight while allowing the ski crafters at Romp to tune the flex pattern of your skis to your individual skiing style. Caleb says, "like a custom bike, golf clubs or surfboard are designed to perform exactly to the user's needs and preferences. We are here to help make a skiers experience the best possible."
Starting the process of creating a custom ski is as easy as picking up the phone or filling out Romps Skier Info Form to give their staff a place to start in understanding who you are as a skier. Questions are as easy as:
Age
Height
Weight
Gender
Binding System
What kind of Skier are you – truthfully what shapes of Romp skis are you interested in?
Will these be your only pair of skis?
What would you like to see as a graphic on your skis?
You can even become a Romp Skis Guru! Learn about what Romp Skis is and what to do to earn discounts on everything they sell. Romp Gurus can earn up to 20% off skis by taking lessons and quizzes on important Romp Skis' facts.
Gurus are offered special discounts periodically throughout the year and can earn even more by teaching their friends about Romp Skis. Start and finish Lesson 1 in order to access lessons 2 and then 3.
These guys know skis and have been product testing on some of Crested Butte's sickest slopes since 2010. We love that they are brothers working together and keeping their factory local right in downtown Crested Butte.
You can visit:
420 Belleview Avenue
Crested Butte, CO 81224
Stay in touch with Colorado's mountain town communities: https://mtntownmagazine.com/
Mountain Town Magazine | We are Colorado's Mountain Town Magazine
Copyright © 2020 MTN Town Magazine all rights reserved.