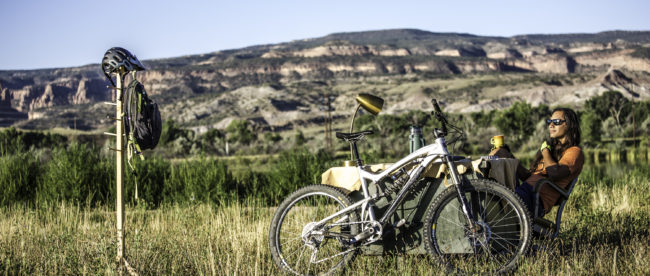 by Kristen Lummis
In many ways, Fruita, Colorado is a quintessential American farm town. The town's skyline is dominated by a grain elevator. There's a busy local co-op and the small main street is grounded by the western equivalent of a village green complete with a circular park near the center of the town. Area families farm and ranch, and the Future Farmers of America chapter at the local high school routinely wins national awards.
Take a second look and note that the towering grain elevator sports the image of a giant mountain biker. The town park is home to Greta the dinosaur. And at that same high school, the mountain bike and ski clubs are popular extracurricular activities.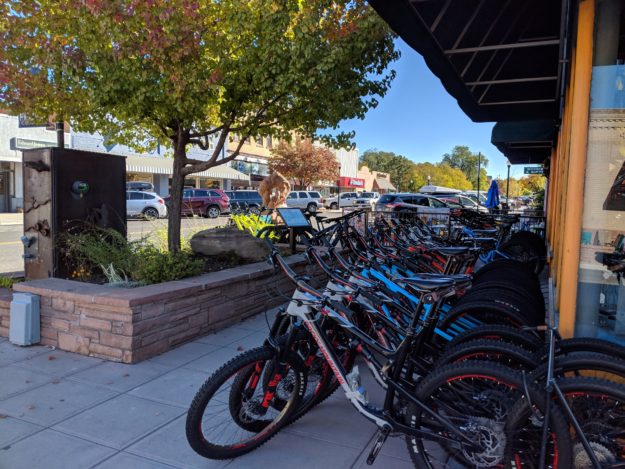 In the heart of Fruita, walk along Aspen Avenue and find gourmet coffee shops, brewpubs, bike shops, an independent bookstore, and boutiques. Scattered among the retail offerings is an assortment of sculpture, most notably an iron rendering of Mike the Headless Chicken, a local fowl whose life was famously extended when a farmer's ax missed its mark.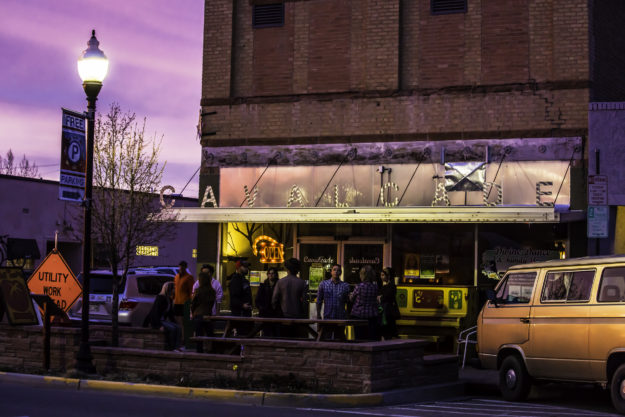 Voted one of Colorado's Top Adventure Towns in 2015 and 2016 in an Elevation Outdoors poll and one of America's Top 20 Coolest Outdoor Towns by Matador Network, Fruita is no longer just a farm town. More importantly, Fruita doesn't want to be just another tourist town.
Instead, Fruita locals pride themselves on wholehearted hospitality.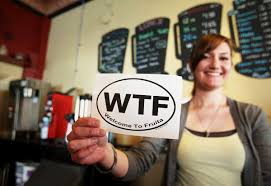 As City Manager Mike Bennett put it: "We want visitors to Fruita to feel like locals. People come here to have amazing outdoor adventures and we want them to feel like they belong here."
It's no wonder the town's unofficial motto (as seen on countless black and white stickers) is WTF or Welcome To Fruita.

Celebrating the Outdoors
Much of what makes Fruita unique is its location. Frank Ladd, Executive Director of the local Chamber of Commerce, explains.
"I've been in western Colorado for twenty-two years, but I'm originally from the midwest. Of everywhere I've been, Fruita is unique. It's a down-to-earth home town, but with all the beauty of the mountains, the canyons and a vast array of outdoor activities."
Fruita is the gateway to the Colorado National Monument, a 32-square mile wonderland of red rock spires and canyons that became part of the National Park Service in 1911.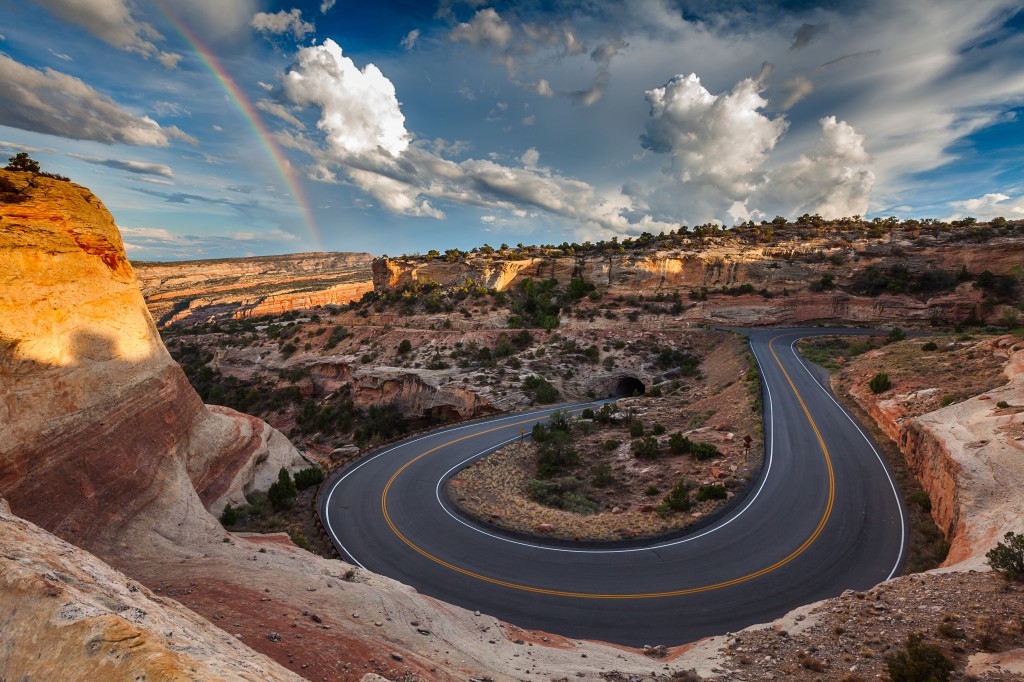 A magnet for climbing, hiking and road biking, the Fruita entrance to the Monument offers the easiest access to developed camping and the park's visitor center.
In autumn, the Tour of the Moon cycling event is held on the Colorado National Monument. While this event is fully supported, independent cyclists can ride Rim Rock Drive through the park at any time, provided they have bike lights.
Rim Rock Drive is also the site of the Rim Rock Marathon held in November. An up, across and down route with a net elevation change of over 2,000 feet, it's one of the most unique, breathtaking and challenging 26.2 (and 13.1) mile races in the country.
Perhaps most famously, Fruita is a mountain biking epicenter, with over 50 trails serving up hundreds of miles of rides for all levels.
New trails are being added this season at Kokopelli Loops and a new paved bike path, with some single track portions, will soon link Fruita to the Kokopelli trailhead.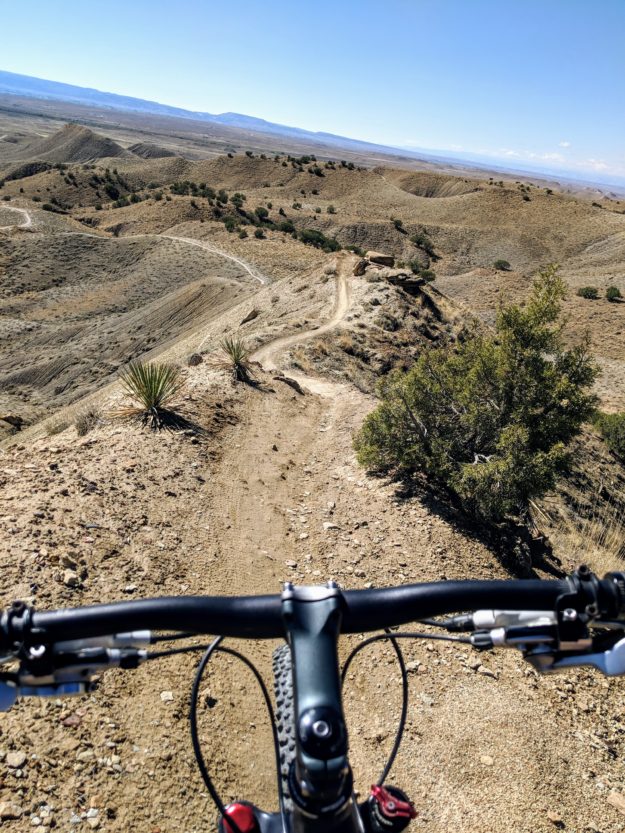 Other trail systems in the area include 18 Road, with the largest trail network and a popular campground; Rabbit Valley, home of the Western Rim Trail; and Highline Lake State Park, a magnet for families and beginners, as well as host to the 18 Hours of Fruita Mountain Bike Race, held early May each year.
Rafters are at home in Fruita with easy access to the Colorado River and Ruby-Horsethief Canyons from the James M. Robb – Colorado River State Park. New this summer, rafters can reserve their river campsites online, making the float through these glorious canyons all the more relaxing.
As for dinosaurs, the Museums of Western Colorado's Dinosaur Journey is a research center for working paleontologists and an interactive museum with animated and hands-on exhibits. Dinosaur excavations are ongoing at the Mygatt-Moore Quarry west of Fruita and the Museum schedules days when the public is invited to help dig.
Fruita Festivals
The Fruita Fat Tire Festival is Colorado's premier mountain biking event, with skills clinics, guided rides, bike demos, lots of beer and live music. Fat Tire weekend is a must-do for mountain bikers and is scheduled at the end of April/beginning of May most years.
Fruita hosts Beer, Gear and Grub in May, a summer gear swap with beer and food from local brewpubs and restaurants on Fruita's South Side.
The Mike the Headless Chicken Festival begins early June. Complete with Music headliners with Concerts that are free and other activities that include a 5K run, a disc golf tournament, a regular golf tournament and more.
The Fruita Fall Festival is Fruita's oldest festival, founded in 1914. A community harvest celebration, the Fruita Fall Festival involves local schools, businesses, and visitors in a parade, outhouse race, carnival and features three stages with live music
Kristen Lummis is the owner, writer and head ski tech at www.braveskimom.com. Mother, wife and trail boss in a busy outdoor family, Kristen writes about skiing all year round, tossing in some biking, hiking, parenting and even a bit of reflection during the offseason. While her recreational passion is for all things snow, her real passion is for her family.
Featured Photo Courtesy of the Fruita-Industry-Project.
Mountain Town Magazine | We are Colorado's Mountain Town Magazine
Copyright ©2019 MTN Town Magazine all rights reserved.