Vail – Stage 3 Time Trial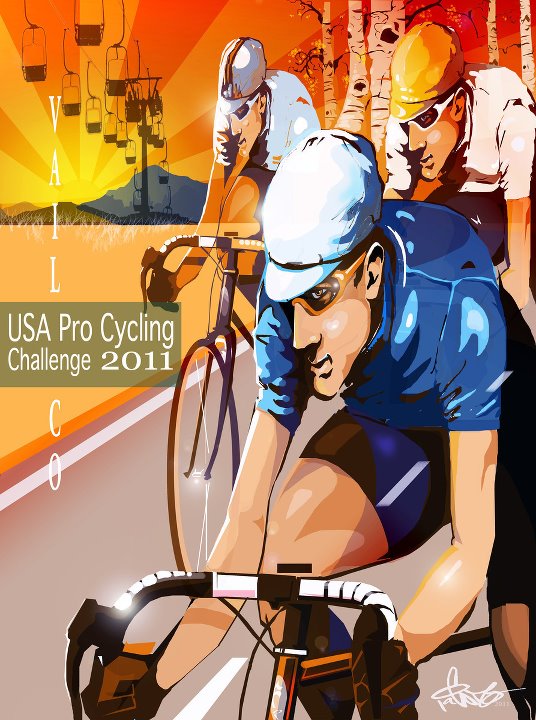 Endurance and speed have been seen over the past few days. Yesterdays Queen stage of the race from Gunnison to Aspen was spectacular. Huge climbs, dirt roads and crazy folks in costume greeted yesterdays riders. Todays setting is an individual time trial. Stage 3 is challenging each team and their racers in a personal best on a classic course in Vail. Last used the final Coors Classic stage race in 1988 this 10 mile course will head out of the Vail Village and straight up Vail Pass along the frontage road.  The finish is set at the gate to the bike path and it will be a frenzy watching this particular event.
The first rider begins at 1pm with riders continuing to be released at 60 second intervals. The last 10 riders will then be released at two-minute intervals. The Time Trial Route is 10 miles (1,783 foot elevation gain). Racers will start on East Meadow Drive in Vail Village, heading west. Then south onto Willow Bridge Road, east at Checkpoint Charlie onto Gore Creek Drive passing through the heart of Vail Village. They turn north onto Vail Valley Drive and proceed up to the South Frontage Road East where they turn east paralleling I-70. This road continues for just over 3.5 miles to East Vail and becomes Bighorn Road. Riders continue east on Bighorn Road for approximately 2 miles until it becomes the "Old Highway 6" which is no longer used for vehicular traffic. It proceeds 4 miles up Vail Pass to the old cul-de-sac.  
Race-Day Schedule 
Bike Expo   11 a.m. to 4 p.m., Vail Village 
Forerunner Race 12:15 to 1 p.m., Vail Village to East Vail 
Time Trial Race  1:15 to 4 p.m., Vail Village to East Vail 
Free Concert   5 to 7 p.m., Vail Village/Mountain Plaza 
Temporary Road Closures 
During the hours of 11:45 a.m. to 4 p.m., road closures will be in place as follows: 
• All of South and North Frontage Roads will be closed from Vail Valley Drive (golf course bridge) east to East Vail. 
• All of Bighorn Road in East Vail will be closed. Use Columbine Drive for emergency-only access crossing. 
• I-70 East Vail Exit 180 off-ramps will be closed. 
• In Vail Village, Willow Bridge Road, Gore Creek Drive, Bridge Street, Hanson Ranch Road and East Meadow Drive will be closed to vehicles. 
Neighborhood Access Restrictions 
• Vail Valley Drive will have limited access in a one-way counter-clockwise direction during the race. Vehicles will be stopped at the intersection of Vail Valley Drive and Gore Creek Drive and at the east Vail Valley Drive intersection with South Frontage Road (golf course bridge) to allow racers to travel through the intersection. 
• No vehicles over 8 feet in width and 20 feet in length will be allowed past the entrance to the Vail Village parking structure during the race. 
• Westbound South Frontage Road from Vail Valley Drive (golf course bridge) west will be open during the race. 
• No parking will be allowed on town streets. 
• Emergency exiting from Booth Creek, Bald Mountain and East Vail neighborhoods will be accommodated by race and emergency service personnel. Dial 9-1-1 for emergencies. 
• Forest Road/Beaver Dam Road residents are encouraged to use the West Forest Road access near the Eagle River Water & Sanitation District facility. 
Sign up for traffic alerts at www.ecalert.org.  
Here's who to watch!
Jersey Winners
Quiznos Leader Jersey – Tejay Van Garderen (USA) of HTC-Highroad
Nissan King of the Mountain (KOM) Jersey – Walter Pedraza Morales (COL) of UNE-EPM
Smashburger Sprint Jersey – Levi Leipheimer (USA) of Team RadioShack
Sheets Best Young Rider's Jersey – Tejay Van Garderen (USA) of HTC-Highroad
Exergy Most Aggressive Jersey – Andre Steensen (DEN) of Saxo Bank SunGard
Stage 2 Top-3
First – George Hincapie (USA) of BMC Racing Team
Second – Tejay Van Garderen (USA) of HTC-Highroad
Third –  Tom Danielson (USA) of Garmin-Cervelo
However and wherever you decide to watch, I promise you, Stage 3 will be exciting!
~Summit Sojourner
© 2011, Summit Sojourner. All rights reserved. Republication, in part or entirety, requires a link back to this original post.
Image Courtesy of USA Pro Challenge Cycling