USA Pro Cycling Challenge ~ nation-wide contest for event posters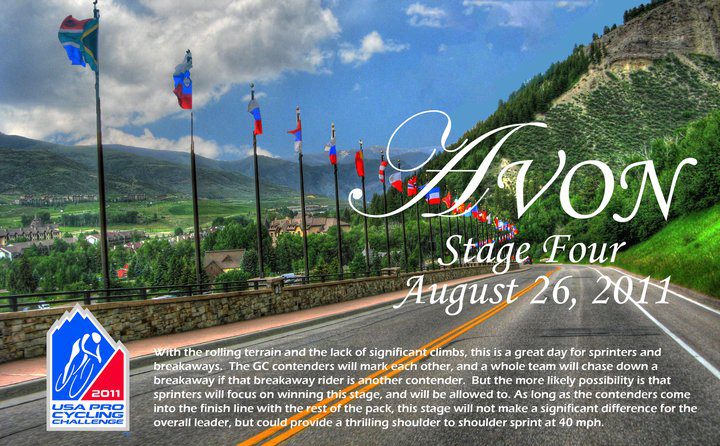 The 2012 USA Pro Cycling Challenge will again host a nation-wide contest inviting artists to create unique event posters for not only each of the 12 host cities, but also a national event poster that will be seen throughout the world. All types of artists – professional, amateur, aspiring – are encouraged to let their creativity flow and submit their designs via the USA Pro Cycling Challenge Facebook page beginning tomorrow (Feb. 14). Entries will be accepted until Friday, March 16, with the winners being announced on Monday, April 16.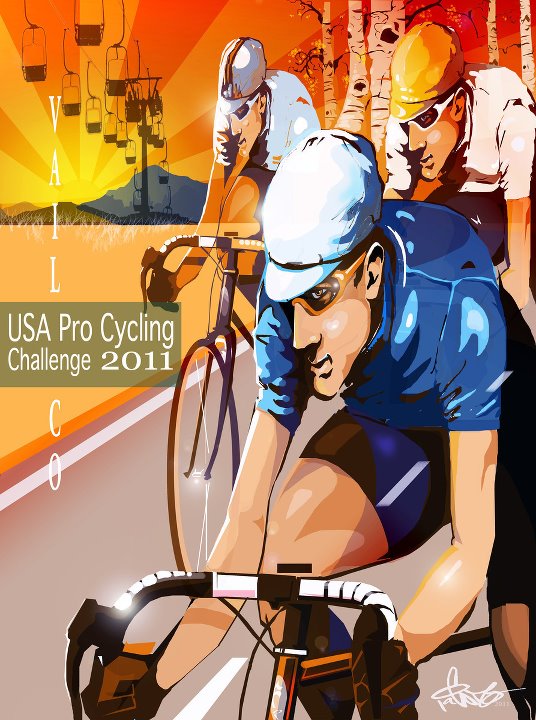 Artists will have plenty to draw upon as the 2012 Pro Challenge route guides the world's elite cyclists through some of the most picturesque settings in the country. From the world-renowned mountaintop resorts in Aspen and Breckenridge, to legendary cycling cities like Boulder and Durango, no two posters will look alike.
"Being able to combine scenic backdrops, the intense competition of the USA Pro Challenge and the creative eye of artists should result in some of the most stunning portrayals of our sport we have ever seen," said Shawn Hunter, CEO of the USA Pro Challenge. "The level of talent and creativity we witnessed with the submissions last year was so incredible; we knew this was something we had to do again in 2012."
Colorado resident Alyssa Graves won the inaugural contest in 2011.
"Winning the contest for the USA Pro Cycling Challenge national poster was one of the highlights of my life," said Graves. "It was humbling to be chosen from a group of so many great designs. The timing was absolutely perfect to boost my career as a new business owner in Golden, Colorado, where the final stage of the race began. I look at my poster almost daily and recognize it as a turning point in my growth as an artist. I'm SO glad I said yes to the opportunity to enter when it came up last year and am looking forward to designing something new for this year's race."
Once entries are submitted, the race's thousands of loyal Facebook fans will have a chance to cast their votes for the three best posters for each host city and the ten best national posters. From there, special panels of judges consisting of dignitaries, media and city officials will select each of the winners. Winners receive a cash prize in addition to having his/her poster produced and sold to race fans both online and onsite during the race August 20-26. A portion of the proceeds from the national poster will be donated to America's Road Home, while proceeds from many of the 12 host city posters will benefit local charitable causes.
All entries must be submitted via the USA Pro Challenge Facebook contest page (only online entries will be eligible).  This requires either that the artwork be in digital media format or that a digital photograph of the artwork be posted in accordance with the rules, terms and conditions adopted by Facebook.  Each file must be in JPEG format and otherwise comply with Facebook's requirements for posting images.  Multiple entries can be submitted, but must be submitted at the same time.
This is a skill-based contest and chance plays no part in the determination of winners.  There is no fee to enter and no purchase is required.  Official rules for the program can be found at www.facebook.com/USAProCyclingChallenge.
About the USA Pro Cycling Challenge
For seven consecutive days, the world's top athletes race through the majestic Rockies, reaching higher altitudes than they've ever had to endure – more than two miles in elevation. One of the largest cycling events in United States history, the 2012 USA Pro Cycling Challenge will feature the best of the best in professional cycling, competing on a challenging course through some of America's most beautiful scenery.
Referred to as "America's Race," the second annual USA Pro Cycling Challenge will take place August 20-26, 2012, a week proclaimed by Governor John Hickenlooper as "Colorado Cycling Holiday," and travel through 12 host cities from Durango to Denver. More than 1 million spectators are expected to once again line the route to see if Levi Leipheimer will defend his title as reigning champion, while millions more around the world watch the race live on television and online through the Tour Tracker.
More information can be found online at www.USAProCyclingChallenge.com and on Twitter at @USAProChallenge.