Top 10 reasons why the Teva Mountain Games Will Rock Your Face Off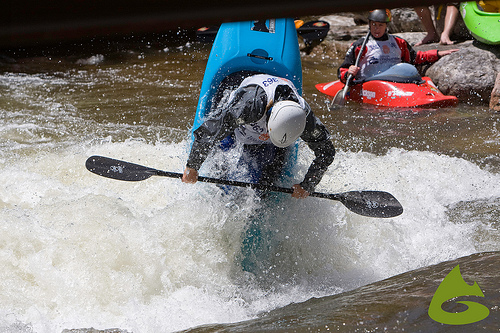 Let's just say it is going to be an interesting year for the
Teva Mountain Games
. Record snowfall in Vail (511 inches and counting) has us scrambling at the
Vail Valley Foundation
to clear courses or adjust on the fly. Not to fear. We also do ski races and if there is one thing we are prepared to handle it is snowfall.With that being said we've been having some fun with the Top 10 Reasons the Teva Mountain Games will Rock Your Face Off. It's going to be bigger than ever and if you have something to add to this list please be sure to tell us!
Photo (C) 2010 Zach Mahone
Drum roll please….
10.) Snowballs. We are pretty sure that you will be able to make snowballs this year somewhere at the Teva Mountain Games. When life hands you a lemon make lemonade. Or in this case maybe bring ice cream cones and make snow-cones.
9.) Free event WIFI powered by CenturyLink. This year we will have a free WIFI signal throughout the Town of Vail for the event. Check your email, post event photos to Facebook and go nuts. You're friends at home will be super jealous.
8.) At Your Fingertips. The Teva Mountain Games new mobile app (dropping next week) will help guide you through the event. Detailed schedules, daily deals, and interactive maps will show you where you are and where you need to go next. Super cool.
7.) River SUP. If you missed it last year don't miss it this year. Seeing huge stand up paddle boards throughout the Town of Vail is a sight to be seen. Seeing them on the river is even better.
6.) PM events. We've bumped a couple events back in time to jump-start the Teva Mountain Games' lunar scene. Both the Teva Slopestyle and IFSC Bouldering World Cup powered by GoalZero will take place late in the afternoon. Bring your cameras for the events themselves or for what we hope will be a beautiful alpenglow experience.
5.) 10th Anniversary. To celebrate our 10th year of the Teva Mountain Games we will be having some fun with 10th place finishers and playing up the number 10. 10 athletes will receive free Teva Gnarkosi shoes in their athlete bags and we will be handing random 10th place finishers 10 bucks. Who said 10th place does not pay?
4.) Dogs. We often wonder what the dog to human ratio is at the Teva Mountain Games. This year with a new event like the Eukanuba Rocky Dog presented by Ruff Wear we expect more dogs than ever before.
3.) SWAG. There is lots of it at the Teva Mountain Games. Come prepared with a bag and spend some quality time in Gear Town. Who knows what you might come home with.
2.) Winter Teva Mountain Games Presented by Eddie Bauer. If you have not heard about it you will at the Summer Games. We will be releasing some additional information and an initial slate of events for the inaugural winter event. 
1.) Rock Out… For Free. We have two great free concerts lined up this year for the Teva Mountain Games. The Dirty Heads will kick things off on Thursday night followed by Xavier Rudd on Saturday night. Who does not like a free party right?
– Paul
Photos Courtesy of the Vail Valley Foundation