State Bridge – Revived and Rocking!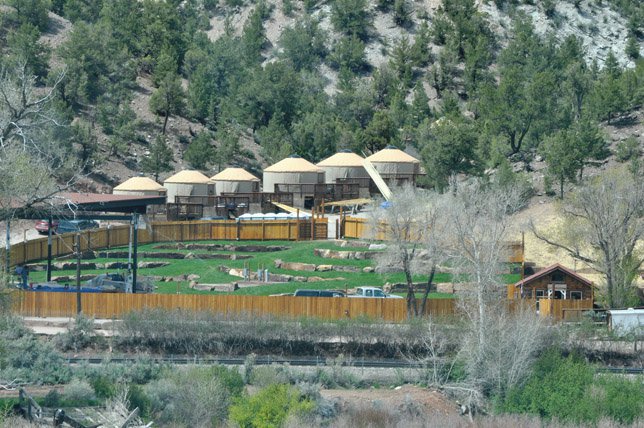 The return of State Bridge and the Riverside amphitheater brings brand new digs but the same joyous feelings have permeated this historic locale. After burning to the ground in the summer of 07 music lovers across the state and beyond were devastated.  The scenic intimate venue on the Colorado River has been the site of many a memorable show over the years.
With its resurrection,  State Bridge brings back that good time, carefree feeling! The stage and amphitheater at the revamped State Bridge may be brand new, but people have been playing music out there for decades. Many of the musicians who helped pioneer the venue back in the '70s and '80s still live and play music in Eagle County. On Saturday, June 4, they're returning to help revive the vibe.
Four groups – Airborn, The Little Kings, New Shoes, Instant Cash, and The Fabulous Femmes – are set to perform the Eagle County Country and Rock 'n' Roll Review for State bridges second weekend of the summer season.
"We wanted to first go in a country-Western direction and then that expanded to a showcase of Eagle County talent," musician Peter Fontanese said. "We're all so excited about having State Bridge open back up. It means the world to me to have two and a half generations of musicians coming together. The musical family in this valley is overwhelmingly cool."
Airborn is a country-Western group that formed in Ohio in the '70s. The group came to Vail shortly after and has had a successful four-decade run led by husband and wife Alan and Debra Eichler. Airborn has released three albums since they arrived on the scene in Vail.
New Shoes brings a high level of experience and diverse musical backgrounds together to provide a wide range and interesting blend of music. Their style can be categorized as soulful rock and blues. The Eagle County locals love playing to audiences that have fun and move on their feet.
Instant Cash is a Johnny Cash tribute band, formed with newcomer Andre Lemieux, who does an absolutely spooky job of channeling Johnny Cash, with Fontanese on bass, Roy Bloomfield on guitar and Larry Dutmer on drums.
Country-rock band The Little Kings is led by guitarist George Hilliard, a longtime local and owner of the Bearfish Bar and Grill in West Vail. George is known for his former residency at The Club in Vail Village during the '80s and '90s.
And last but not least, The Fabulous Femmes are Vail's premier vocal group. These three ladies take you through a high-energy show comprised of the '60s, '70s, '80s and beyond.
On Sunday, June 5 Bluegrass fans of all varieties can get their fill at State Bridge with three rapidly emerging Colorado groups — Missed The Boat, String Board Theory, and Hardscrabble — playing a fun-day show along the river.
Missed The Boat, from Steamboat Springs (just up the road from The Bridge), is building on the leadership groups like Leftover Salmon and The String Cheese Incident for a sound that is uniquely Colorado.
"It's certainly not traditional bluegrass," said Missed The Boat guitarist Ryan Cox. "We play some more traditional tunes and a lot of our original material is in the bluegrass style, but I would say we trend toward the more jam-grass, Leftover (Salmon) sound."
The six-piece group from Steamboat Springs incorporates guitar, electric bass, mandolin, banjo, dobro, harmonica and full drum kit. Although the group has been touring nationally, playing festivals like Wakarusa in the Ozark Mountains, the band members say there's nothing like playing in Colorado.
"State Bridge is such a gorgeous spot, with the river flowing right there," Cox said. "The train rolls by and gives it a real unique feel. It means a lot to us to play a place like that. We love playing outside — a lot of our music is inspired by the outdoors in Colorado."
Also out of Steamboat, String Board Theory has been touring across Colorado and the western part of the U.S. for more than three years. With their unique high-energy blend of super jammy, funky, electro, psychedelic rock and blues, they are attracting new fans everyday.
With influences such as Govt Mule, Pink Floyd, STS9, Peter Tosh and Lotus, an SBT show is like walking into a face-melting experience with deep-driving bass and solid-funky beats, where everyone is dancing and feeling good, the band says.
Hardscrabble, out of Eagle, Colo., has made a name for itself in the Eagle Valley with its unique blend of traditional bluegrass and colorful renditions of crowd favorites. They deliver a lively show aimed at audiences of all ages and musical backgrounds.
"We've been influenced by music from a variety of different genres, and that's evident in our repertoire," said banjo player Eric Lovgren. "We try to have fun up there and keep the audience engaged. You'll hear us play traditional bluegrass anthems by Bill Monroe and Flatt & Scruggs, mixed with 'newgrass' favorites by Sam Bush, John Hartford and the Old Crow Medicine Show. With our own unique interpretations of crowd favorites by bands like Sublime, The Grateful Dead and even Snoop Dogg, there's something for everyone at a Hardscrabble show."
What a weekend, what a place. If you can't make this weekends lineup then take a peek at this Jam packed Calendar of summer events. Get down and get ready to have a whole bunch of fun. State Bridge is set to Rock!
Photos Courtesy of State Bridge