The Taste of Vail 2019 Prepares to Pour an Epicurean Experience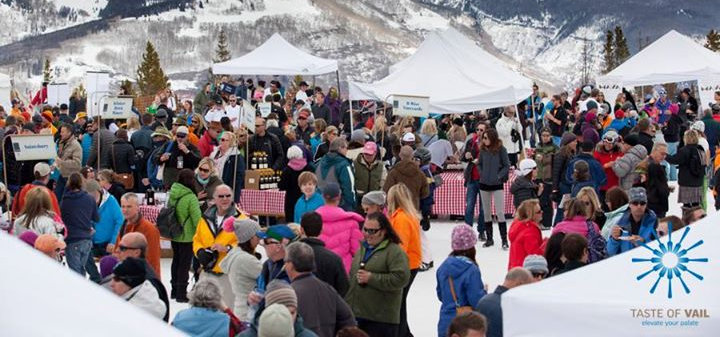 The Taste of Vail, one of the nation's top food and wine festivals, and one of the few events in the country that invites dozens of winemakers and owners from all over the world to pour wine and interact with participants, is set to launch on April 3-6, 2019.
Rated among the top food and wine festivals by Forbes, Travel Channel, and USA Today, Taste of Vail will celebrate Vail's world-class dining scene and participating wineries finest wines, at several different venues throughout In addition to the new seminars offered during the 29th Annual Taste ofVail, the event includes Debut of 2018 Rosé, the American Lamb Cook-off and Après Ski Tasting, the Mountain Top Picnic, and the Grand Tasting. Taste of Vail is one of the nation's only events that invites dozens of winemakers and owners from all over the world to pour wine and interact with participants.
The 29th Annual Taste of Vail features more than 30 guest chefs, restaurateurs, and sommeliers as well as more than 55 top wineries from around the world. Over the five-day festival attendees experience signature events designed to showcase iconic locations including the 2018 Debut of Rosé, The American Lamb Cook-Off and Après Ski Tasting, The Mountain Top Tasting and the Grand Tasting as well as seminars, intimate wine pop ups, dinners and more.
Schedule of Events
Wednesday April 3, 2019

Debut of Rosé 2019 First Taste of 2018 Rosé | 4:00 pm- 7:00 pm | Arrabelle Grand Ballroom
The chance to experience just released 2018 Rosés for the first time at the 2019 Debut event. Rosé wine is the liquid component of the much-celebrated lifestyle of Mediterranean France. It is just recently enjoying similar recognition in the US. Many people assume that Rosés are going to be sweet wines, most likely due to the fact that Rosé shares its same vibrant pink color with the now faded from popularity White Zinfandel. As a category, Rosé wines embrace an immense diversity of styles and flavors, especially if you include sparkling Rosés. From Semi sweet to off-dry to bone-dry (very dry), they are startling, refreshing and immensely seductive. "Gulpable" if you will. The event will have over 100 Rosé varietals to try. All Tickets are non-refundable

Thursday April 4, 2019

Vail Mountain Coffee & Tea Cupping & Tour | 10:00 am – 11:30 am | Vail Mountain Coffee & Tea, Minturn
Join the coffee buyer at the Roastery in Minturn for a coffee tasting and tour. Participants will have the opportunity to cup coffees from Central and South America, Indonesia, and Africa. Find out which coffee profile is your favorite and why. Then tour the roasting facility and see how altitude affects the roasting process. The ticket price includes a complimentary bag of coffee of your choice. www.vailcoffee.com All tickets are non-refundable Riedel Seminar $65.00

Riedel Seminar – How Glassware Effects Wine | 1:30 pm – 3:00 pm | The Sebastian
Join Shelley Sale and Sean Razee along with four of Taste of Vail wineries to explore how glassware effects wine. You will leave with a box of Riedel glasses, to continue to explore at home. The Wines that will be poured: Reichsrat von Buhl Riesling ZD Carneros Chardonnay Pinot from Capiaux 1 Cabernet from Daou

The American Lamb Cook-Off & Après Ski Tasting | 3:00 pm -6:00 pm | Vail Village
Enjoy one of Vail's favorite spring events. The American Lamb Cook-Off is the ultimate Après Ski Tasting: a true Après Ski Party. Sample an array of lamb dishes, courtesy of the Vail Valley's finest chefs and the American Lamb Board. In the theme of "Life Beyond Chardonnay, Cabernet, and Merlot" Taste of Vail's participating wineries will be showcasing wines a wide array of varietals that include Reisling, Sauvignon Blanc, Pinot Noir, Shiraz, and Zinfandel.

Vertical Dessert Wine Pairing with Klein Constantia and food pairings by Chef Molly Harrison of Hovey and Harrison | 5:30 pm -6:30 pm | The Sebastian Vail
Enjoy this once in a lifetime pairing of Klein Constantia's Vin de Constance vintages 2012, 2013, and 2014 paired with mouth-watering creations by renowned Vail Valley Chef Molly Harrison of Hovey and Harrison. Each wine will be paired with a delectable treat specifically tailored to each vintage. A tasting you will not want to miss!

Friday April 5, 2019

Champagne Brunch at Vintage with Champagne Houses Canard-Duchene, Henriot, and Collett presented by Slifer, Smith & Frampton | 9:00 am -11:00 am | Vintage Restaurant
Indulge in a sumptuous 3-course paired Champagne Brunch at Vintage Restaurant featuring Champagne Canard-Duchene, Champagne Henriot, and Champagne Collett. Explore the Champagne region of France with the winemakers while enjoying a lavish spread where each course will be paired with a specific Champagne.

Mountain Top Tasting | 12:00 pm -2:30 pm | Top of Eagle Bahn, Lionshead
Join Taste of Vail for the crème de la crème of outdoor tastings. Held at 10,350 feet above sea level, this event offers spectacular mountain vistas accompanied by gourmet food, beer, wine, and spirits. Snow or shine this is an event not to be missed. Please use your ski pass if you have one. If not, walking passes will be available.

Corsica with Lyle Railsback and Brett Zimmerman | 3:00 pm -4:30 pm | Cucina Rustica, Lodge at Vail
"Corsica is the most exciting wine region in France" says noted Bay Area wine merchant and importer Kermit Lynch. It's one of France's eighteen wine growing regions and home to nine distinct wine appellations. Recently its wines have improved in charm, personality and notoriety commensurate with the local vignerons focusing on Corsica's impressive diversity of indigenous unique grape varieties. Lyle Railsback, a ten year Kermit Lynch Wine Merchants veteran and recognized as one of the "top forty under forty" wine professionals in the country and master sommelier Bret Zimmerman of Boulder Wine Merchant will conduct the tasting of and an introduction to Corsican Wine.

Understanding Sustainably, Organic and Conventional Viticulture in Napa Valley | 5:00 pm -6:30 pm | Cucina Restaurant, Lodge at Vail
"Wine is made in the vineyard" is a mantra of the current wine trade. Growing great grapes is the actualization of that philosophy. Currently one hears about three approaches to viticulture: Sustainable, Organic, and Conventional. What are they? How do they differ and most importantly, what impact do they have on the final product: wine. Let's find out. Mark Neal, vineyard manager and winemaker of Neal Vineyards, Braiden Albrect , winemaker of Mayacamas Winery and Hall Wines President Mike Reynolds will discuss the impact of these philosophies while tasting 6 Napa Valley Cabernet Sauvignons. Topics of discussion will be the difference in viticultural approaches throughout the Napa Valley and a tasting of wines spanning 14 years.

Saturday April 6, 2019

Fizz n Fit yoga Class with LaCroix at Taste of Vail | 10:00 am -11:00 am | Vail Athletic Club
Join LaCroix for a yoga class at Taste of Vail, Saturday, April 6, 2019 at 10 a.m. at the Vail Athletic Club inside Vail Mountain Lodge. The class will be taught by one of the best instructors in the Valley, Kim Fuller. With all the delicious food and wine during the Taste of Vail, this is a wonderful opportunity to re-set your mind and body. After the class ends, hydrate the refreshing, sparkly flavors of LaCroix. Class open to all ability levels. Event tickets to Taste of Vail not necessary to buy tickets to this Fizz N' Fit yoga class. Based in Vail, Kim Fuller is a yoga teacher and freelance writer, editor and photojournalist. She is the co-owner and publisher at Jaunt Media Collective, a Colorado company behind the publications CO YOGA + Life Magazine and SPOKE + BLOSSOM. As a yoga teacher and a freelance writer, Kim is always excited to share movement and words with the world. She finds inspiration for teaching and writing through a love of nature, paired with the power of igniting energy, language and connection. Kim has an avid love for outdoor activities that yoga complements and is the co-founder of In Your Element, a yoga and adventure retreat company. Join Kim for a deep, heartfelt flow – breaking through blocks for new pathways to an authentic and empowered existence. See more of her work at kimfullerink.com, and follow her on Instagram @lifeinfull.

Join Master of Wine Ashley Hausman as she moderates, It's all Greek to Me | 10:30 am -11:45 am | Four Seasons, Piney Room
Greece was one of the first societies to incorporate wine into its lifestyle and is largely responsible for wine's diaspora through Europe and Mediterranean Africa. Greek wines historical prominence certainly is not reflected in its lack of notoriety in the contemporary American wine scene. Like Italy in the 70's and 80's or Spain in the 90's, Greek wines are experiencing a renaissance. The introduction of modern vinification and viticultural techniques, rekindled interest in historic grape varieties and the injection of innovation and energy by a new generation of wine professionals is achieving the same result as in Italy and Spain: attractive wines at reasonable prices. Well worth their inclusion in your wine quiver. 5 Join Ashley Hauseman, M.W. and Ted Diamantis owner and founder of Diamond Wine Imports will help us decode the puzzling labyrinth of Greek Wine.

Discovering Santa Barbara with Author and Sommelier Rajat Parr, Master Sommelier Will Costello, and Winemaker from Scar of the Sea, Michael Brughelli | 12:30 pm -1:45 pm | Matsuhisa
Famous Sommelier, Author of several books and star in the movie Somm 3, Rajat Parr, is joined by Master Sommelier Will Costello of Bien Nacido Vineyards and Winemaker of Scar of the Sea, Michael Brughelli to lead through a tasting of Santa Barbara Chardonnay and Pinot Noir. This is a must attend seminar of some of America's best minds in wine. The group will discuss Santa Barbara's unique climate and explain some of the different appellations within Santa Barbara County and argue why Santa Barbara should be considered one of the best places in the world to grow grapes in.

The Pursuit of Premier Cru Status in Burgundy's Pouilly Fuisse | 2:30 pm -3:45 pm | Four Seasons- Piney Ballroom
Pouilly Fuisse has been a household name in the wine world for decades and it is well on the way to clear the final hurdle of designating its finest vineyards to 1er Cru status. Joseph Burrier of Chateau Beauregard along with Wilson Daniels Imports Education Director William Davis, representing the Pouilly Fuisse Estate of Roc de Boutires, will lead a seminar on the famous region of Pouilly Fuisse in Burgundy. The panel will be moderated by Master Sommelier Jesse Becker from Chicago.

The Reserve Grand Tasting & Auction | 5:00 pm -8:00 pm | The Vail Marriott Mountain Resort Experience Vail's Premier Wine and Food Tasting.
Taste of Vail's annual decadent and unparalleled wine and culinary spectacle. This event features all of the Taste of Vail's wineries and restaurants. The evening will include Taste of Vail's Auction. This will be a Reserve Tasting. We will be tasting the best of the best! Join us at the Marriott Mountain Resort.

For more information or to purchase tickets for the 29th Annual Taste of Vail, please visit www.tasteofvail.com or call (970) 401-3320. Also, follow on social media at Facebook, Twitter, and Instagram and #tasteofvail.
.
Mountain Town Magazine | We are Colorado's Mountain Town Magazine
Copyright © 2019 MTN Town Magazine all rights reserved.