The Family Ski and Snowboard Inventory Check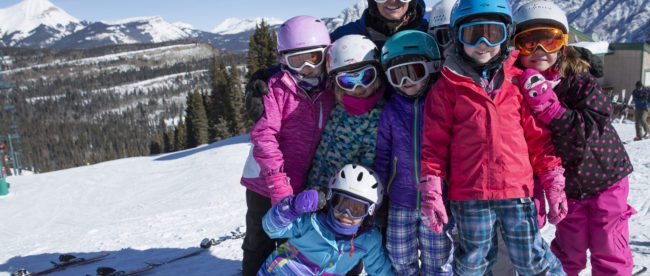 Now is a perfect time to do a family ski and snowboard gear inventory. Why? Because ski season is here, and it is time to have everything ready for a great first day on the mountain.
Helmet
A properly fitting helmet is essential for every member of the family. If your child's head has grown, it's a no-brainer; he or she needs a new helmet. To check the fit of a helmet, measure your child's head with a soft tape measure placed about one inch above the ears and eyebrows. If you don't have a soft tape measure, use a string and then measure it. Remember to measure in centimeters!
Evaluate the condition and age of each helmet. Helmets have a 3-5 year lifespan. Materials used in helmets deteriorate over time and become less protective. This means the age of the helmet is more important than how many days it has been worn.
If you don't know how old your helmet is, or if your child is wearing a hand-me-down helmet, it may be time for an upgrade. Inspect helmets for cracks and damage. Helmets are designed to effectively absorb one big impact. Always replace a damaged helmet, and always replace a helmet after a significant blow, even if it looks unharmed.
Goggles
Now it's time to check your goggles. Obviously, you're going to replace goggles that are too small. But you should also replace goggles showing signs of wear, including deteriorating foam and cracked or broken lenses.
In addition to protecting your eyes, goggles provide ventilation and a wide line of sight. They have to fit well with your helmet to do these important things.
Anytime you get new goggles or a new helmet, make sure that what you're buying will work together as a system. Properly fitting goggles should fit snug against the brim of the helmet. If they don't and a gap of skin shows (affectionately known as a "Gaper-Gap"), try on different goggles until you find some that will work.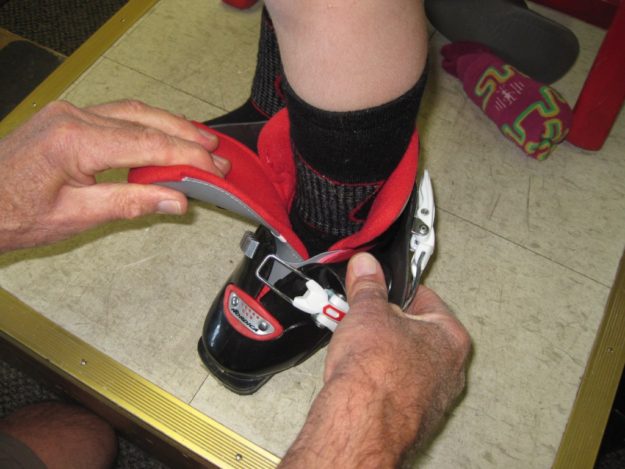 Boots
Good ski boots are your most important piece of equipment, and, contrary to myth, they should never hurt. We always use a professional boot fitter when buying new boots, adjusting the fit of our current boots or and checking the size of our kids' boots.
Since children are always growing, this is a good time to gauge how much room they have left in their boots, or if it's time for bigger ones. Let a professional assist you with this task.
Skis and Snowboards
Skis and snowboards wear out over time and with use. In general, most skis and snowboards have about 80-100 days of use in them, which depending upon how often your family skis and rides, can be one season or many.
How often your children ski and ride, and how vigorously they get after it on the mountain and in the park, will determine how quickly they'll need new skis. However, most kids end up outgrowing their skis or snowboard long before they wear them out.
To check for proper ski height, ask your child to stand next to his/her skis. The tip of the ski should reach above the chin and below the top of the head. This is not a hard and fast rule, however. Beginners do better with shorter skis, as do very light children and those who aren't very aggressive.
If in doubt, visit your ski shop. They're happy to help. If you've got young, fast-growing kids, ask about season rentals that allow you to switch out gear if your child grows a lot during the winter. Season rentals can save a lot of money and time. PS – Season rentals are often available for adults, too.
by Kristen Lummis, The BraveSkiMom.com Blog
Featured Photo: Purgatory, Scott DW Smith
MTN Town Magazine | We are Colorado's Mountain Town Magazine
Copyright © 2018 MTN Town Magazine all rights reserved.