9th Annual Breckenridge Craft Spirits Festival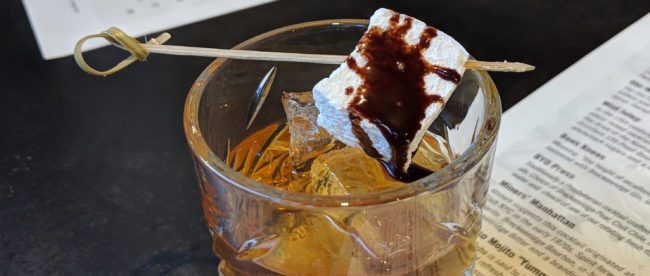 Wow! Nine Years of celebrating the Craft Spirit industry in Colorado continues to mark industry growth and a fabulous weekend full of events in Breckenridge with its Ninth Annual Still on the Hill Breckenridge Craft Spirits Festival, October 19-21, 2018.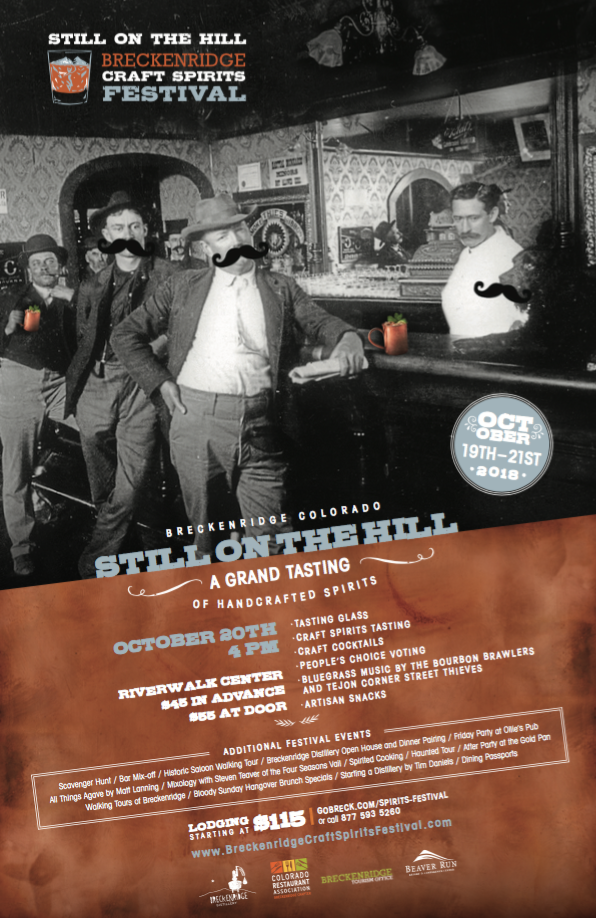 Activities over the weekend-long Craft Spirits Festival include a scavenger hunt and bar mix-off at restaurants and bars throughout town, historic saloon tour, spirited workshops, a spirited cooking class, the Breckenridge Distillery open house and dinner pairing, the grand tasting featuring 40 craft distillers, walking tours, cemetery tours, and hangover brunch. Also, fine local cuisine can be enjoyed at restaurants around town with dining specials available through the Breckenridge Dining Passport.
The highlight of the weekend is the Grand Tasting, on Saturday, October 20 from 4-7 pm at the Riverwalk Center, which will showcase the various products of forty craft distillers. The public can meet the distillers, try the various spirits and vote for their favorite spirit. Many of the distillers make up cocktails featuring their spirits so that guests may experience how the products can be used. Artisan snacks will also be served during the Grand Tasting and background bluegrass music will be played by the Bourbon Brawlers and the Tejon Corner Street Thieves. The cost is $45 in advance and $55 day of. Tickets include a tasting glass and entry to the Grand Tasting (must be 21 to enter, it is a no-pet event). The party moves to the Motherloaded Tavern and the Gold Pan Saloon at 9 pm.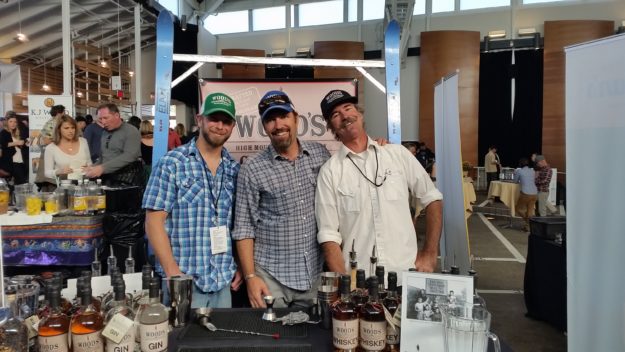 For a Full Schedule, and there are a lot of great activities click here: www.breckenridgecraftspiritsfestival.com/events
Breckenridge, founded during Colorado's gold rush in 1859, is no stranger to distilling. Stills kept miners' thirsts quenched during its first heyday and now Breckenridge is home to the original Still on the Hill event.  Come to stay the weekend, with lodging specials at $115/night.
Visit www.breckenridgecraftspiritsfestival.com for event details and Grand Tasting tickets, www.Beaverrun.com (or 1-800-525-2253) for lodging specials and www.gobreck.com for tourist information.
MTN Town Magazine | We are Colorado's Mountain Town Magazine
Copyright © 2018 MTN Town Magazine all rights reserved.