The Colorado Historic Hot Springs Loop… Health on the Go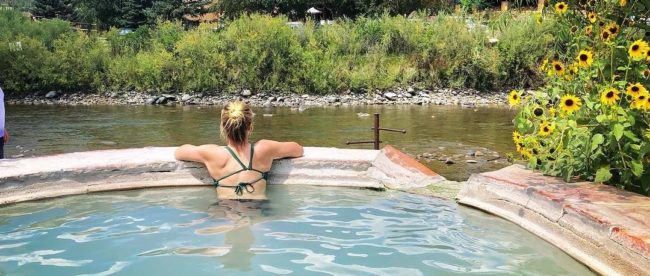 Jump in your Car, Saddle up the motorcycle or even prep your road bike, five premier hot springs destinations in western Colorado — Chaffee County, Pagosa Springs, Ouray County, Glenwood Springs, and Steamboat Springs — have come together to form the Colorado Historic Hot Springs Loop. This 720-mile loop showcases some of the most popular hot springs attractions in the country and is one way to relax and unwind.
There is so much variety; from intimate private baths to the world's largest mineral hot springs pool. Each of the nineteen facilities offers unique features like vapor caves, hot pots, terraced pools, enormous travertine formations, and fun-filled aquatic centers.
 "These hot springs facilities continuously enhance their unique features so that guests have a high-quality experience," says Vicky Nash, project manager for the Colorado Historic Hot Springs Loop.
Be sure to call ahead. Reservations are required at many of these locations.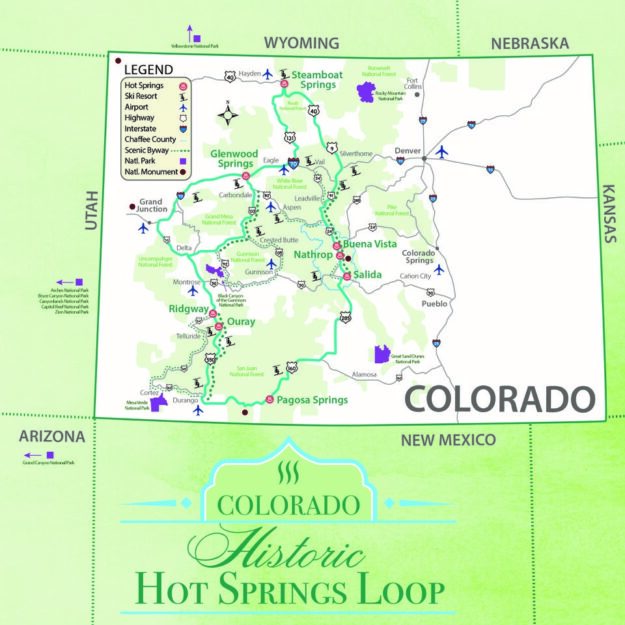 Disconnect and Go
There is nothing like a road trip with Hot Springs all along the way.
Glenwood Springs
Best known for its geothermal amenities, Glenwood Springs is also a favorite destination for hiking, biking, rafting, and fishing. Its mountaintop theme park and proximity to Hanging Lake are big draws for this little mountain town that was once the home of gambler-gunslinger Doc Holliday.
GLENWOOD HOT SPRINGS RESORT
This resort is home to the world's largest hot springs pool, as well as a lodge, spa and an aquatic adventure zone opening in June 2019.

IRON MOUNTAIN HOT SPRINGS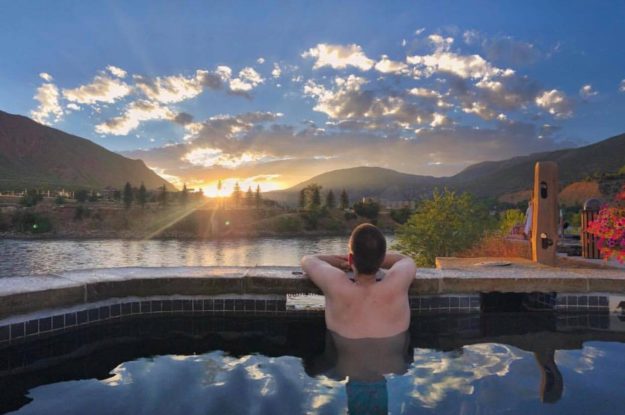 Boasting 16 soaking pools and a freshwater family pool, Iron Mountain is located on the bank of the Colorado River, with stunning mountain views.

YAMPAH SPA & VAPOR CAVES
These vapor caves are a rare setting for a natural, geothermal steam bath with detoxifying benefits. An on-site spa provides further wellness opportunities.

Ouray and Ridgway
Dramatic landscapes are the calling card of this part of Colorado. Stunning mountain backdrops, crystalline lakes and wide-open spaces are a magnet for outdoor enthusiasts. Thanks to the generous geology of the region, you can soak in five different hot springs. A family-owned brewery in Ouray serves up brews with views.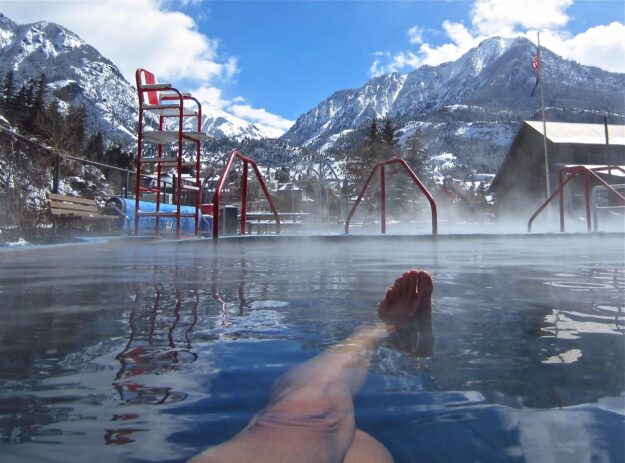 OURAY HOT SPRINGS POOL
This recently renovated oval-shaped pool has incredible mountain backdrop views, in addition to a mix of fun and relaxing features, such as an activity pool, an overlook infinity-style waterfall, and a hotter soaking pool.
WIESBADEN HOT SPRINGS SPA AND LODGINGS
Wiesbaden is home to hot springs and rare vapor caves tucked deep inside the mountain, as well as an outdoor swimming pool and private outdoor spa—all heated with geothermal water.

TWIN PEAKS LODGE & HOT SPRINGS
There are both indoor and outdoor soaking opportunities at this Ouray hot springs lodge.

ORVIS HOT SPRINGS
Located in Ridgway, Orvis Hot Springs is a beautifully landscaped facility with both indoor and outdoor soaking options, famous for their au naturel, clothing-optional policy.

Pagosa Springs
The next stop is Pagosa Springs, about a 150-minute drive from Salida. Be sure to enjoy the beautiful Wolf Creek Pass on the way—stopping at the scenic overlook, Continental Divide, and the gushing Treasure Falls. Once you've arrived in town, the "Pah gosah" Mother Spring aquifer, which translates to "healing waters," awaits, filling three different hot springs facilities.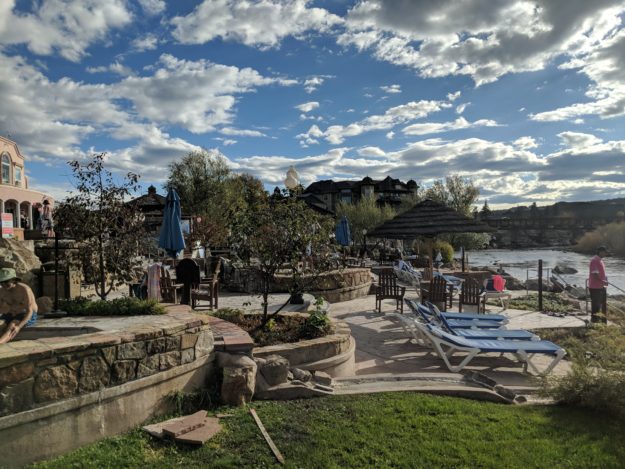 THE SPRINGS RESORT & SPA
is open to lodge guests 24 hours a day and features 23 therapeutic mineral hot spring pools overlooking the San Juan River.

OVERLOOK HOTSPRINGS
has rooftop soaking tubs with unimpeded views of the San Juan Mountains, the river and downtown Pagosa Springs!
HEALING WATERS RESORT & SPA
welcomes visitors to relax and soak in its therapeutic warm springs that are 100 percent natural mineral water with nothing else added.

Chaffee County
This is Colorado 14'er country where the majestic Collegiate Range—home to Mounts Princeton, Yale and Harvard—top out at over 14,000 feet and delineate the landscape. Tucked in amid the mountains are the towns of Salida, Nathrop and Buena Vista, places where experiencing the quintessential Colorado lifestyle is at its peak.

SALIDA HOT SPRINGS AQUATIC CENTER This community center facility is the largest indoor hot springs in North America, with its lap, soaking, and private pools.

MOUNT PRINCETON HOT SPRINGS. Known as a scenic overnight or day retreat, Mount Princeton Hot Springs is packed with amenities, like a historic bathhouse, creekside hot springs, a waterslide, and a spa and health club.

COTTONWOOD HOT SPRINGS. With a relaxed and back-to-nature vibe, Cottonwood Hot Springs is a peaceful stop with a quiet-zone and alcohol-free pools, as well as various lodging options.

Steamboat Springs
Nestled in the heart of the Colorado Rockies, Steamboat is famous for its authentic Western roots and genuine hospitality. It is home to vast ranchlands and dude ranches with rodeos held every weekend in the summer months. Surrounded by wilderness and a river that runs through it, Steamboat is an outdoor recreation paradise.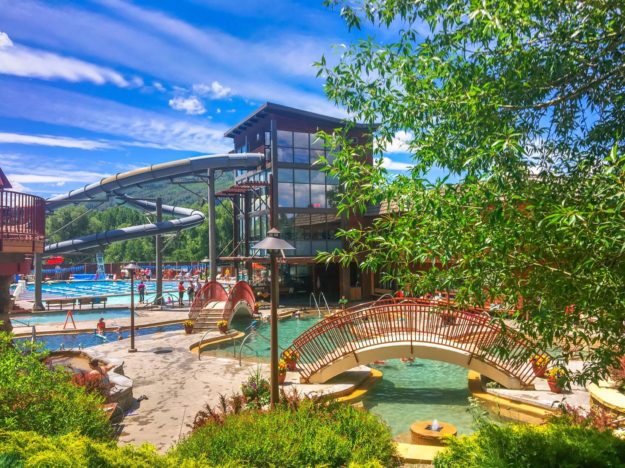 OLD TOWN HOT SPRINGS
Old Town is a recreational, multi-use complex with family-friendly fun packed into its geothermal waters.

STRAWBERRY PARK HOT SPRINGS
Strawberry Park is located outside of town, in a rustic and smaller venue, nestled against the banks of Strawberry Creek. There are lodging and camping options available.

Now, all you need is a bathing suit and a towel! For more information and ideas click the link below:
www.colorado.com/hotspringsloop
by Holly Go Spritely
Read more About Colorado's Best Treks and Travels: www.mtntownmagazine.com/category/treks-and-travel/
Mountain Town Magazine | We are Colorado's Mountain Town Magazine
Copyright © 2019 MTN Town Magazine all rights reserved.