Connect with Traditions and Trout – in Colorado's Rocky Mountains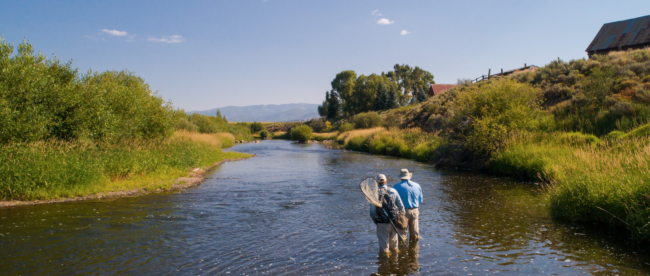 By John Heaney
The beauty of fly-fishing lies in its challenges and traditions.
The Challenges: Fly selection. Fly presentation. Water conditions. Weather conditions. Time of day. Time of year. Casting mechanics. Playing a trout. Landing it.

The Traditions: Family. Fishing buddies. The heirloom rod. The great outdoors. Honey holes. Fishing stories that get better with time.
To master the craft, fly-fishers must be driven to continually learn and accept challenges yet stay rooted in the traditions. True anglers deeply appreciate them both. "There's a certain psychology to fly-fishing," says Jeff Buerger, longtime angler and real estate partner with Hall & Hall in Colorado. "It's a chance for people to escape, and that escape is taken seriously."

It's also a chance for people to bond.
"I've been fishing for 25 years, and I clearly remember the first time I went with my grandmother," Buerger says. "She taught me how to cast using a metronome. So, I have a deep connection with fishing. It evokes a lot of powerful feelings."

Colorado is one of the best spots on the planet for fishermen and women seeking to create their own traditions and tackle the challenges fly-fishing provides. From ranch and fishing communities to properties with thousands of acres and miles of riverbanks, a special piece of Colorado awaits every angler.

"It's up to what the buyer truly wants," Buerger says. "There are incredible
communities with a shared fishery that's unmatched, and there are also people who want their land all to themselves and desire solitude."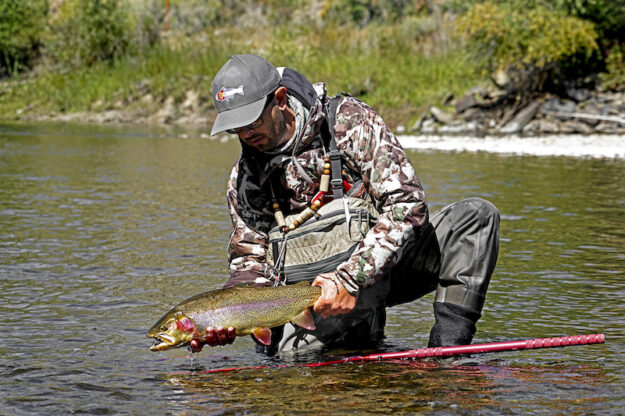 Ghost Ranch
Steamboat Springs
3,745 acres
$16,500,000

Ghost Ranch combines an excellent fishery with excellent location, just 20 minutes from Steamboat Springs. This property contains a 1.5-mile stretch of the famed Yampa River. Great bug life along the entire river produces girthy browns and feisty rainbows.
According to Buerger, "The fish on this ranch are wild, colorful and surprisingly
large."
---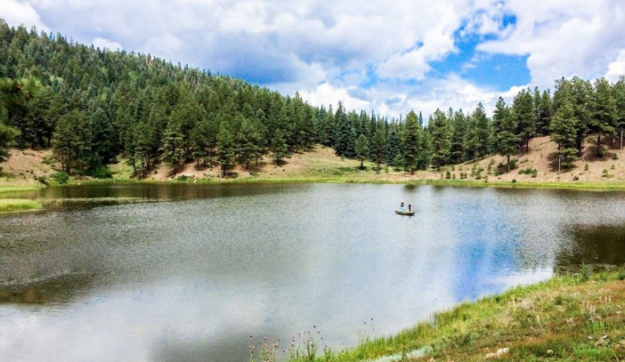 Piedra Valley Ranch
Pagosa Springs
9,600 acres
$39,000,000

A private lake, numerous ponds, and miles of creeks provide excellent fishing waters of all varieties at Piedra Valley Ranch. Plumtaw and Cottonwood Creeks enter the ranch at separate locations along the
eastern edge of the property. They converge to form O'Neal Creek which meanders through the property for more than 4.5 miles.
Along the southwestern boundary, Devil Creek runs onto the property and flows through a series of ponds in a narrow canyon.

---
Wildflower at Crystal Creek
Almont
1 acre
$3,395,000

Located in one of the most unique fishing communities in the Rocky Mountains, Wildflower is just a long cast from two amazing fisheries: the Taylor River and Hall's Run. The Taylor is known as one of the best fisheries in the region and carries a reputation for sizable, aggressive trout. More than 1.5 miles of both banks flow through the property. Hall's Run is a built-from-scratch, spectacular sight-fishing stream that offers an additional 1.5 miles fishing just out the door.
---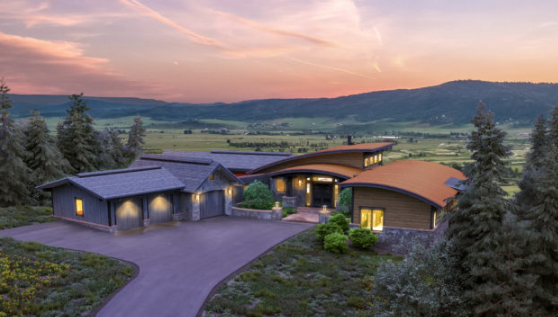 Sunset Retreat at Alpine Mountain Ranch & Club
Steamboat Springs
5 acres
$4,995,000

Sunset Retreat is newly built Modern-Transitional home located at Alpine Mountain Ranch and Club. AMRC is merely minutes from downtown Steamboat and the ski resort and minutes from landing huge trout along a 1.5-mile private stretch of the Yampa River. "It's is a blast to fish," says Johnny Spillane, owner and guide at Steamboat Flyfisher.
"The Yampa is one of the best 'big-fish' rivers in Colorado. AMRC's stretch is
productive. We've gotten into some big fish there."
With private access, AMRC members are assured a unique, serene experience on world-class water rarely fished. AMRC is a 1,216-acre land preservation community with 63 five-acre homesites and 900 acres dedicated to wildlife preserve and open space. It also features a lake
stocked with trout, perfect for beginners.

---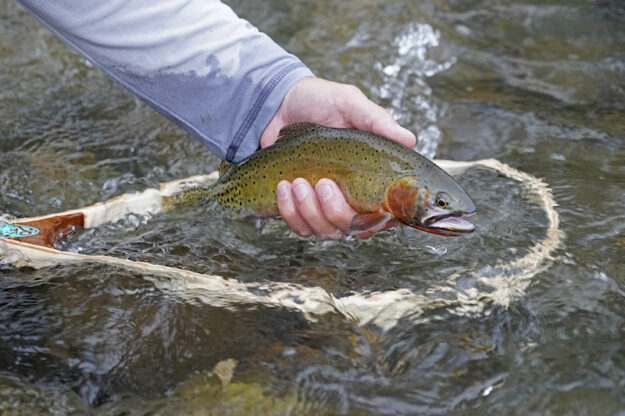 Motherwell Ranch
Steamboat Springs
10,359 acres
$33,500,000
– SOLD
Privacy is the name of the game at the Motherwell Ranch, which combines diverse landscape, water, wildlife and location into one incredible property unrivaled in the Rockies.

More than 3.3 miles of both banks of the East Fork of the Williams Fork River meanders through Motherwell, which also features four large lakes and 90 ponds. "The fishery is excellent," Buerger says. "Big, feisty rainbows and browns can be caught there."

Perhaps the most important feature, Buerger says, is how secluded the ranch is. It has no private inholdings, and no public roads cross it – rare for a property covering more than 16 square miles.
---
With such a diverse selection of properties available, any angler can find exactly what they're looking for in Colorado.
"The fly-fishing here is world class," Buerger says, "and these properties are one-of- a-kind. Value is tethered to rarity. Buyers recognize that."

For more information about Alpine Mountain Ranch & Club contact: Suzanne Schlicht, 970-875-1200, sschlicht@alpinemountainranch.com.

To learn more about fly fishing ranches represented by Hall & Hall contact: Jeff Buerger, (303) 861-8282, jeff@hallandhall.com.
For more Real Estate opportunities in Colorado's mountain town communities refer to our Realty Page: https://mtntownmagazine.com/category/homes-and-realty-in-colorados-mountain-towns/
Mountain Town Magazine | We are Colorado's Mountain Town Magazine
Copyright © 2020 MTN Town Magazine all rights reserved.
Post Sponsored by Right Path Investments