The Biker and the Baker Wine and Dessert Bar – A Salida Treat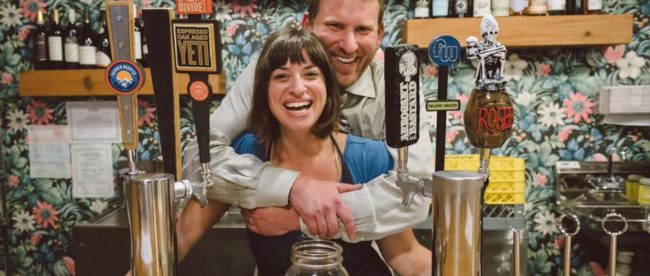 The Biker and the Baker Wine and Desserts, in Salida CO, is an upscale, yet affectionate, eating spot offers lip-smacking desserts fit for the gods: charcuterie trays, an extensive wine list, and revolving craft beer options.  This new choice in downtown Salida gives the public every reason to spoil themselves over laughter, clinking glasses, and décor that takes you on a journey to a world far away. You haven't stumbled too far in life without hearing the old adage, "Life is short, eat dessert first."  Fortunately, travelers and locals in Chaffee County now have zero excuses to ignore this wise and sensible advice.
Sarah Gartzman, owner of The Biker and the Baker Wine and Desserts, is living the dream – albeit a chaotic, passion-fueled, and wild one.  She describes her first day as a chef as a "Disaster," which reveals a long journey with her husband Rob to the renegade owner of three of Salida's most popular noshing spots.  Sarah takes the stage at Sweeties, Mo Burrito, and now the Biker and the Baker. Mix that with her business partner and husband, two kids, and a puppy, and you'll find a woman that is not scared to squeeze every ounce of life from her days.  Some moments are total panic, some are total bliss, and, with the authentic and gratifying choice of living a chef life of intention, Sarah knows how to appreciate her success.
Sarah began her career at the Culinary School of the Rockies with a focus on pastry arts. While she was gaining experience in multiple restaurants, she encountered more than a few #metoo moments – enough that gave her an intrinsic drive and fire to do it on her own.   Throw in a few Thanksgiving trips to Salida with her family, one "Downtown Bakery For Sale" sign on a serendipitous walk with her husband, Rob, and some soul searching and bravery, Salida got itself a gem of a woman and chef.
The Biker and the Baker Wine and Desserts was an original pie-in-the-sky sort of dream – a nook that focused on revolving small plates, desserts, and fun things to wash it all down.  Sarah admits that she has an innate talent for making weird stuff enticing. Rob and Sarah's first two ventures in Salida have given them the freedom to go out on a limb and make that original thought a reality.  The Biker and the Baker is an art studio for Sarah to express herself in a kitchen that is in constant transformation.
From the moment you walk in the doors, intention is at the forefront.  The Gartzman's goal was to preserve the integrity and charm of the historical building – Rob on construction and Sarah on design.  The focus revolves around inspiration from travels to Paris and thrift store treasures, all which tell a story.  As a self-proclaimed hotheaded chef driven by passion and creativity, Sarah's goal is to light a spark for diners to drink something different, or to eat something different, and with the constantly changing menu, that's an easy task.  
If desserts are Sarah's muses, meats, cheeses, and pickled items are her infatuations.  Sarah pickles all of her items in-house, often with local and seasonal products. Summer is her time for preserving, which makes February all the sweeter.  Through six years of owning Sweeties Sandwich Shop, Sarah has become confident in sourcing artisan, appealing, and sumptuous meats and cheeses. There is truly a snack for everyone on her menu, and you are guaranteed to leave your experience feeling like you chalked up a few more points up on your foodie party resume.
The wine and beer options are extensive but not pretentious.  Sarah and Rob set their own wine list and aren't sad about the fact that this process sometimes takes tasting over 100 bottles to find a match.   A lot of pride goes into their selections of beer and wine, and it's an easy, and not overwhelming, experience to find something to match your taste.  
Every chef needs motivation, and none of this would be possible without Salida as a background, a staff that caught Sarah's excitement, and a high school sweetheart that keeps the moving pieces in line.  Sarah admits she'd be no good in the kitchen without the trail runs available to her right outside her restaurant door. The colors, shapes, and wildness of the hills can be seen in her creations. The Gartzman kids are being raised behind the kitchen doors, and Sarah takes pride in the fact that they are raising passionate humans through mixing bowls and recipes. It's a full plate that Sarah carries, and it seems that she'd have it no other way.
We highly recommend checking out this exceptional addition to Salida's downtown area.  Check out their ever-changing menu at thebikerandthebaker.com or on Instagram at @bikerandbaker.  Doors are open Thursdays through Sundays, 4pm-10pm.
123 W. 1st Street
Salida, Colorado
by Ana Sitton, MTN Town Magazine
MTN Town Magazine | We are Colorado's Mountain Town Magazine
Copyright © 2018 MTN Town Magazine all rights reserved.
Please follow and like us: