Teva Mountain Games 2012 – Slacklining too!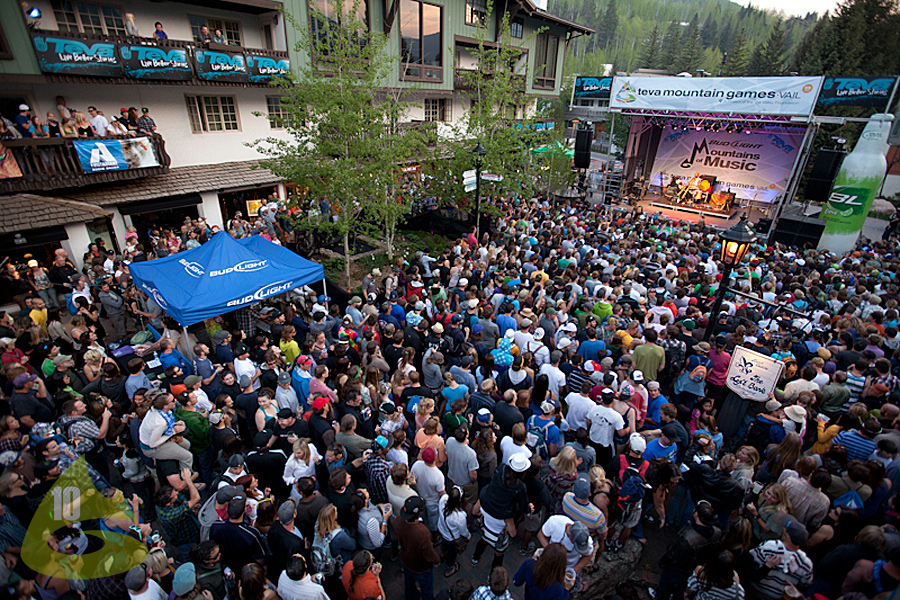 It's getting closer!  The Teva Mountain Games, a project of the Vail Valley Foundation will be rocking the Vail Valley June 1st through the 3rd and we are getting excited. I finally made it over to Vail last year for the event and loved every second of it.
For over 10 years the Teva Mountain Games has hosted some of the most progressive outdoor sports competitions in the world, from downriver stand up paddling races, to mountain bike freeride trials, to World Cup climbing competitions. Summer 2012 sporting events include steep, freestyle, sprint and full contact kayaking; rafting; mountain, road, freeride and slopestyle biking; World Cup Bouldering; amateur climbing; fly fishing; sprint and cross stand up paddling; trail, mud and long distance running. In addition… there will be Thursday and Saturday night concerts, a film festival (adventure filx) and photo (eye candy) competitions in this seam-busting schedule.
Another emerging sport  has also been added to the diverse event lineup—competitive slacklining. From June 1-3 at the Teva Mountain Games, the world's top slackliners will battle it out head-to-head at the Gibbon Games International Slackline Competition, a World Slackline Federation-sanctioned event in Vail.
Last year Gibbons was demoing this new sport, slacklining. Slacklining is the act of balancing along a narrow, flexible piece of webbing typically anchored between two trees. Originating in the climbing world, slacklining has evolved into a cross trainer, a backyard activity, and now a competitive sport that combines balance, strength, agility and acrobatics. Gibbon Slacklines is the world's leading manufacturer of slacklines and sponsors a team of professional athletes and competitions across North America.
I checked it out last year and within a month I too was an owner of a slack line. Set up in our backyard it is a great social and family activity! We take it camping and to friends parties. I was cracking up during the Super Bowl when Andy Lewis, dressed in a toga was Slacklining while Madonna was belting out her stuff  in the Superbowl Halftime Show. Facebook was on fire and I was proud to answer one person who was questioning the whole 'tightrope' thing = "that's not tightroping it's Slacklining and it rocks!" Lewis is slated to compete in Vail along with current national and world champion, Michael Payton, and numerous other pro slackliners from around the world.
Michael  Imhof, vice president of sales and operations at the Vail Valley Foundation, organizers of the annual Teva Mountain Games was impressed with this sport too: "We saw our first slackline competition at the Outdoor Retailer show in Salt Lake City last summer and immediately realized it would be a perfect addition to our event. Because it's so accessible, dynamic and fun, slacklining is exploding in popularity right now and we're pleased to host one of the new sport's biggest competitions right here in Vail."
The Gibbon Games International Slackline Competition at the Teva Mountain Games starts on Friday, June 1, with single elimination qualifying rounds judged on difficulty, creativity and performance. The finals are scheduled to take place on Sunday, June 3.
In addition to the pro competition, an interactive demo area will be set up for anyone to try slacklining throughout the festival. For more information, click here and www.gibbonslacklines.com/us
A word about the Teva Mountain Games/Vail Valley Foundation because they Rock!
The Teva Mountain Games is a project of the Vail Valley Foundation. The Vail Valley Foundation is a Colorado 501 (c) (3) nonprofit organization, dedicated to enriching the Vail Valley and sustaining its unique spirit through the delivery of unparalleled arts, world class athletics and inspiring education programs throughout the community. For additional information on the Vail Valley Foundation, please visit www.vvf.org.
Get your calendar and PEN out, make this one a date not to forget!
~Mtn Town Views
MtnTownViews.com is MTN Town Magazine's daily journal blogging about Colorado's mountain towns.   Like them on Facebook and Follow on Twitter. 
Photo Credits: Backbone Media, BackboneMedia.net
© 2012, MTN Town Magazine. All rights reserved. Republication, in part or entirety, requires a link back to this original post.